Last Update on: August 15th, 2021 at 08:13 pm
Stay up-to-date with the latest teams!
Join our Telegram channel and never miss a single lineup change post-toss. 🔄📢

Indian fans have been taking to Twitter to express their outrage over a possible attempt of ball-tampering by England players during the ongoing afternoon session of the Lord's Test.
A video footage has gone viral on social media where the duo of Mark Wood and Rory Burns can be seen pressing the spikes of their shoes in the ball.
Following the incident, the on-field umpires took the ball to check the extent of indentation made on it.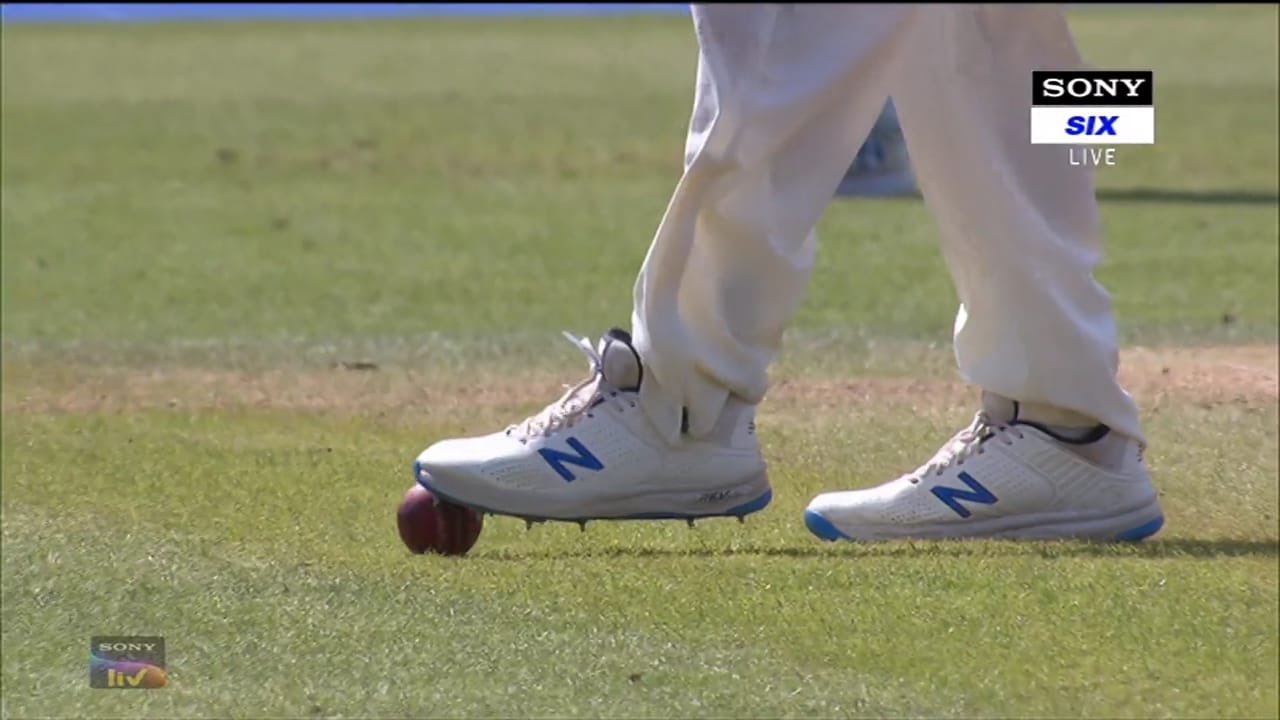 Indian fans are accusing England players of trying to tamper with the ball but veteran seamer Stuart Broad has defended the actions of Mark Wood and Rory Burns.
Epic display of sportsmanship from the sanctimonious poms yet again #ENGvIND @elitecynic @cricrohit pic.twitter.com/7VM7zVJDDC

— Pranav Ramakanthan (@duality_pranav) August 15, 2021
According to Broad, Wood and Burns were just tapping the ball through their legs which is a very common occurrence as per him.
"My comments are- Woody tried to nut meg Burnsy by tapping the ball through his legs (a very common occurrence) & he missed and kicked the ball there by accident. Instead of screenshotting the pic, watch the video- quite plain & easy to see"
Well! The reply from Broad isn't really a surprise as the former England pacer has been accused of doing the same in the past.
Back in 2010, Broad and Anderson were accused of ball-tampering by stopping it with their spikes. Broad had then said that he was just being lazy because it was 40 degrees centigrade in Cape Town that day.
Meanwhile, Indian fans took to Twitter to post their outrage against the same.
Indian Fans Accuse England Players Of Tampering With The Ball With Their Boot Spikes:
That looks like ball tampering, England. It sure does… pic.twitter.com/qLeICi5i2D

— Shekhar Gupta (@ShekharGupta) August 15, 2021
https://twitter.com/Sureshmoorthy17/status/1426899562455724041
Clear ball tampering from England players 😳@ICC @BCCI is it allowed??#INDvENG#ENGvsIND #LordsTest #JoeRoot #lords #ViratKohli pic.twitter.com/MFaUAsx3KJ

— Bonkers 😎 (@bhhatu) August 15, 2021
Why aren't the commentators talking about this? pic.twitter.com/8BA49Gqf9b

— Yash 🇮🇳 (@im_yash2307) August 15, 2021
Also Read: Sunil Gavaskar Praises Mohammad Siraj's Untiring Bowling Effort On Day 3 Of Lord's Test