Last Update on: November 20th, 2022 at 02:56 pm
India National Cricket Team middle-order batter Suryakumar Yadav, who is at the No.1 position in the ICC Men's T20I Batting Rankings, smashed an absolutely remarkable century in the second T20I against New Zealand National Cricket Team.
The second T20I of the three-match series between Hardik Pandya-led India National Cricket Team and Kane Williamson-led New Zealand National Cricket Team is being played at the Bay Oval, Mount Maunganui, on Sunday, November 20. Notably, the first T20I game of the series was abandoned due to rain without a ball bowled at the Sky Stadium, Wellington on Friday, November 18.
ICC Teams  Rankings | ICC Players Rankings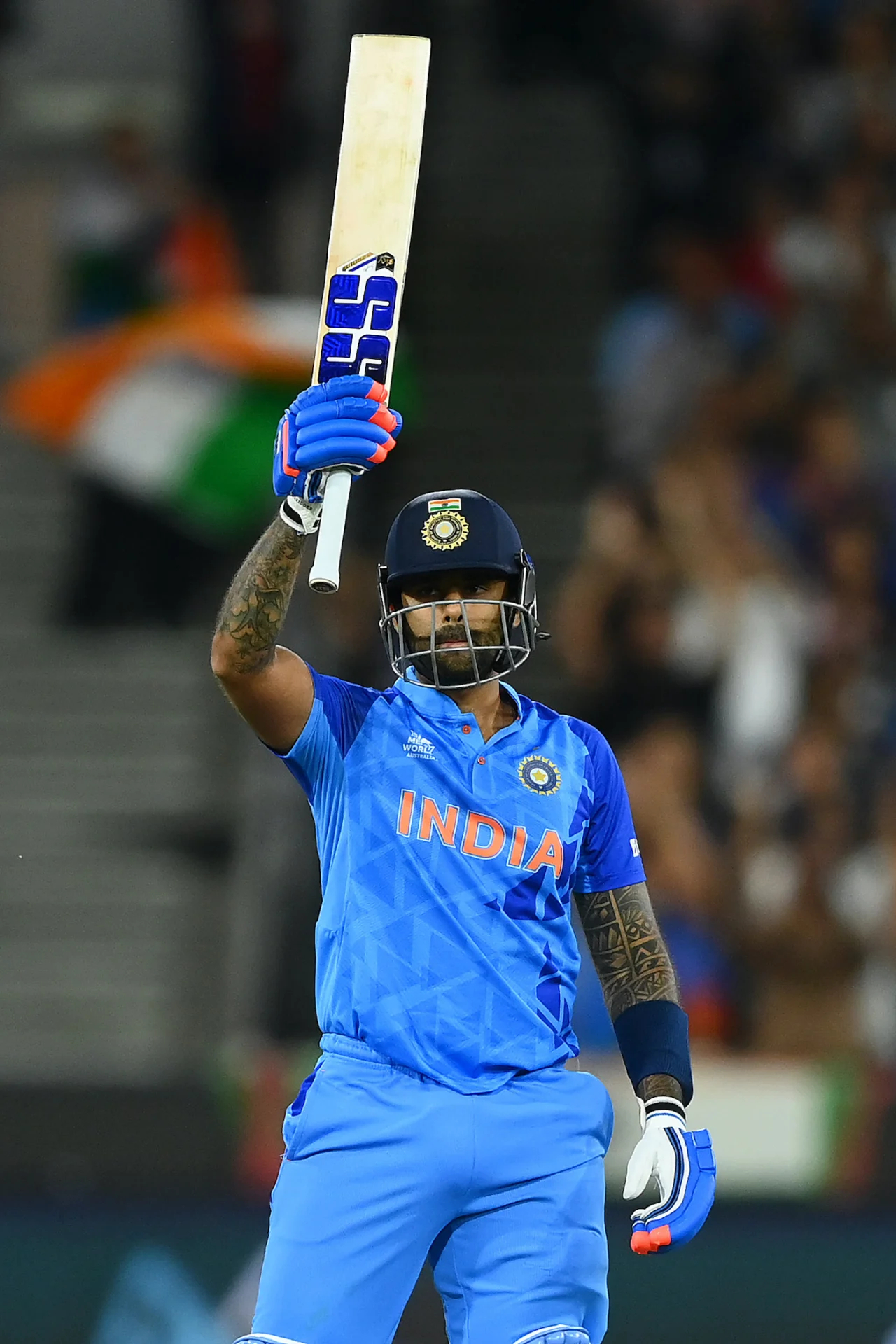 Suryakumar Yadav was heading into the three-match T20I series against New Zealand with great form under his belt as he batted brilliantly in the recently concluded ICC Men's T20 World Cup 2022.
In 6 World Cup innings, the No.1 ranked T20I batter smashed 239 runs at an amazing average of 59.75 and an exceptional strike rate of 189.68. The 32-year-old was also amongst the 9 players nominated by the International Cricket Council (ICC) for the ICC Men's T20 World Cup 2022 Player of the Tournament.
Meanwhile, Suryakumar Yadav, who is the first Indian batter to score 1000 T20I runs in a calendar year and only the second overall batter after Mohammad Rizwan, smashed his second T20I century in the second T20I game against New Zealand. Notably, he had smashed his first T20I century against the Three Lions in England in July this year.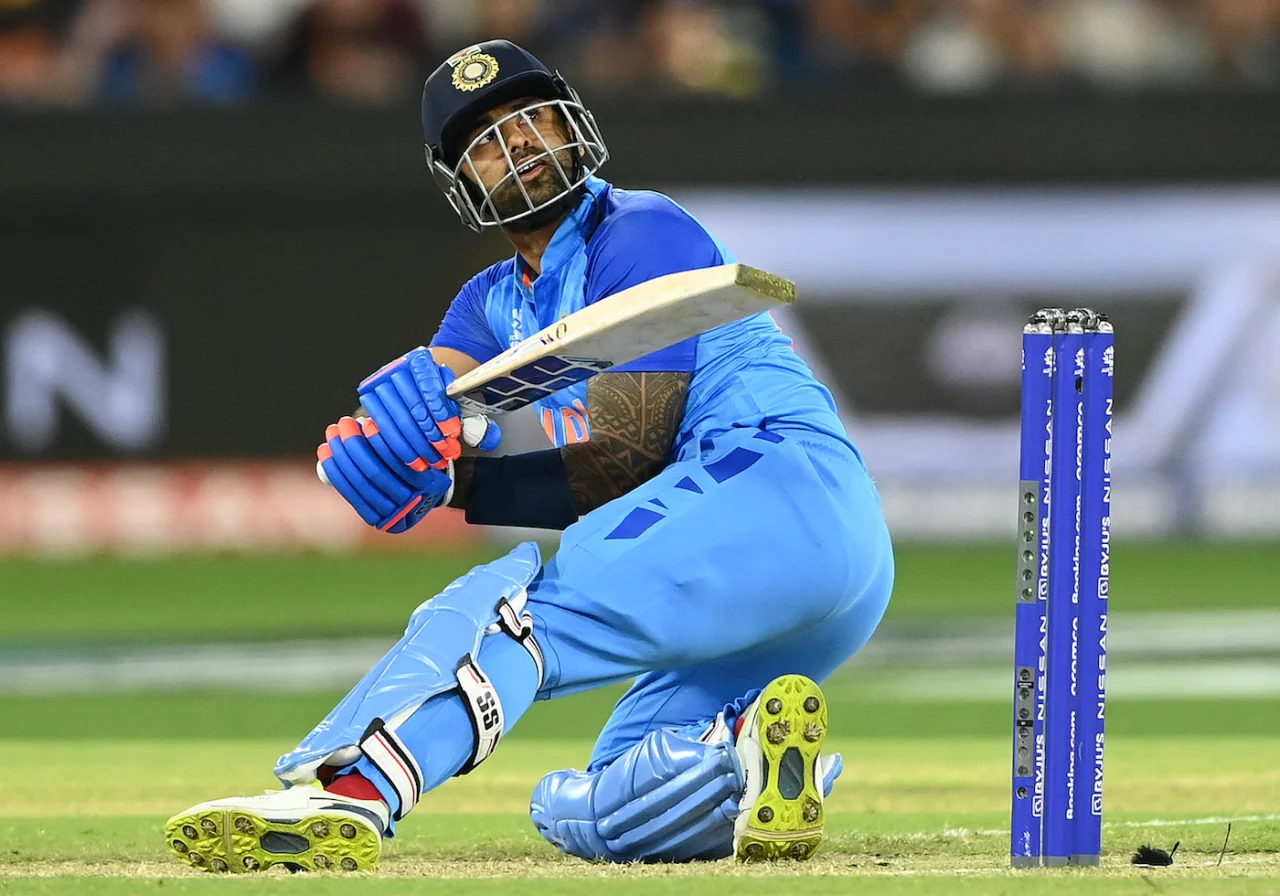 He came out to bat at the No.3 position after the dismissal of Rishabh Pant in the match and showcased sheer dominance. He had three good partnerships with Ishan Kishan, Shreyas Iyer and Hardik Pandya.
The 32-year-old smashed unbeaten 111 runs off 51 balls, including 11 fours and 7 sixes. Also, he batted with a phenomenal strike rate of 217.65. He would have registered an even bigger score but unfortunately, he didn't get the strike in the final over.
Meanwhile, Suryakumar Yadav has become only the second Indian batter to score two T20I centuries in a calendar year after Rohit Sharma in 2018. Also, he is the first-ever middle-order batsman to score multiple T20I centuries.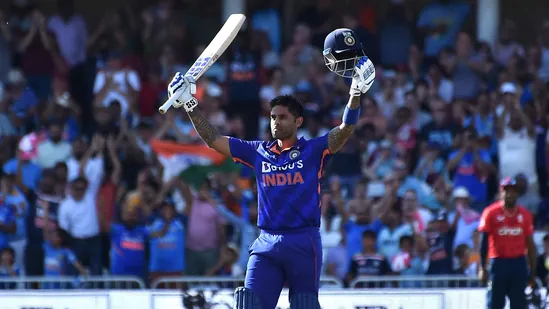 Here's How Twitter Reacted To Suryakumar Yadav's Batting Masterclass vs New Zealand:
Another great knock by @surya_14kumar.. Congratulations on your 2nd T20 hundred, well played brother 💪 #Sky #INDvsNZ pic.twitter.com/xngh7DSkYU

— Suresh Raina🇮🇳 (@ImRaina) November 20, 2022
The night sky has been lit up by Surya! 🔥

What a blinder @surya_14kumar! #INDvsNZ pic.twitter.com/bt7IHCBofs

— Sachin Tendulkar (@sachin_rt) November 20, 2022
There's no doubt @surya_14kumar is in a league of his own. #T20 #NZvIND

— Tom Moody (@TomMoodyCricket) November 20, 2022
Numero Uno showing why he's the best in the world. Didn't watch it live but I'm sure this was another video game innings by him. 😂 @surya_14kumar

— Virat Kohli (@imVkohli) November 20, 2022
Really enjoyed that innings from Suryakumar #NZvIND Tremendous batting 👏👏👏

— Russel Arnold (@RusselArnold69) November 20, 2022
Fair to say that Surya is India's first proper T20 batter??

— Aakash Chopra (@cricketaakash) November 20, 2022
#INDvNZ: That's some phenomenal hitting from Suryakumar Yadav & 2nd T20I century for him. Outstanding. This year has been a superb one for him. #SuryaKumarYadav

— Samrudh David (@samrudh_david) November 20, 2022
Suryakumar Yadav playing in every match be like . #INDvNZ #NZvIND #INDvsNZ #SuryaKumarYadav pic.twitter.com/75YvhmQ8FE

— Vishwajit Patil (@_VishwajitPatil) November 20, 2022
Suryakumar Yadav amused with being on non strike in the final over. pic.twitter.com/9WJj0tnKag

— Mufaddal Vohra (@mufaddal_vohra) November 20, 2022
50 to 100 in 17 balls Suryakumar Yadav what a knock #INDvsNZ

— Monty Panesar (@MontyPanesar) November 20, 2022
Suryakumar Yadav with his second century in T20Is. Unbelievable, crazy, insane! As we say, SKY is limitless. @surya_14kumar 🔥🔥#NZvINDonPrize @RevSportz

— Subhayan Chakraborty (@CricSubhayan) November 20, 2022
Suryakumar Yadav with his second century in T20Is. Unbelievable, crazy, insane! As we say, SKY is limitless. @surya_14kumar 🔥🔥#NZvINDonPrize @RevSportz

— Subhayan Chakraborty (@CricSubhayan) November 20, 2022
Kane Williamson seeing Suryakumar Yadav. pic.twitter.com/7nL40ixvIX

— Mufaddal Vohra (@mufaddal_vohra) November 20, 2022
SKY is the limit 👏#NZvIND

— Farid Khan (@_FaridKhan) November 20, 2022
Suryakumar Yadav ke shots ab Instagram reel se bhi aage nikal gaye hain bc.

— Silly Point (@FarziCricketer) November 20, 2022
Hundred for Suryakumar Yadav, 2nd in T20I, he has been in some special form this year.

He is leading Indian T20I batting. pic.twitter.com/tH7KgxJyjk

— Johns. (@CricCrazyJohns) November 20, 2022
Suryakumar Yadav has more runs in T20Is in 2022 than Rishabh Pant and Hardik Pandya have in their T20I careers.

7th in the top run-getters for India in T20Is in 2 years of his career. #NZvIND

— Rohit Sankar (@imRohit_SN) November 20, 2022
Surya bccccc 🥵🥵🥵🥵💀
Another 100

— HH12 (@Hip_hop_india12) November 20, 2022
Thanks Surya, I was about to ask Amazon Prime for refund.

— Silly Point (@FarziCricketer) November 20, 2022
Suryakumar Yadav scored hundred vs England in England & vs New Zealand in New Zealand in T20I.

A T20I legend.

— Johns. (@CricCrazyJohns) November 20, 2022
Suryakumar Yadav has scored a fifty plus score in every T20I bilateral series or tournament India has played in 2022 except the Ireland series. What a player 🤯 #NZvsIND

— Sameer Allana (@HitmanCricket) November 20, 2022
Rohit Sharma, KL Rahul and Suryakumar Yadav.

3 Indian men cricketers to have more than one T20I century.

— Gurkirat Singh Gill (@gurkiratsgill) November 20, 2022
#INDvsNZ #INDvsNZ #NZvsIND #TeamIndia #NewZealand #captaincy #crickettwitter   

Le #SuryakumarYadav to NZ bowlers 👇👇👇👇🤣👇 pic.twitter.com/M4iM1rvaHE

— 𝓚𝓲𝓽𝓽𝓾𝓾 ❤️♕ (@queenkritika21) November 20, 2022
SuryaKumar Yadav touches the ball and it goes for boundary: pic.twitter.com/cYjTzoIrUm

— Foresay sports தமிழ் (@ForesayThamizh) November 20, 2022
Suryakumar Yadav's brilliant run of form continues 🔥 becomes the second Indian batter to score two T20I 1️⃣0️⃣0️⃣ in a calendar year after Rohit Sharma in 2018#NZvsIND #NZvIND #SuryakumarYadav #TeamIndia #Cricket pic.twitter.com/0k5Lzpnuln

— ProBatsman (@probatsman) November 20, 2022
Suryakumar Yadav 💯….. That's it. That's the tweet…. #INDvsNZ pic.twitter.com/QwSW09br4k

— Tushar Chavan (@itstushaarrr) November 20, 2022
Such joy watching a player at the height of his powers. #SuryakumarYadav

— Harsha Bhogle (@bhogleharsha) November 20, 2022
Everytime we watch Suryakumar Yadav bat: pic.twitter.com/kdCUfRDKho

— Prasenjit Dey (@CricPrasen) November 20, 2022
Nah man Suryakumar yadav is a joke
Unreal batting take a bow 👏

— R A T N I S H (@LoyalSachinFan) November 20, 2022
Very very special from Suryakumar Yadav #NZvIND pic.twitter.com/UVv5TIP5KB

— Karamdeep 🎥📱 (@oyeekd) November 20, 2022
Century by Suryakumar Yadav in just 49 balls against New Zealand. What a player!!!!!! pic.twitter.com/EwEPiStVDc

— Cricket With Laresh (@Lareshhere) November 20, 2022
Hundred for Suryakumar Yadav 😍😍🔥🔥
Brings it up off just 49 deliveries. This man is in the form of his life 💪🏻💪🏻🙌🏻🙌🏻 @ICC @BCCI #NZvIND #SuryakumarYadav #SKY🇮🇳🇮🇳 pic.twitter.com/qivPQEWtQo

— Girjesh Singh (@GirjeshGLodhi) November 20, 2022
Century in just 49 balls, Take a bow, Suryakumar Yadav. You are ridiculous 🥵#INDvsNZ pic.twitter.com/zH8ISIOIva

— Akshat (@AkshatOM10) November 20, 2022
#INDvsNZ "Suryakumar yadav"
,
,
,
NZ bolwers today right now:- pic.twitter.com/YWJHRJ7b2T

— Rohit sahu (@whokumarrohit) November 20, 2022
Suryakumar Yadav MUST MUST have to bat at number 3 for India at any cost!! This guy need to face 40 deliveries every single match, he won't return you 50, he will return you 80s,90s,100s.

— David (@CricketFreakD1) November 20, 2022
This is Not New Era, This is Suryakumar Yadav Era. 🔥🔥#INDvNZ pic.twitter.com/JIrcs4i5hO

— Awarapan 🇮🇳 (@KingSlayer_Rule) November 20, 2022
Also Read: "Umran Malik Would've Played All Formats If He Was From Pakistan" – Twitter Reacts As Pacer Gets Left Out Of Playing XI vs New Zealand