Last Update on: March 25th, 2021 at 07:33 pm
Stay up-to-date with the latest teams!
Join our Telegram channel and never miss a single lineup change post-toss. 🔄📢

India keeper-batsman KL Rahul heaped praises on Prasidh Krishna, who made an impactful debut in the first ODI against England in Pune. With the Indian team having found quite a lot of gems from Karnataka in the recent past, Prasidh Krishna has emerged as yet another promising prospect. KL Rahul, who also belongs to Karnataka, is not surprised by his success.
Prasidh Krishna went for plenty of runs in his first spell as Jonny Bairstow and Jason Roy got off to a flyer in pursuit of 317 in the first ODI. But the right-arm paceman came back well to get rid of the latter and Ben Stokes in quick succession. Overall, he finished with figures of 8.1-1-54-4 as India stormed to a 66-run victory to take the lead in the three-match series.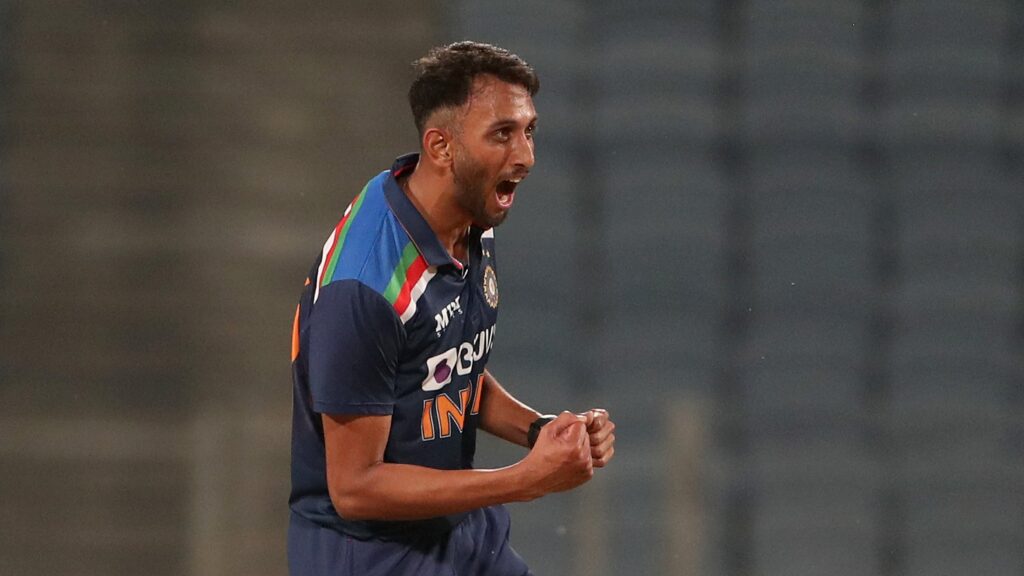 KL Rahul stated that he was quite confident that the next player to emerge out of Karnataka would be Prasidh Krishna, as he bowls in an eye-catching manner. While the 28-year old admitted to not being of the same batch, Rahul has witnessed the speedster playing plenty of junior cricket and got impressed.
"Look, quite honestly, I'm not surprised with he did yesterday. I was always very confident that the next player that is going to come out of Karnataka, is going to be Prasidh Krishna. We weren't of the same batch, but I have watched him play a lot of junior cricket and in the nets, he is somebody who will catch your eye," Rahul stated as quoted by Times of India.
He has a great sense of game, it's not just his skill: KL Rahul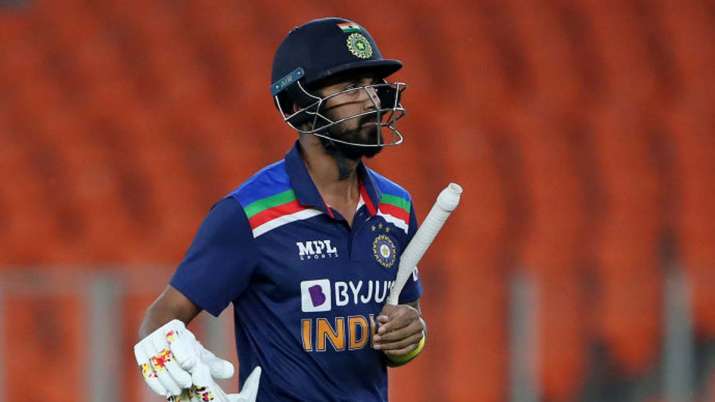 KL Rahul also lauded Prasidh Krishna for displaying courage during the domestic fixtures and observed the 25-year old as a bowler, who gets plenty of bounce from the pitch. Rahul further admired Krishna's game sense and acknowledged the fast bowler as a quick learner, who bowls aggressively.
"He is a tall guy, who bowls quick, gets a lot of bounce from the wicket, and something having played with him in the last couple of seasons for Mushtaq Ali and Vijay Hazare, I realized that he is a brave boy. He has a great sense of game, it's not just his skill but how he understands and reads the game. He is a keen learner and he is like I said very brave and comes in with a lot of aggression," he added.
Also Read: The Talk Within The Dressing Room Is About Playing With A Lot Of Freedom: KL Rahul