Last Update on: September 6th, 2023 at 12:58 pm
While less than a month is remaining for the highly-anticipated ICC World Cup 2023 to get underway, the organisers are facing the heat from the fans for the difficulty they have faced to obtain the tickets. Fans have been constantly calling out the organisers and online ticketing platform BookMyShow for the poor arrangements so far.
From the website getting crashed within minutes of the tickets being made available to the tickets getting sold out in minutes, BookMyShow's services have been constantly slammed by the fans. And as the passionate fans desperately try to lay their hands on the prized World Cup tickets, especially for the India vs Pakistan game, the tickets have been made available in secondary markets for exorbitant rates.
While BookMyShow is showing that all the tickets of the matches involving India in the upcoming ICC World Cup are sold out, they are available on Viagogo. Founded in 2006 in London, Viagogo is an online marketplace for consumers to buy and sell tickets to sports, music, theatre and comedy events.
When we checked Viagogo, more than 300 tickets for the India vs Pakistan clash were available. The prices of the ticket was in the range of Rs 45,000 to Rs 1,25,000. Tickets for India's matches against New Zealand and South Africa were also available.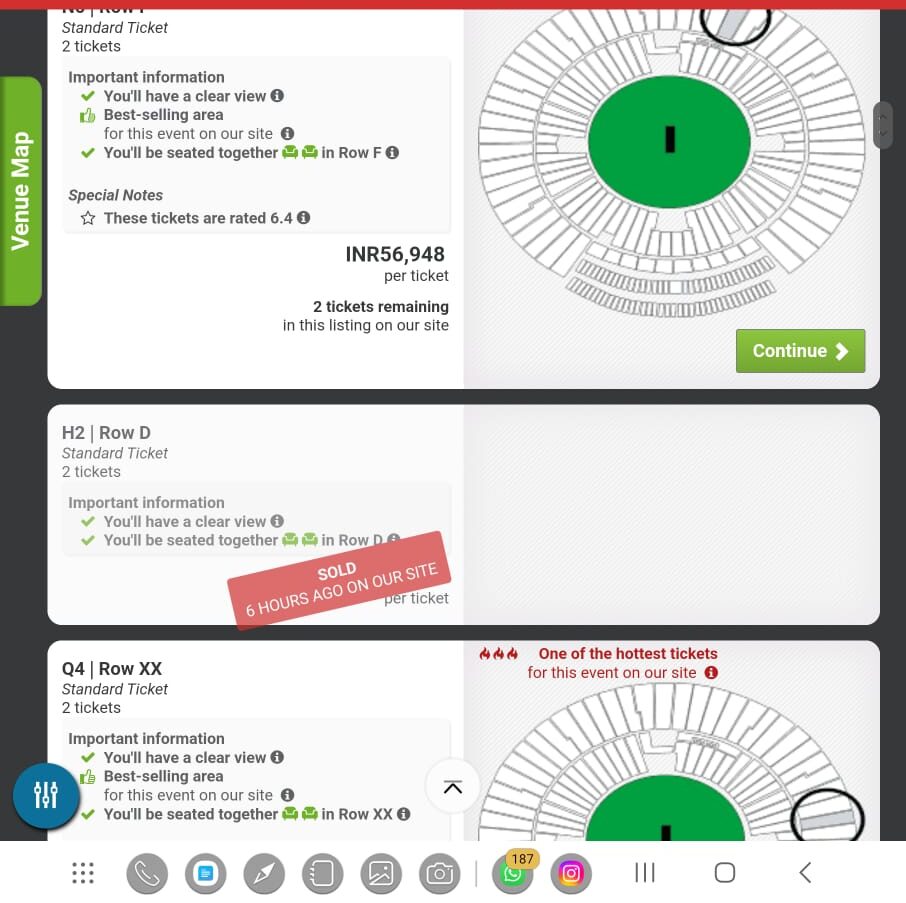 With the tickets being in such high demand, it would not be very surprising if they get sold out soon even at such exorbitant prices. Meanwhile, several fans have been BookMyShow and have pointed fingers at their authenticity.
"Viagogo, a ticket-selling website, is selling tickets at huge prices. This raises questions about how this is feasible when all tickets are officially sold through BookMyShow, the authorized ticketing partner," wrote an user on X.
"@bookmyshow must share some official data citing how many tickets out of 1,32,000 were actually put up on sale and how many they have sold on both dates. And same data for all matches MUST be shared OFFICIALLY," wrote another.
"Black market is now hot…see the prices for Ind vs Pak match it starts from 1.5lac and i have seen ticket of 15lac as well with Long On view …this is ridiculous," wrote another.
Another user also questioned the ticketing platform for the small of number of tickets they sold for the India vs Pakistan game, posting:
Hey @bookmyshow
The Stadium has a total of 1.3 lakh capacity. You only put 7500 tickets on sale. Where are the other tickets?
This is not acceptable#BCCI #BookMyShowScam #CricketWorldCup

Indirectly you only sell 15000 tickets (both the sales)to us. pic.twitter.com/RDFbZbvNW4

— Yash Patidar (@YashPatidar07) September 3, 2023