Bengal and India A opener Abhimanyu Easwaran is looking forward to taking another step closer towards realizing his dream of representing the country as he embarks on the upcoming tour of England with Team India as one of the four standby players.
Easwaran was a part of the Indian squad as a standby during the home Test series against England earlier this year where he observed the likes of Virat Kohli, Cheteshwar Pujara, Rohit Sharma go about their business from close quarters.
The Dehradun-born cricketer was taken aback by the intensity displayed by Virat and co during their practice sessions and he is looking forward to taking all of those learning and integrate them into his game and perform for his country if and when an opportunity arises.
"Great feeling to be selected in the Indian team, be it a stand by. It's like a step closer to my dream. Conditions are challenging in England, probably the most challenging for an opening batsman. I feel it's a great opportunity for me to learn from other players and see what's going on. It's just about being prepared and waiting for my turn; if and when I get it, I'll rightfully use it and give my best," Abhimanyu Easwaran told Hindustan Times in an exclusive chat.
"I was with the team from the first two Tests. Watching Virat, Rohit, Pujara and Rahane, who have scored a lot of runs for the country, the biggest takeaway was their intensity during practice and how detailed they are regarding the little things before a Test match, which I had heard about but never seen it," he added.
Abhimanyu Easwaran on playing under his idol Rahul Dravid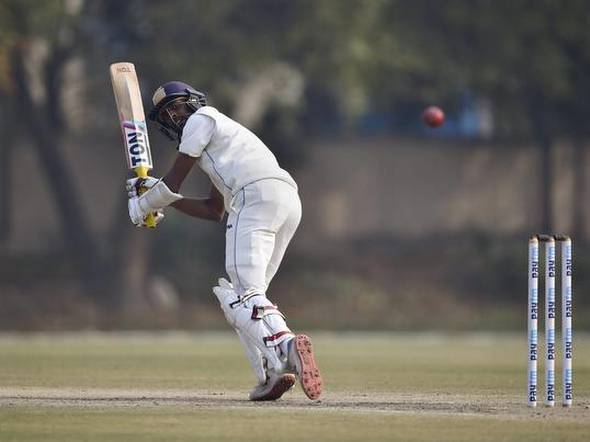 Abhimanyu Easwaran has been a consistent performer for both Bengal as well as India A in First-Class cricket but the numbers he has accumulated since making his debut in 2014 have still not paved the way for a Test debut.
Easwaran, who averaged 43.82 for Bengal in 46 FC games, averaged 52.87, 50.44, 41.40, 50.85, and 80.78 between 2014-15 and 2018-19 seasons.
As far as India A is concerned, Abhimanyu Easwaran has been equally prolific, having racked up 861 runs in 14 matches with two centuries and 13 fifties.
For Abhimanyu, playing under the tutelage of his idol Rahul Dravid has been a blessing.
The right-handed opener revealed that he has learned a lot through various interactions that he has had with Dravid. He also added that having discussions with Dravid also helped him resolve his issues in converting a half-century into a daddy hundred.
"To be honest, I was proud to have seen my idol and then play under him for India A. To be able to play in different conditions under him was a great experience. Besides playing in India, I played in New Zealand a couple of times, went to the West Indies and played in England. Because he's scored a lot of runs everywhere, he shared so many experiences with us, regarding not only the conditions but also about what he or other players did to get runs there. He's always been very interactive. My way of playing is similar to him because he's been my idol," Abhimanyu Easwaran added.
"Initially, in my First-Class career, I got a hundred and then a lot of fifties – about 10 half-centuries or something. It was something I wanted to work on Apurva Desai and I had a word about it with Rahul sir too. In the Ranji Trophy and whatever tours I was on for India A, I was getting the 60, 70s but not the hundreds. It's cliched and easier said than done, but the key is to really stick to your plans, which you have set against a particular bowler or bowling attack… facing one ball at a time. Rahul sir reminded me of it and so many other things and that was really helpful for me. After that, I started converting fifties into hundreds and hundreds into big hundreds," he said.
Also Read: IPL 2021: What He Showed Was A Spark That Can Become A Roaring Fire – Sunil Gavaskar Lauds Rishabh Pant's Captaincy