Indian President Ramnath Kovind inaugurated the Narendra Modi Stadium, Ahmedabad ahead of the third Test match between India and England which begins on February 24, 2021. This will be a day-night affair, a first-ever between the two sides, while the second such Test in India.
India has previously played two D/N Tests, winning against Bangladesh in Kolkata in 2019 and losing to Australia in Adelaide on their recent tour of Australia 2020-21. The Motera stadium is the largest cricket stadium in the world, surpassing the Melbourne Cricket Ground in Australia with a capacity of 1,10,000 people.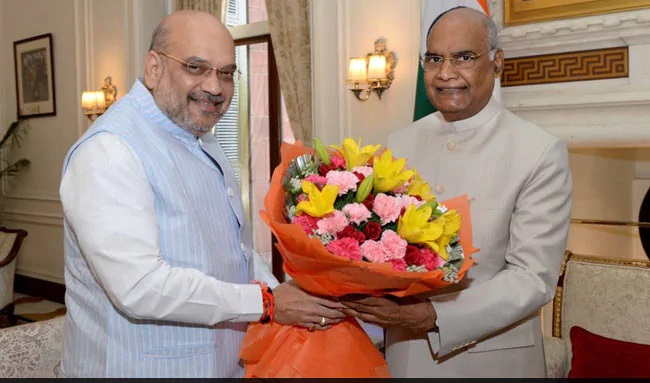 The former president of the United States of America, Donald Trump had previously inaugurated the venue during his visit to India on February 24, 2020. The venue has previously hosted the knockout stages of the Syed Mushtaq Ali T20 trophy.
President Ramnath Kovind Does The Honors, Stadium Renamed to Narendra Modi Stadium
While the third Test between India and England is slated to begin from 2.30 PM onwards; the President of India Ramnath Kovind did the Bhumi pooja and inaugurated the new stadium. The new stadium was also renamed after the current Indian Prime Minister Narendra Modi.
The previously Sardar Patel Stadium will now be known as the Narendra Modi Stadium in Ahmedabad, which will have a Sardar Patel Sports Complex within its premises as well.
The Motera stadium has already mesmerized fans, cricketers and experts with its charm. The venue is spread over 63 acres and has a total of 76 corporate boxes, an Olympic-level swimming pool, an indoor academy, and four dressing rooms for athletes, and food courts.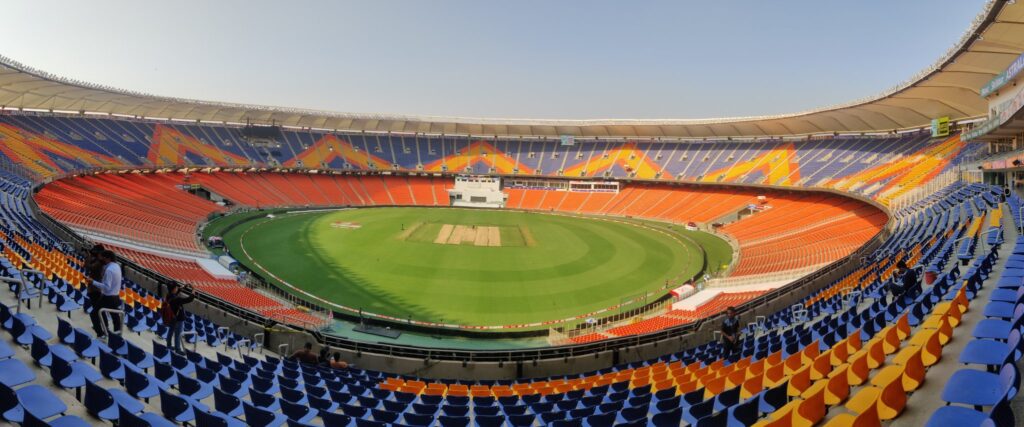 The third Test match will have 50% of attendance as well, which means over 50,000 people will be able to watch the first-ever day/night Test between Virat Kohli's India and Joe Root's England unfold over five days.
The match is also highly valuable for both teams in terms of the ICC World Test Championship final qualification. New Zealand has already qualified for the final which will be played on June 18 at Lord's ground in London, England. India needs to win the series 2-1 or 3-1 to meet New Zealand in the final; while England needs to win the series 3-1 to knock India out of contention.
Gujarat: President Ram Nath Kovind inaugurates Narendra Modi Stadium, the world's largest cricket stadium, at Motera in Ahmedabad

Union Home Minister Amit Shah, Gujarat Governor Acharya Devvrat, Sports Minister Kiren Rijiju, and BCCI Secretary Jay Shah also present pic.twitter.com/PtHWjrIeeH

— ANI (@ANI) February 24, 2021
The President of India Ram Nath Kovind performs Bhumi Pujan, at the Motera Stadium, Ahmedabad. #MoteraCricketStadium pic.twitter.com/pEzQyuccKu

— Prasar Bharati News Services पी.बी.एन.एस. (@PBNS_India) February 24, 2021
Ahmedabad: President Ram Nath Kovind to formally inaugurate Sardar Patel Stadium, Motera where pink-ball Test match between India and England will begin today#Gujarat pic.twitter.com/vnxTcS3Vbh

— ANI (@ANI) February 24, 2021
Catch the very first glimpses of the World's largest Cricket stadium, inaugurated by the President of India Ram Nath Kovind at Motera, Ahmedabad pic.twitter.com/3BzxpfbiH6

— Doordarshan National दूरदर्शन नेशनल (@DDNational) February 24, 2021
President Ram Nath Kovind inaugurates world's largest cricket stadium – #MoteraCricketStadium, in Ahmedabad

WATCH LIVE: https://t.co/1ZyxLFN1fI pic.twitter.com/aemgNEIWwg

— DD News (@DDNewslive) February 24, 2021