India Legends claimed a big victory against South Africa Legends on Saturday (13th March) night at Raipur where the hosts claimed a 56-run win.
In this 13th match of the Road Safety World Series 2020/21, South Africa Legends captain Jonty Rhodes chose to field first after winning the toss. But India Legends became the first team to score 200+ runs in this tournament history as they scored 204/3 in 20 overs. Chasing down the giant target, South Africa Legends only managed to score 148/7 at the end of 20 overs.
Road Safety World Series 2020/21, Match 13: India Legends vs South Africa Legends
2nd innings (South Africa Legends): Strong opening partnership couldn't help the Proteas Legends to fight back in this match
Chasing down the big total, openers Andrew Puttick and Morne van Wyk built up the 87-run partnership for the first wicket. But once Yusuf Pathan broke that partnership by dismissing Puttick for 41 off 35 balls (6 fours), their other batsmen failed to handle the rising required run-rate pressure.
Soon Pragyan Ojha took the wicket of another opener Morne van Wyk, who scored 48 off 35 balls with the help of 4 fours and 2 sixes. Then only their captain Jonty Rhodes managed to score 20+ runs who remained not out on 22 off 21 balls with the help of 2 fours.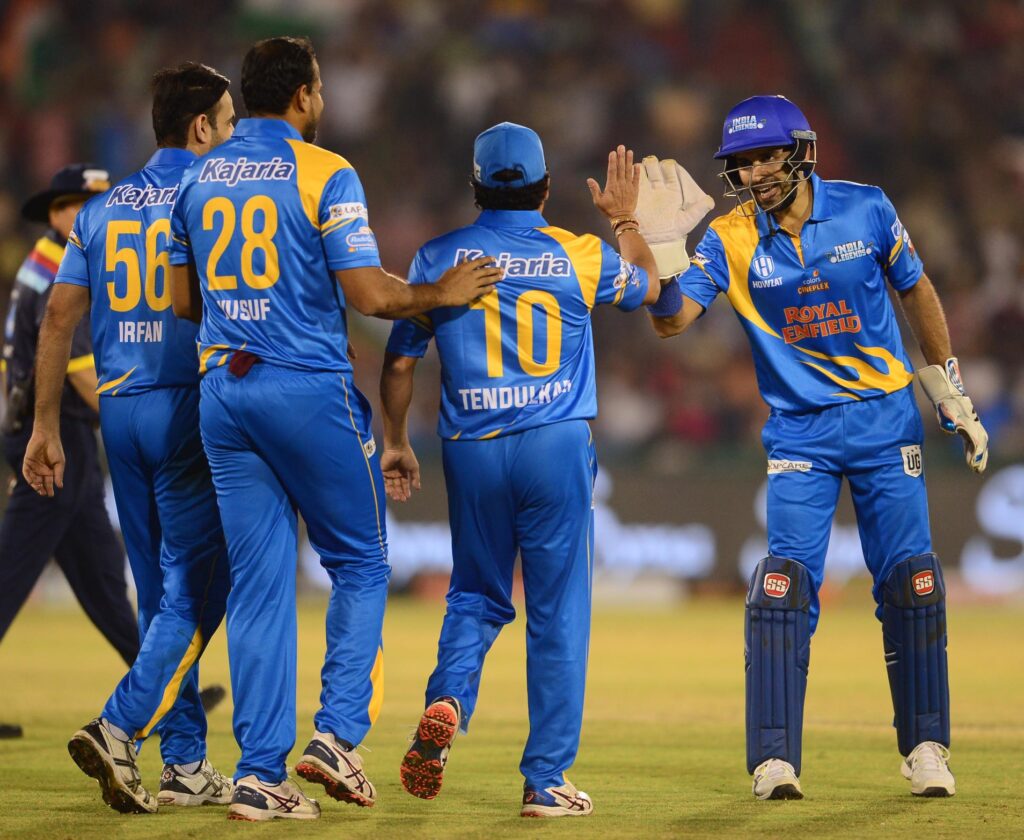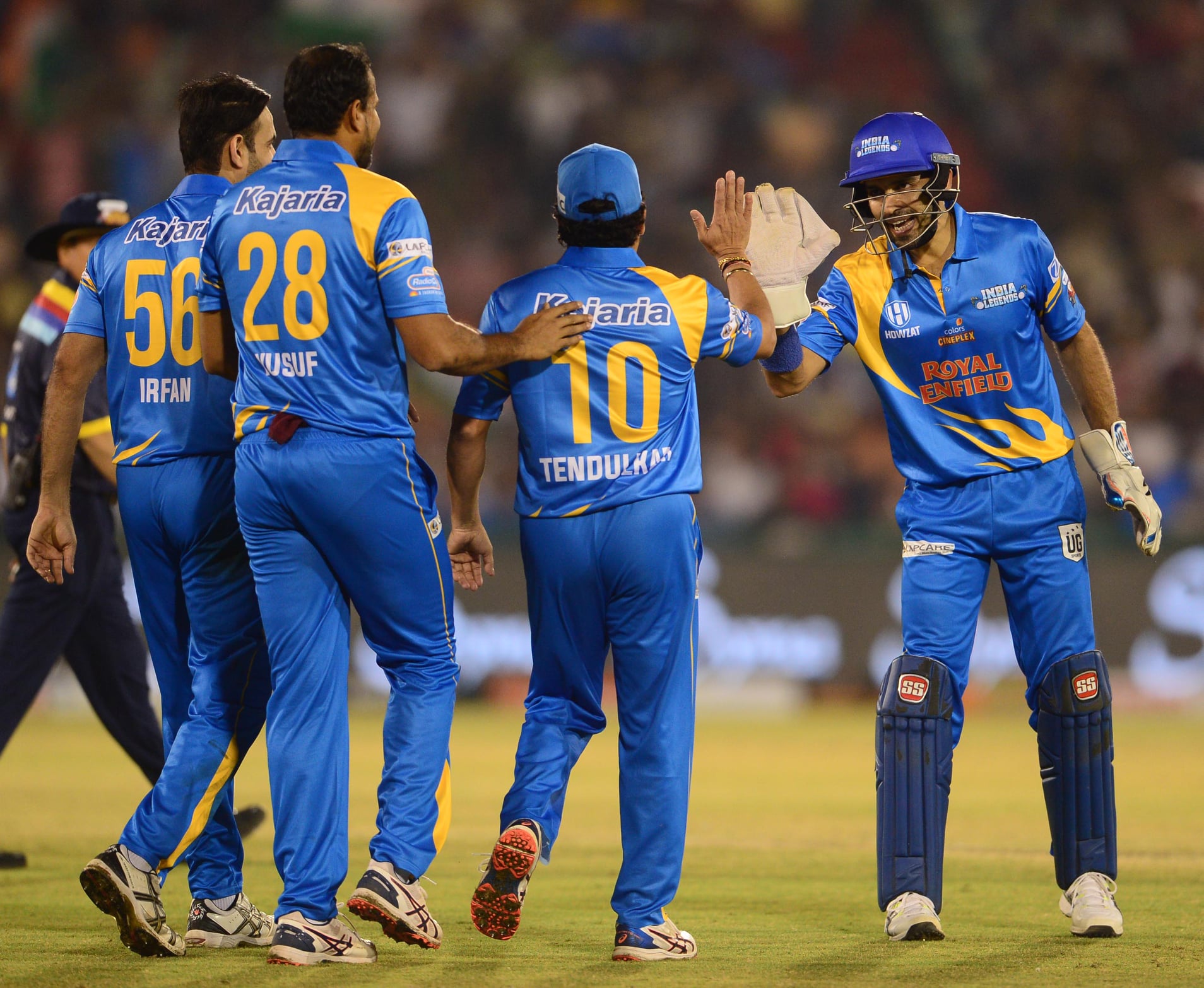 Yusuf Pathan (3/34) got three wickets while Yuvraj Singh (2/18) picked up two wickets. Also, Pragyan Ojha (1/28) and Vinay Kumar (1/14) collected one wicket each.
1st innings (India Legends): Sachin Tendulkar and Subramaniam Badrinath set up the base before Yuvraj Singh and others thrashed the opposition bowlers
Garnett Kruger provided the early breakthrough as he dismissed Virender Sehwag in the second over of the match while Sehwag only managed to score 6 runs off 8 balls. However, captain Sachin Tendulkar and Subramaniam Badrinath put the big 95 runs partnership for the second wicket.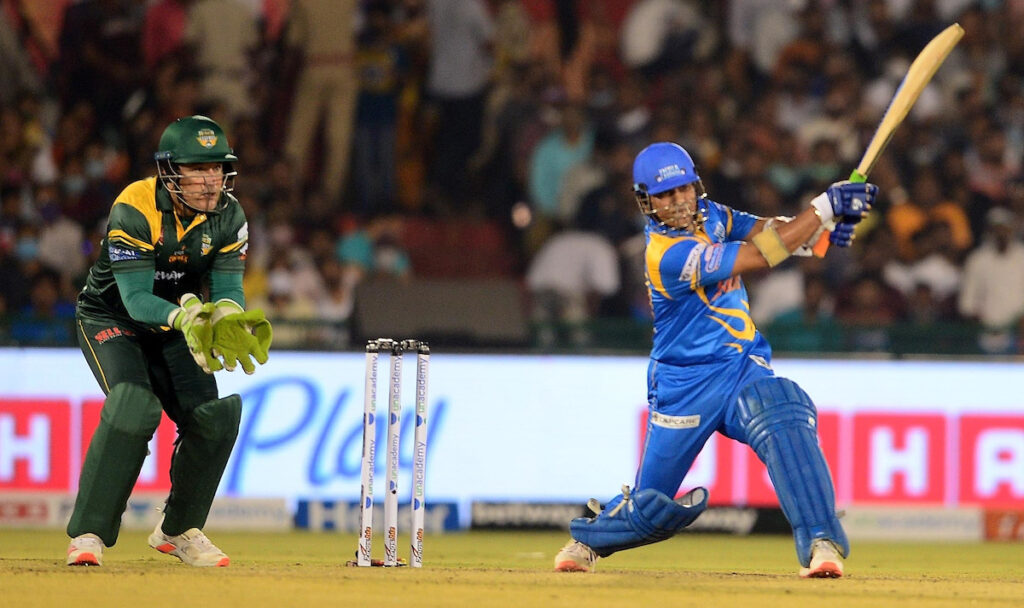 Tendulkar scored 60 off 37 balls (9 fours and only six) while Monde Zondeki finally took his wicket after Thandi Tshabalala took a smart catch. Just three balls later, Badrinath was retired hurt on 42 off 34 balls (4 fours and 2 sixes) due to having a cramp.
Soon, Yusuf Pathan smashed 23 off just 10 balls (2 fours and 2 sixes) while Zondeki took his wicket. But then Yuvraj Singh and Manpreet Gony fired the Proteas bowlers in the death overs as they collected 63 runs in the last 22 balls without losing their wickets. In the 18th over of that innings, Yuvraj smashed four consecutive sixes to Zander de Bruyn.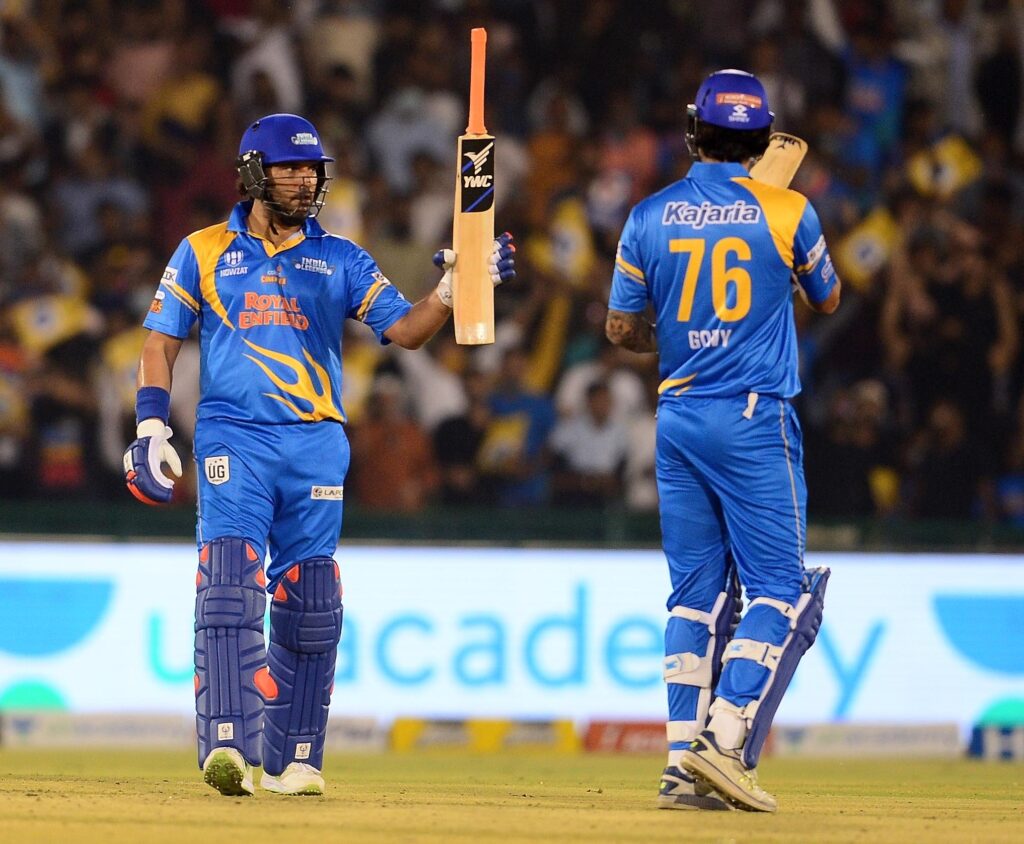 While Yuvraj scored 52 not out 22 balls (2 fours and 6 fours), Gony scored 16 not out off 9 balls (only six).
Brief Scores: India Legends – 204/3 in 20 overs (Sachin Tendulkar 60, Yuvraj Singh 52; Monde Zondeki 2/35)
South Africa Legends – 148/7 in 20 overs (Morne van Wyk 48, Andrew Puttick 41; Yusuf Pathan 3/34)
Result – India Legends won by 56 runs