With 5 runs required off the last ball, Shahrukh Khan dispatched a leg-stump length ball over the deep square leg boundary to take Tamil Nadu over the line a thrilling run-chase, defeating Karnataka in the final and successfully defending their Syed Mushtaq Ali title, which they'd won last season.
Chasing 152, Hari Nishanth got off to a brisk start, slamming 2 sixes and a four during his 23-run knock off 12 balls. Skipper Vijay Shankar (18 off 22) and opener N Jagadeesan (41 off 46) held onto their wickets but couldn't quite hit the boundaries before both were dismissed on consecutive deliveries by KC Cariappa.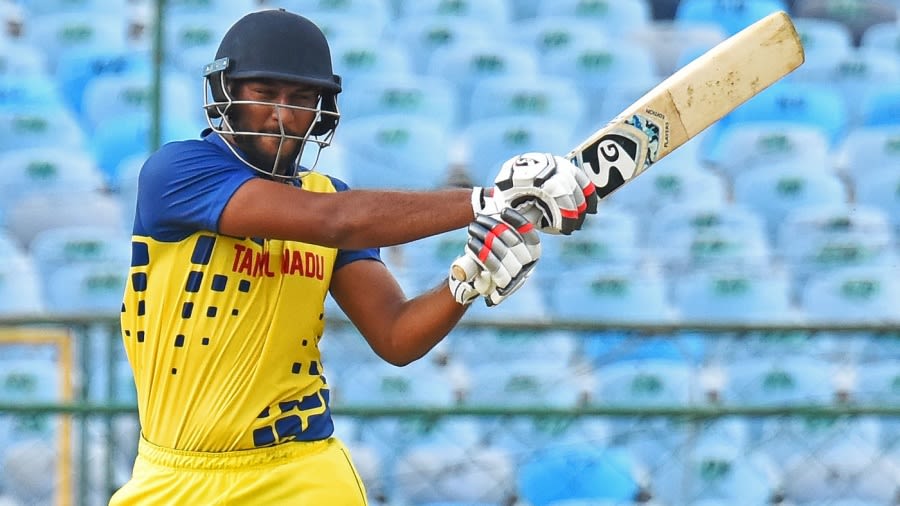 55 runs were needed from the last four overs. Enter Shahrukh Khan, The right-hander blasted and six and a four to Darshan MB and another maximum to Vidyadhar Patil but lost partners at the other end.
With 16 needed off the last over, bowled by Prateek Jain, a thick edge from Sai Kishore's bat found the boundary line. A couple of wides and quick running on the penultimate ball cut the equation down to 5 off 1 with Shahrukh Khan on strike who made the most of a bad delivery and remained unbeaten on 33 from 15 balls.
Earlier, Karnataka had been rocked inside the powerplay with Sai Kishore and Sanjay Yadav taking out the top three of Rohan Kadam, Manish Pandey, and Karun Nair.
Abhinav Manohar's 46 and Praveen Dubey's 33 kept them in the hunt for a decent total before Jagadeesha Suchith whacked 18 runs from 7 balls to take Karnataka to 151.
After his heroics, Shahrukh Khan said: "There were a lot of things in my mind, but I tried to keep it simple. The ball was rough and the wicket was slow, so I wanted to connect it off the middle. I was waiting to hit it over long-on, and I got the room to get it over square leg. We played a bit slow in the middle, but that's the trend of our team – the roles are well-defined, and the top order had trust in me and Mohammed. He (Mohammed) has been a special talent so thanks to him. It has been a special thing to hit a last-ball six. I'll remember this for a long time."
Twitter hailed Shahrukh Khan's outstanding efforts.
Twitter Erupts As Shahrukh Khan's Last-Ball Six Takes Tamil Nadu To Syed Mushtaq Ali 2021-22 Title:
"திரும்பி வந்துடோம் னு சொல்லு"

So so happy for another fantabulous season and defending our title.
The boys owned the season with a top-notch display of cricket. 👏
Can't wait to celebrate with you guys soon! 🥂#SyedMushtaqAliT20 #SyedMushtaqAliTrophy pic.twitter.com/pMTrAM5RYq

— DK (@DineshKarthik) November 22, 2021
Two years ago , lost in the last ball in a final and to dig deep n find a way to win against the same opponent on the Last ball was great too watch. Well done to Karnataka on a brilliant tournament and very well done to @TNCACricket on defending the title.❤️🌟 #smat2021

— DK (@DineshKarthik) November 22, 2021
The final solely belongs to 2 players from Tamilnadu, @saik_99 with the ball and @shahrukh_35 with the bat, and it was fitting to see them both at the crease WINNING it for @TNCACricket at the end.
They're knocking the doors of TEAM INDIA nice n hard. #BestintheBusiness❤️ #SMAT

— DK (@DineshKarthik) November 22, 2021
The shot of the day for me came from @saik_99 , wonderful no look boundary mirroring Martin Guptill in the last over. #SMATFinal #TNvKAR

— Ashwin 🇮🇳 (@ashwinravi99) November 22, 2021
Unbelievable Victory! Congratulations @tncacricket 👏👏 @shahrukh_35 #SyedMushtaqAliTrophy

— S.Badrinath (@s_badrinath) November 22, 2021
🔥🔥🔥🔥🔥 @shahrukh_35 @TNCACricket great title defence this 🤩🤩🤩 #TNvKAR #SMATFinal

— Ashwin 🇮🇳 (@ashwinravi99) November 22, 2021
What a game. What a final. The two best T20 sides in the country contested for the trophy. The best side won. M Shahrukh Khan has such a dominating presence at the crease. Kieron Pollard-like. Well played, Tamil Nadu. Karnataka can be proud of the fight.

— Shashank Kishore (@captainshanky) November 22, 2021
Tamil Nadu becomes the most successful team in Syed Mushtaq Ali history – this shot from Shahrukh Khan will be remembered forever. pic.twitter.com/22b5wJjPDw

— Johns. (@CricCrazyJohns) November 22, 2021
shahrukh khan came into bat with TN at 94/4 in 15.2 overs. they needed 57 in the remaining 26 balls. he got 33 in 15 with a six off the last ball to clinch it. terrific! #TNvKAR

— Gaurav Kalra (@gauravkalra75) November 22, 2021
Winning a T20 final with a SIX on the last ball:

India vs Bangladesh, Nidahas Trophy 2018 (Dinesh Karthik)
Tamil Nadu vs Karnataka, SMAT 2021-22 (Shahrukh Khan)

No other team won a T20 final by successfully chasing more than two target runs on the last ball. #SMAT2021 #TNvKAR

— Sampath Bandarupalli (@SampathStats) November 22, 2021
Shahrukh Khan the beast, a six on the final ball.

Tamil Nadu are the champions of Syed Mushtaq Ali Trophy 2021. What a win for them, what a final.

— Mufaddal Vohra (@mufaddal_vohra) November 22, 2021
Shahrukh Khan, the finisher – 19*(9) in the Quarter-final and 33*(15) in the final when Tamil Nadu need 57 runs from just 28 balls – What a player, SRK.

— Johns. (@CricCrazyJohns) November 22, 2021
SHAHRUKH KHAN!!! Remember the name. Oh wait, you already do.#SyedMushtaqAliTrophy

— Rohit Sankar (@imRohit_SN) November 22, 2021
Shahrukh Khan is one of the rare players who can hit sixes from ball one in India, he won it for his team. Congratulations, Tamil Nadu.#smat2021

— Bhawana (@bhawnakohli5) November 22, 2021
Harke jeetne wale ko Baazigar kehte hai, what a performance by Shahrukh Khan for @TNCACricket. Back to back #SMAT win!! #TNvKAR

— Vishesh Roy (@vroy38) November 22, 2021
Take a bow, Shahrukh Khan! 33* off 15 to win the final for Tamil Nadu.

Tremendous self-belief and composure. A powerhitter who knows how to use his brain under pressure! Team India call up isn't that far away. #SyedMushtaqAliTrophy

— Prasenjit Dey (@CricPrasen) November 22, 2021
Shahrukh Khan, the hero with a filmy climax. How fitting!#smat2021

— Omkar Mankame (@Oam_16) November 22, 2021
Winning the tournament by hitting a six off the final ball — Shahrukh Khan is the hero in the final scene. Stuff of dreams. Tamil Nadu has been fantastic in T20 cricket. Consistent. Congratulations @TNCACricket

— Sarang Bhalerao (@bhaleraosarang) November 22, 2021
Shahrukh Khan today. pic.twitter.com/MrNTdc6yLe

— Heisenberg ☢ (@internetumpire) November 22, 2021
Last Ball Finish and #Yellove wins! 💛🦁

Tamilnadu – #SyedMushtaqAliTrophy Winners 🏆

— Chennai Super Kings – Mask P😷du Whistle P🥳du! (@ChennaiIPL) November 22, 2021
Teams to win Syed Mushtaq Ali Trophy in consecutive seasons:
Karnataka in 2018-19 & 2019-20
Tamil Nadu in 2020-21 & 2021-22

In last 4 seasons, it is Karnataka twice in a row, followed by Tamil Nadu twice in a row.#SMAT2021

— Kausthub Gudipati (@kaustats) November 22, 2021
CSK.
Australia.
And now, Tamil Nadu.

– A year of yellow teams in T20 cricket.

— Mufaddal Vohra (@mufaddal_vohra) November 22, 2021
Tamil Nadu becomes the most successful team in Syed Mushtaq Ali Trophy history with 3 titles.

— Mufaddal Vohra (@mufaddal_vohra) November 22, 2021
Also Read: Hardik Pandya Unlikely To Be Part Of South Africa Tour; Expected To Go To NCA Over Fitness Concerns