New Zealand keeper-batsman BJ Watling has done what has been asked of him throughout his career and is still giving it all in his final Test. Despite suffering a finger injury on the sixth day of the ICC World Test Championship final against India in Southampton, BJ Watling has continued to keep wickets for his side. Thus, Twitter has been in awe of the veteran's willingness to keep going amid an injury.
Also Read: Watch: Rishabh Pant Holes Out For 88-Ball 41 In The 2nd Innings Of ICC WTC Final
The injury occurred three over before lunch when Ravindra Jadeja drove a delivery from Neil Wagner to mid-off and set for a single. With no single available as Kane Williamson scampered from the region for a throw, it missed the stumps and hit the finger of Watling, who came in running towards the stumps. While the physio came out and attended to the veteran, he seemed okay to continue and got on with the job with a dislocated finger.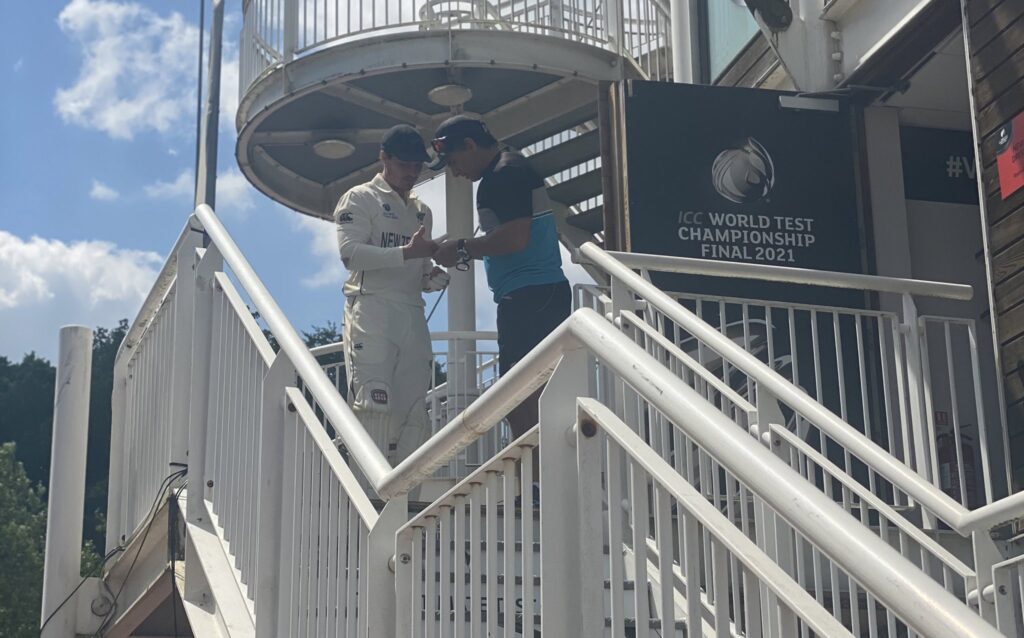 In fact, Tom Blundell or Tom Latham had been rumoured to keep wickets after lunch; however, Watling came out with the keeping gloves. Thus, social media users applauded his braveness as he was ready to give it all, with New Zealand in the driver's seat to win the final. Furthermore, the South African-born cricketer took three catches in India's second innings, helping the bowlers get rid of Virat Kohli, Ajinkya Rahane, and Ravindra Jadeja. As things stand currently, the Black Caps need 139 runs in the fourth innings to win the inaugural edition of the ICC World Test Championship.
Below is how Twitter reacted to BJ Watling keeping wickets with a wounded finger:
New Zealand wicketkeeper #BJWatling showed courage to withstand his finger injury pain to return to keep wickets after lunch on the last day of his Test cricket career.https://t.co/XmU2hCFSv6

— The Quint (@TheQuint) June 23, 2021
BJ Watling was leading the New Zealand team into the ground as this is his final day of a great international career.

— Johns. (@CricCrazyJohns) June 23, 2021
BJ Watling, who's playing his final Test match, still has the gloves for New Zealand despite dislocating his right ring finger #WTCFinal pic.twitter.com/k8ZfltVyAx

— ESPNcricinfo (@ESPNcricinfo) June 23, 2021
BJ Watling has dislocated his ring fingers but he's still out there🔝. It's his last game, he'll do anything for his country🙏. #WTC21 pic.twitter.com/d1UjlWS5Wi

— Arsalan Shahid (@iamarsalan18) June 23, 2021
BJ Watling's finger dislocated and he is in so much pain and but he decided in the ground and playing WTC Final. Respect, BJ Watling. #INDvNZ pic.twitter.com/aQDSn3efdd

— CricketMAN2 (@man4_cricket) June 23, 2021
BJ Watling decided to continue playing even
after dislocating his finger as he is playing
his final Test match ♥️🏏

Hatsoff to 🇳🇿 Keeper 🏏 #WTCFinal

— Saeed Cricky🏏RIP Usman (@SaeedCricky) June 23, 2021
BJ Watling giving his all in the final test of his cricketing career. He has dislocated his finger, yet is out there, respect mate 👏🏻

— Shrutika Gaekwad (@Shrutika_45_) June 23, 2021
BJ Watling dislocated his right ring finger in the first session and has received medical treatment during the lunch break before returning to the field. #WTC21 pic.twitter.com/740pwb8MVs

— BLACKCAPS (@BLACKCAPS) June 23, 2021
BJ Watling has dislocated his finger but decided to keep in the WTC final as he is playing his final Test. Total respect, BJ. #INDvNZ

— Johns. (@CricCrazyJohns) June 23, 2021
BJ Watling has dislocated finger of his right hand and is still keeping wickets,respect.🙌 pic.twitter.com/OSl8AAj3R1

— K I R A N 🇮🇳 (@Kiran_reddy_k) June 23, 2021
Amid an engrossing #WTCFinal, let's take some time out to appreciate BJ Watling, who has just taken a catch and is still battling it out there with a dislocated finger on the last day of his stellar Test career 🙌🏻

The mindset of a champion cricketer.#WTC21 #INDvNZ pic.twitter.com/LxFAlTVC0b

— Delhi Capitals (Stay Home. Wear Double Masks😷) (@DelhiCapitals) June 23, 2021