The Road Safety World Series 2021 got underway on March 5 with the India Legends team taking on the Bangladesh Legends and beating them emphatically by 10 wickets at the Shaheed Veer Narayan Singh International Stadium, Raipur.
The tournament will see India Legends, South Africa Legends, Sri Lanka Legends, West Indies Legends, England Legends, and Bangladesh Legends in T20 matches with former players from all the countries bringing on a heavy dose of nostalgia for the fans who grew up watching them.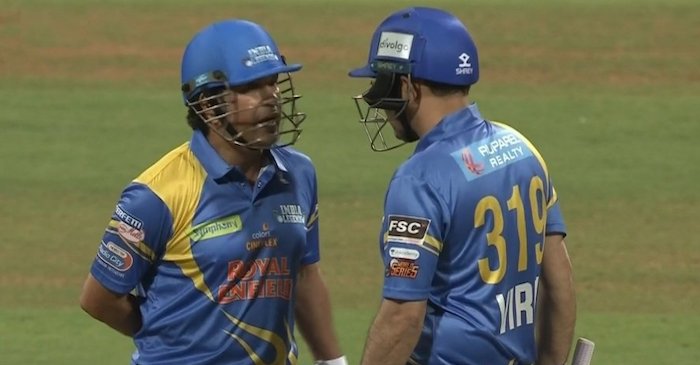 Sachin Tendulkar-Virender Sehwag Smash Bangladesh Legends Team
Meanwhile, the first match saw Sachin Tendulkar-led India Legends team taking on Mohammad Rafique's Bangladesh Legends. The visitors won the toss and chose to bat first. Nazimuddin top-scored with 49 in 33 balls with 8 fours and 1 six. Only two other players got into double figures as opener Javed Omar made 12 runs in 19 balls with one four to his name.
The other player to get into double figures was Rajin Saleh, who also made 12 runs in 24 balls with one-four as well.
For India, Vinay Kumar (2/25), Pragyan Ojha (2/12), and Yuvraj Singh (2/15) were the best bowlers, with Manpreet Gony and Yusuf Pathan also picking one wicket apiece.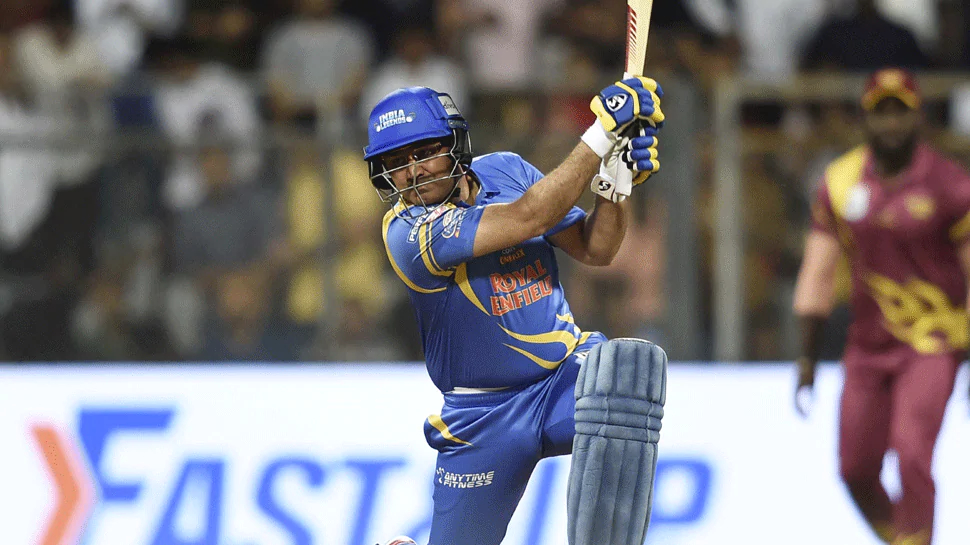 Bangladesh Legends bowlers failed to pick a single wicket as Sachin Tendulkar remained unbeaten on 33 in 26 balls with 5 fours to his name. However, the innings of the match came as Virender Sehwag smacked his way to 80* in just 33 balls with 10 fours and 5 sixes to his name. His strike rate was an eye-watering 228.57.
Mohammad Sharif and Khaled Mahmud both gave away more than 30 runs in their overs respectively while Mohammad Rafique gave 26 runs and Alamgir Kabir gave 25 runs.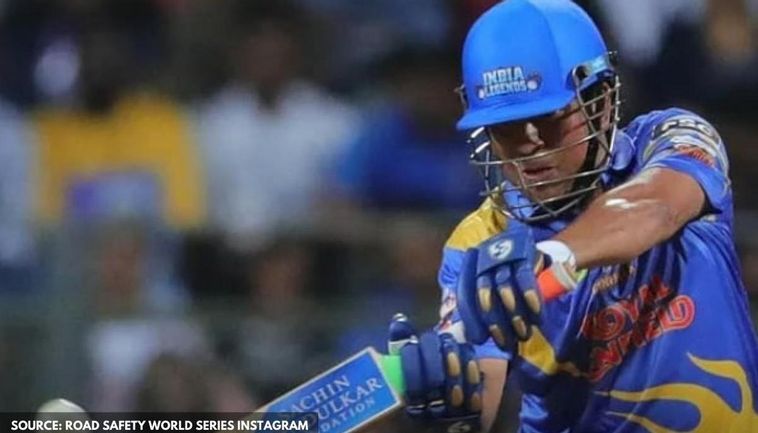 Twitterverse was ecstatic to see their favorites Sachin Tendulkar and Virender Sehwag back in action as India won the match by 10 wickets in hand. They lauded the victory and the duo's performance on the social media platform with tweets.
Here are some tweets on India Legends' victory over Bangladesh Legends in the Road Safety World Series 2021 opening match:
Virender Sehwag can easily be a first choice opener of some of the international team.

— Mufaddal Vohra (@mufaddal_vohra) March 5, 2021
I would pay to watch sehwag and sachin bat together no matter how old they are. #Justa90skid #Sheerjoy

— Abhinav mukund (@mukundabhinav) March 5, 2021
Hundred runs partnership between Sachin Tendulkar and Virender Sehwag from just 8.5 overs.

— Johns. (@CricCrazyJohns) March 5, 2021
Sehwag To Bangladesh Legends Bowlers:- pic.twitter.com/mqd0u3198i

— Comedy Tonic Telugu (@ComedyTonic) March 5, 2021
Sehwag you're so awesome but also can you please let Sachin have a hit 😂♥️ #IndiaLegends

— Chloe-Amanda Bailey (@ChloeAmandaB) March 5, 2021
The entry 🔥😍

Virender Sehwag + Sachin Tendulkar#RoadSafetyWorldSeries2021#INDvBAN #IndiaLegends#RoadSafetySeries

— Sports Freak (@OfficialSfreak) March 5, 2021
Indian legends Completed 100 runs in just 8.5 overs. Virender Sehwag and Sachin Tendulkar combo Completed yet another 100 runs Partnership.

— CricketMAN2 (@man4_cricket) March 5, 2021
The legendary pair of Sachin Tendulkar and Virender Sehwag returns. pic.twitter.com/dJVcs8gPw4

— Mufaddal Vohra (@mufaddal_vohra) March 5, 2021
India Legends defeats Bangladesh Legends by 10 wickets. What an innings from Virender Sehwag, he scored 80 runs in just 35 balls with 10 fours and 5 sixes. The dominance of Sehwag is still on. Good knock from Sachin Tendulkar as well, he scored 33 in 26 balls.

— Mufaddal Vohra (@mufaddal_vohra) March 5, 2021
Hundred runs partnership between Sachin Tendulkar and Virender Sehwag from just 8.5 overs#IndiaLegends #RoadSafetyWorldSeries2021 pic.twitter.com/jAdBQsCB2l

— DIVYA KoHILi 💉 (@DivyaKohili) March 5, 2021
A comprehensive win forIndia Legendsby 10 wicketsover Bangladesh Legends⚡
Virender Sehwag exclusive 80*runs from 34 balls including 4s- 10 & 6s- 5 like his vintage way✨
Sachin Tendulkar scored 33*runs off 26 Balls including 4s 5 #RoadSafetyWorldSeries #Viru#SachinTendulkar pic.twitter.com/e9ftLBPZI8

— Ankit Mukherjee (@mukherjeeankit1) March 5, 2021
Sehwag and Tendulkar rolling back the years! 😍#RoadSafetyWorldSeries2021 pic.twitter.com/YtnNL4LWDX

— Roushan (@itsroushan) March 5, 2021
Sachin Tendulkar – Virendra Sehwag opening once again. A feast for the eyes 🤩🤩🤩 @roadsafetyseries @virendersehwag @sachin_rt @BCCI pic.twitter.com/MPl5Q29Lf2

— Sharul Srivastava (@sharul_srvstv) March 5, 2021
Time travelled and back @sachin_rt @virendersehwag #RoadSafetyWorldSeries

— Irfan Pathan (@IrfanPathan) March 5, 2021
And @virendersehwag @sachin_rt smashing Bangladesh to win Indian legends the game by 10 wickets. Some vintage shots. Always a pleasure to see these two bat together.

— Boria Majumdar (@BoriaMajumdar) March 5, 2021
Virender Sehwag & Sachin Tendulkar smashing the opposition

Sehwag starting the innings with a boundary & finishing with a six

Sehwag 80*(35) & Sachin 33*(26)

Is it the early 2000s?

— Sarang Bhalerao (@bhaleraosarang) March 5, 2021
53 off 20 balls. Only Sehwag things 🔥#RoadSafetyWorldSeries2021 pic.twitter.com/v6ZZ5gnE9g

— UrMiL07™ (@urmilpatel30) March 5, 2021
I didn't know whether to say anything or not because I already did my good night tweet, but in classic form I'm still awake. Waiting too see Sachin bat 😂 #IndiaLegends #INDvBAN

— Chloe-Amanda Bailey (@ChloeAmandaB) March 5, 2021
Sehwag bringing up fifty with a Six remains constant.❤#RoadSafetyWorldSeries2021 #IndiaLegends pic.twitter.com/GC8d71NJfq

— UrMiL07™ (@urmilpatel30) March 5, 2021
Sehwag bringing up fifty with a Six remains constant.❤#RoadSafetyWorldSeries2021 #IndiaLegends pic.twitter.com/GC8d71NJfq

— UrMiL07™ (@urmilpatel30) March 5, 2021