Former Indian batting legend Sachin Tendulkar returned has returned to what he does, even if briefly. Sachin Tendulkar, often referred to as the 'God of Cricket', has been involved with the India Legends team in the 2021 Road Safety Series. Ahead of the clash against England Legends, the batting maestro crafted a glorious straight drive.
Sachin Tendulkar's straight drive is undoubtedly regarded as one of the most beautiful shots in cricket. It indeed comes at par with the pull shots crafted by Ricky Ponting or Rohit Sharma, or Virat Kohli's cover drive. England Legends, captained by Kevin Pietersen and having the likes of Chris Tremlett, James Tredwell, Monty Panesar, and many others, will clash with India Legends on March 9th.
Former Indian all-rounder Rohan Gavaskar, who plays for India Legends, took to his official Twitter handle and shared a brief clip of Sachin Tendulkar's straight drive from the Shaheed Veer Narayan Singh Stadium in Raipur, captioning it as "If this doesn't make you happy, nothing will". The video has taken social media by storm, garnering more than 100000 views and 10000 likes.
If this doesn't make you happy , nothing will. pic.twitter.com/uHORzQ5QHp

— Rohan Gavaskar (@rohangava9) March 7, 2021
Sachin Tendulkar and Virenders Sehwag bring back old memories: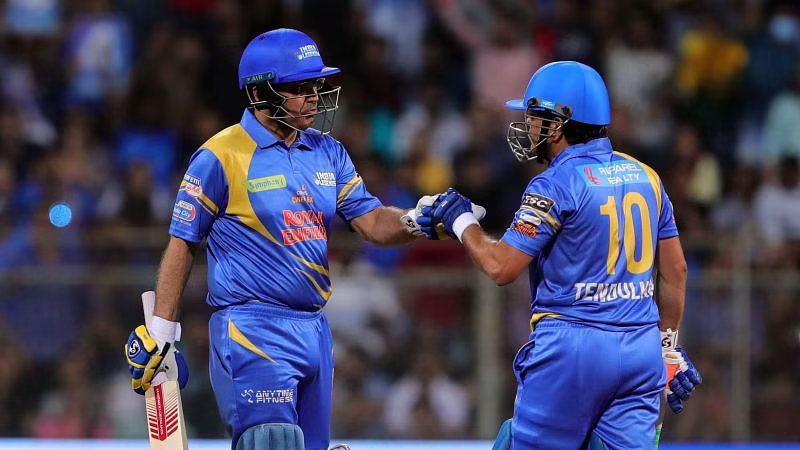 Meanwhile, India Legends' captain Sachin Tendulkar and his opening partner Virender Sehwag brought back some old memories through some skilled hitting as they secured a convincing victory over Bangladesh Legends to make it hattrick of wins. India Legends already had two wins under their belt last year under Tendulkar's leadership.
Bangladesh Legends managed only 109 in the first innings and the opening duo gunned it down with ten wickets to spare within 11 overs. Virender Sehwag remained unbeaten at 80 in 35 balls, while Sachin Tendulkar stayed not out at 33 off 26 deliveries. It indeed brought back the memories from India's old days when the pair used to dismantle oppositions.
Also Read: Geoffrey Boycott Advises ECB To Take Harsh Measures Against Players If They Choose IPL Over National Duty