Not only the WACA ground but also one of the groundsmen faced the wrath of heavy downpour in Perth. Winds, perhaps faster than Mitchell Starc's thunderbolt, accompanied with heavy rains swept across Perth, bringing an early end to the fourth day's play and thus threatening to dash Australia's hopes of regaining the urn.
But while the real action stopped due to the weather, another kind of action was witnessed when the groundsmen came running on the ground to cover the pitch. But such was the force of the storm that even close to 5-6 workers were finding it tough to cover it.
Also Read: The Ashes 2017/18: When Kevin Pietersen Called Joe Root 'Captain Fantastic'
Covers v Groundstaff – What a contest at the WACA! #Ashes @MastercardAU #MastercardMoment pic.twitter.com/HtZENSjhmL

— cricket.com.au (@cricketcomau) December 17, 2017
In the process, they lost the grip over the cover which flew away and floored one of the workers.
Here is a clip of that incident:
GOT HIM! Don't worry guys… He's okay. ? #Ashes pic.twitter.com/3zrvGQ2KRi

— Wide World of Sports (@wwos) December 18, 2017
Meanwhile, the start of the fifth day's play was delayed due to rain, as well as marred by controversy. England skipper Joe Root and head coach Trevor Bayliss held a lengthy discussion with the umpires before the play and seemed unhappy with the state of the pitch.
Also Read: The Ashes 2017/18: If I Faced That Mitchell Starc Delivery Another 20 Or 30 Times, It Would Get Me Out Every Time: James Vince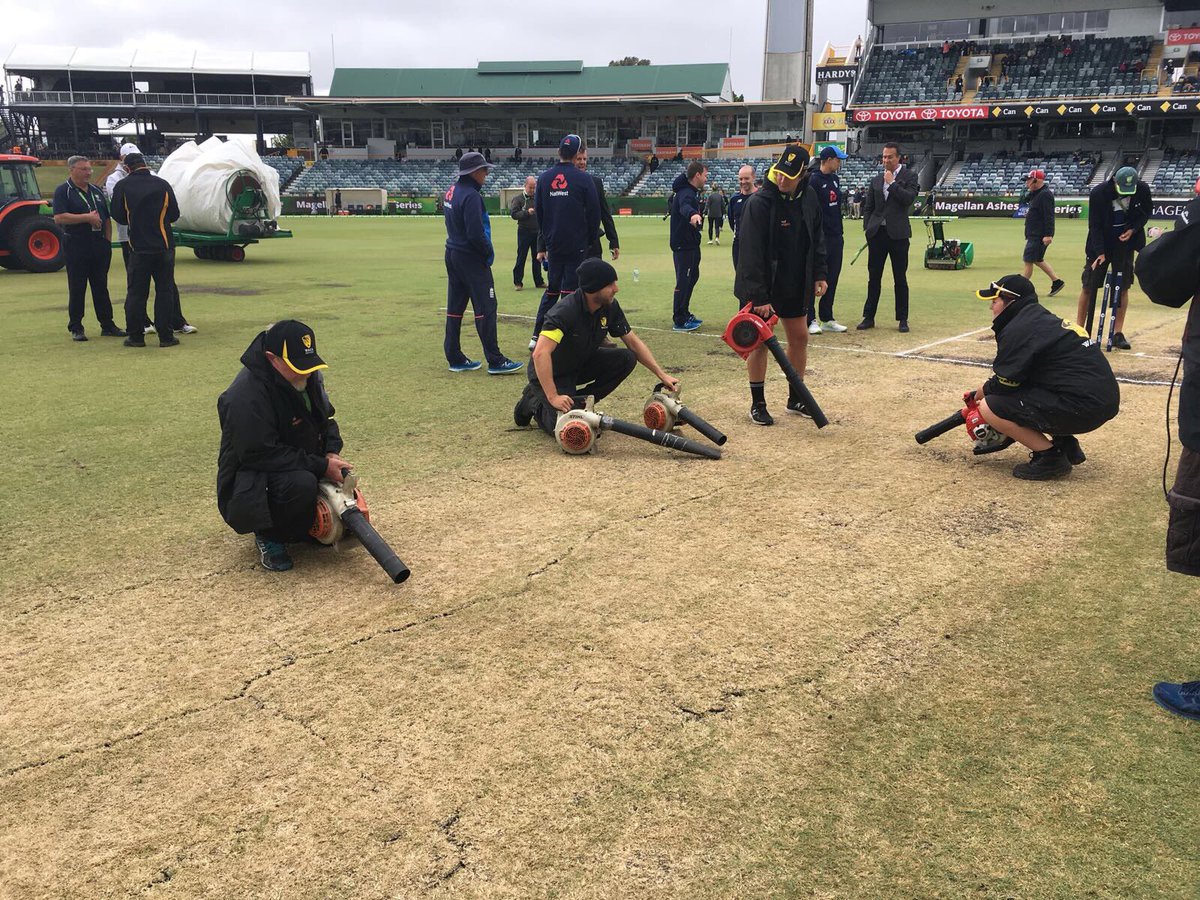 "Whatever the umpires say we'll do," Bayliss told Channel Nine. "At the moment there's a few soft spots in the wicket. We're more than prepared to come out and play if we can get it as close as we can to yesterday.
However, the game has finally started after a lengthy delay. England began the day on 132 for four with first innings' centurion Dawid Malan and Jonny Bairstow starting the proceedings with the bat,
Video of the day: