In an unfortunate news, famous cricket coach Ramakant Achrekar died on Wednesday.  A family member confirmed that Achrekar passed away owing to old-age related ailments.
"He (Archrekar Sir) is no more with us. He passed away this evening," one of his relatives told PTI over phone.
The Dronacharya awardee was most famous for coaching young cricketers at Shivaji Park in Dadar, Mumbai, most notably Sachin Tendulkar. He has also been a selector for Mumbai cricket team. The eminent coach was also a Padma Shri awardee. Some other notable names who took coaching from Achrekar are Vinod Kambli, Pravin Amre, Sameer Dighe and Balwinder Singh Sandhu.
Tendulkar has always credited Ramakant Achrekar for every milestone that he ever reached on the cricket field.Tendulkar had started training with Achrekar in Mumbai at the age of 11.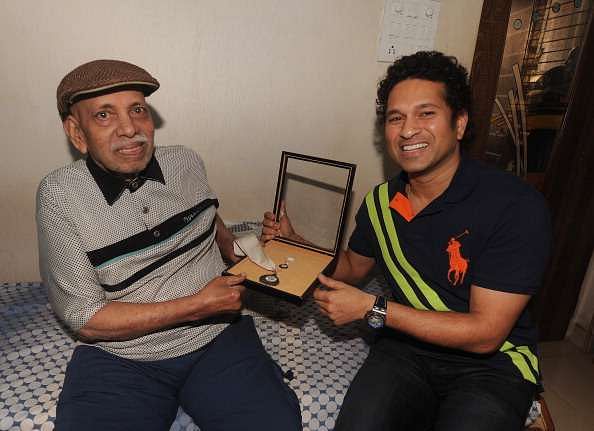 Unlike his coaching career, Achrekar did not enjoy a good playing career. He had started playing cricket in 1943, and had only played one first-class match, for the all-India State Bank against Hyderabad.
Meanwhile, following his death on Wednesday, Twitter saluted one of the Mumbai cricket maidans' famous sons. And BCCI also paid a glowing tribute to the legendary coach, writing:
"The BCCI expresses its deepest sympathy on the passing of Dronacharya award-winning guru Shri Ramakant Achrekar. Not only did he produce great cricketers, but also trained them to be fine human beings. His contribution to Indian Cricket has been immense."
The BCCI expresses its deepest sympathy on the passing of Dronacharya award-winning guru Shri Ramakant Achrekar. Not only did he produce great cricketers, but also trained them to be fine human beings. His contribution to Indian Cricket has been immense. pic.twitter.com/mK0nQODo6b

— BCCI (@BCCI) January 2, 2019