India and Pakistan rivalry is a form of dispute that goes beyond the perimeters of cricket. This intense conflict between the two sides, largely owing to political tensions, has also impacted the cricketing activities between the two nations in the years gone by.
Consequently, these two teams face off only in the official ICC cricket events. The last time a bilateral series between the two squads was way back in 2012-13 which was won by Pakistan.
Since then, many attempts have been made for a bilateral series between India and Pakistan but none succeeded. Amidst all these, the cricketers representing these nations also have an influence from the irreplaceable rivalry and are compelled to give nothing but their best on such occurrences.
Although at times there have been heated moments on the field, there are instances when an ambience of geniality can be seen between the arch-rivals.
This is because, notwithstanding the political antagonism, the two states do share a sense of similarity in their cultural activities, which has itself been a source of bringing the natives of these countries together.
So, let us take a look-see at 5 friendly moments between the arch-rivals:
Wasim Akram's gift for Sachin Tendulkar
A number of Pakistani and Indian cricketers share friendly relationships with each other off the field.
In 1999, Pakistan cricket team toured India for a test series. A few days before the first Test at Chennai, Sachin Tendulkar received the Padma Shri award, which is the fourth highest civilian award.
The Pakistani quick Wasim Akram did not miss this opportunity to not only congratulate the Indian batsman but to also present him with a special gift before the start of the opening Test match.
Akram also expressed admiration for Tendulkar's performance against New Zealand which preceded this series.
Wasim's gesture had a positive impact on most of the fans at a time when the relations between the two countries were unfavourable.
Video:
Indian and Pakistani players sharing a light-hearted moment post the Champions Trophy final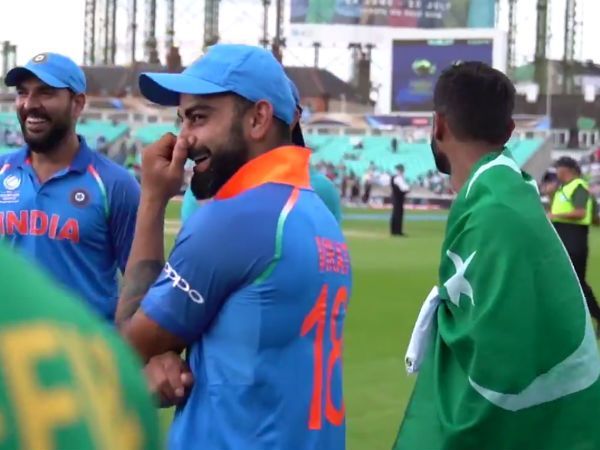 Indian cricket team had a shocking experience at the 2017 Champions Trophy final. However, Virat Kohli and co. displayed great spirit by congratulating their rivals.
After the final, the Indian skipper and Yuvraj Singh shared a high-spirited moment with the Pakistani veteran Shoaib Malik and bowling coach, Azhar Mahmood.
#SpiritOfCricket #CT17 pic.twitter.com/jcEWZo3Oe4

— ICC (@ICC) June 19, 2017
Chennai crowd's standing ovation
The first Test match of the 1998-99 series between India and Pakistan had a dramatic end. The arch-rivals won it by a measly margin of 12 runs by claiming the last four wickets for only four runs.
Meanwhile, the series occurred at a time when the situation at the border was thorny. The unanticipated finish to the match rubbed salt in the wounds of a broken-hearted Chennai crowd.
However, even in such an agonizing state, the crowd engineered a standing ovation for the triumphant visitors. Pakistan, in turn, returned the favour by conducting a victory lap.
Video:
 Indian players posing with Azhar Ali's sons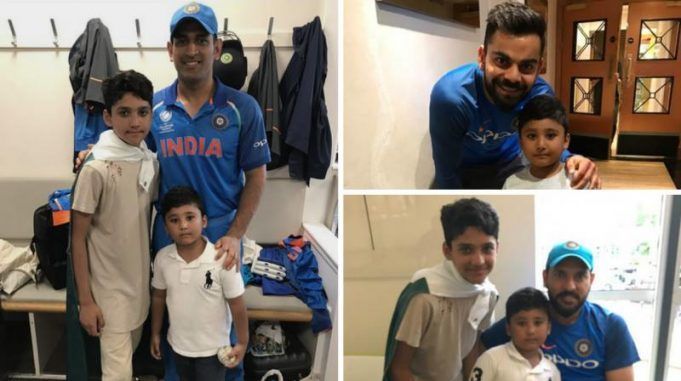 India suffered a huge defeat in the Champions Trophy final on 18 June 2017, at the hands of their arch-rivals Pakistan by 180 runs.
The humiliating loss furnished a stream of criticism for the Indian squad. However, amidst all these, the likes of MS Dhoni, Yuvraj Singh, and Virat Kohli melted several hearts by keeping aside the long-established rivalry and taking pictures with Azhar Ali's sons.
Thanks to these legends for sparing their time for my kids they were so happy…. @msdhoni @imVkohli @YUVSTRONG12 pic.twitter.com/mxWlwsOxrI

— Azhar Ali (@AzharAli_) June 20, 2017
Virat Kohli gifts Mohammad Amir his bat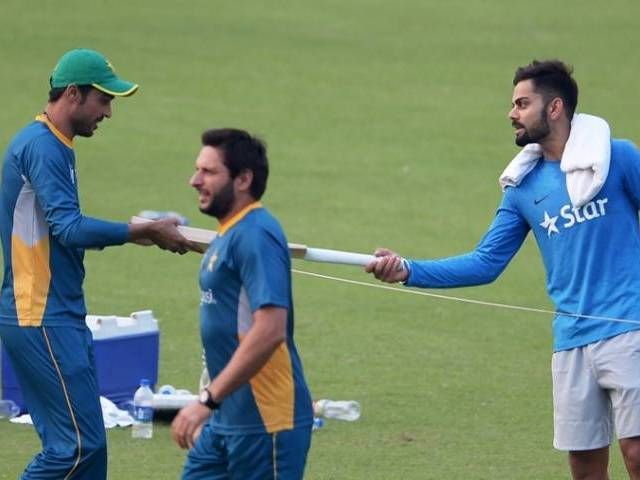 On a handful of occasions, Virat Kohli has hailed Mohammad Amir has also welcomed his return to international cricket.
"He is a very skilful bowler and I wish him all the best. He has worked hard to come this far and it takes a lot of courage," Kohli said.
Ahead of the World T20 clash between the two groups, Kohli hit the headlines with his kind gesture by gifting one of his willows to Amir during a pre-match practice session at the Eden Gardens.
"I had asked him for a bat during the Asia Cup and Virat said he would give me one in India," said Amir later. "I am glad he remembered that," he added.
Video:
Also read: India vs Afghanistan: One-Off Test, Day 1 – Weather Forecast
Ankush Das
I am an accountant by qualification, my parents thought their obedient son would study further to become a CA, but I had other things in mind. An ardent Cricket fan is following his passion and making a living watching and working around his favorite sport.
Related posts