Destructive Australia opener Aaron Finch has given a ringing endorsement to his teammate Glenn Maxwell, declaring he "is batting as good as I've seen".
JCC
Want to be a professional cricketer?
Register Now
*T&C Apply
Australian selectors are in no hurry to name Chris Lynn's replacement, who was ruled out with a calf injury.
Maxwell was excluded from the ODI squad after a stringe of poor performance in the ODI fixtures, of late. Also, Australian skipper Steven Smith publicly called out Maxwell to train a bit smarter if he wants to regain his spot.
However, Maxwell plans to sort out issues in a face to face meeting with Smith while the Australia squad is in Melbourne.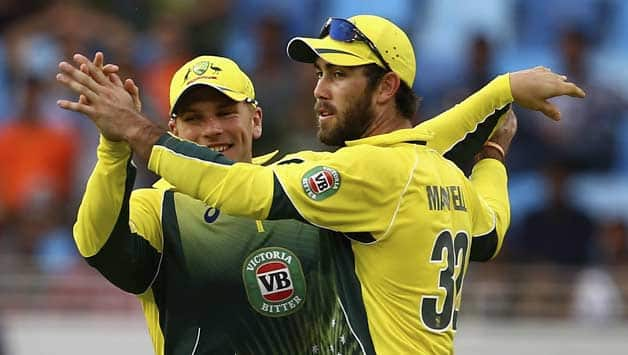 Finch said his former housemate was disappointed he had copped the criticism on the chin.
"He's playing some really good cricket at the moment. The way that he's batting is as good as I've seen him in terms of his tempo. He's probably changed a little bit from being all guns blazing from the first ball to giving himself a little bit of time. I suppose the Melbourne Stars have been losing a few early wickets, and that's allowed him to bat for a bit longer before he has to take a risk," Finch told the reporters.
Finch further admitted Maxwell's output this year has underlined his work ethic, with Maxwell topping the run-scorers list in JLT Sheffield Shield at the mid-season break. Maxwell also notched up two fifties in the last three BBL innings.
Finch's endorsement comes right after Australian legend Ricky Ponting admitted that there are no better batsmen in Australia than Maxwell to fill the spot.
Finch further admits Maxwell's training before Sheffield Shield was fantastic.
"Now he's getting runs in the T20s as well, and consistent runs, which is one part he probably would have liked to have addressed a bit earlier, just make sure when he is in good form he's backing that up. He knows averaging 22 over his past 20 games was not what the side needed, but he's gone back, been in great form, and peeled off runs," Finch signed off.
Here is the newsfeed:
Three Things India need to rectify before Centurion Test
Faf du Plessis heaps praise on powerful Dale Steyn