The Pink Test in Sydney Cricket Ground (SCG) is now a part of Australia's summer programme. Former Australia fast bowler Glenn McGrath, who wants Mitchell Starc to be rested, is hoping for a big fundraising goal of 1.3 Million USD during the fifth and final Ashes Test.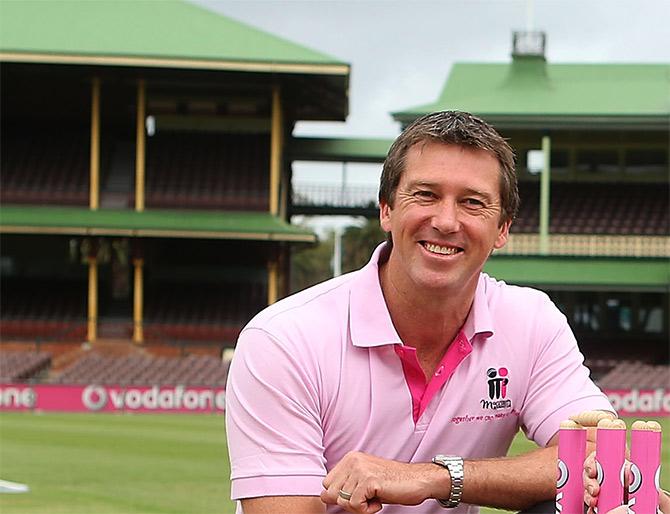 Australia and England will face each other for the fifth time in this Ashes, with a sea of pink on the stands and the ground on day three, known as Jane McGrath Day. Meanwhile, England's coach Trevor Bayliss has blasted allegations of ball tampering against James Anderson. 
To mark the 10th Pink Test, Australian players wore pink caps at SCG along with McGrath. The foundation was founded in 2005, following his first wife Jane's initial diagnosis of breast and bone cancer. She went into remission, but cancer returned, and she died in 2008, aged 42.
"I think back to the first [Pink Test in 2009], to think we'd still be here after 10 years is absolutely incredible, the support we've received has been amazing," McGrath said ahead of the Test.
The foundation aims at increasing education and awareness about breast cancer all over Australia and provides breast cancer support nurses to help and comfort those dealing with the disease.
Each year the foundation set up goals as to what to achieve out of the Sydney Test.
"This year our goal is to raise $1.3 million, which is to put on 10 full-time nurses over a 12-month period. Those nurses would support 1,000 individuals and families going through breast cancer," the 47-year-old McGrath stated.
The greatest exponent of line and length McGrath is optimistic about achieving the goal. Because the first three days of the Sydney Test are already sold out. McGrath Foundation will conduct Pink Picnics on day three at the Sydney Football Stadium, where adults and families can buy tickets to watch the cricket on a big screen.
McGrath believes his own family is a symbol of hope for cancer patients and their families.
"We've got 119 nurses and they've supported more than 60,000 individuals and families going through breast cancer. Those numbers just blow me away," McGrath concludes.
Here is the newsfeed:
I've Learned a Lot on this Tour- Joe Root
Fit Again Mitchell Starc Returns for Sydney Test
Follow Australia vs England Ashes 2017-18 here: THE ASHES 2017/18
Ankush Das
I am an accountant by qualification, my parents thought their obedient son would study further to become a CA, but I had other things in mind. An ardent Cricket fan is following his passion and making a living watching and working around his favorite sport.
Related posts