On September 19, 2007, Yuvraj Singh slammed Stuart Broad for six sixes in a row at Kingsmead in Durban and sets the ground with fire and Harbhajan Singh is celebrating 11 years of T20 World Cup win.
However, it started at the end of the eighteenth over.
India was on 171 for 3 with Yuvraj Singh and MS Dhoni at the crease looking to finish the innings with a high total. Yuvraj smashed Andrew Flintoff with two boundaries in the 18th. Moreover, there was a massive altercation btween the two. The umpires had to step in to break the fight. Meanwhile, Yuvraj Singh was pumped up and was not done, and if reflects in the very next over of the match.
Furthermore, Yuvraj hits the first one over cow corner, the next over backward square leg and the third one over extra cover. He smashed the fourth one over deep point with the full toss delivery. Yuvraj then hit the fifth one deep midwicket and finally a massive hit over wide long-on.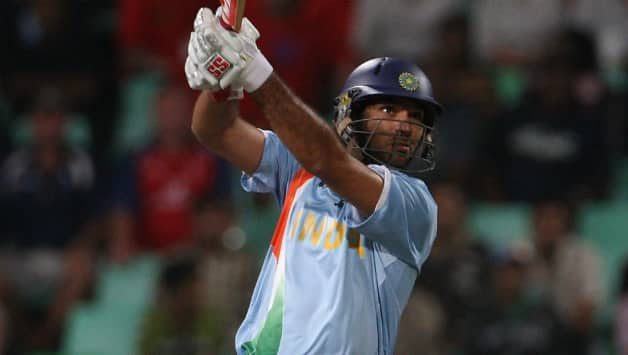 The southpaw tries to hit all the balls in different directions and he had made that with his power. However, the second last over of the Indian innings was one of the most memorable ones in history. Yuvraj scored a 12-ball half-century which remains the quickest fifty in T20Is.
However, he eventually scored 58 runs off 18 deliveries and India post a total 218 for 4. While chasing down the target, England was restricted to 200 for 6 and India won by 18 runs.
Moreover, India won the ICC World T20 2007 beating Pakistan by 5 runs. Harbhajan Singh wished Yuvraj Singh for his heroic performance and he is celebrating 11 years of T20 World Cup win. He also said that for him, this is the moment of World Cup keeping in mind of the next years World Cup 2018.
"Hai ko muqabla sher da ??? Jeo @yuvisofficial today as we r celebrating 11 yrs of our T20 World Cup win.. For me this was the moment of the World Cup ??????????????????"
Related posts