Hardik Pandya, Indian all-rounder, burst on the international scene on the back of swashbuckling performance for the Mumbai Indians in the Indian Premier League in 2016, and Indian cricket once again started buzzing with the prospect of having finally found a genuine seam-bowling all-rounder.
From being a slam-bang T20 cricketer, Pandya soon made his debut across forms of the game, becoming an indispensable part of the national team in white-ball set-up.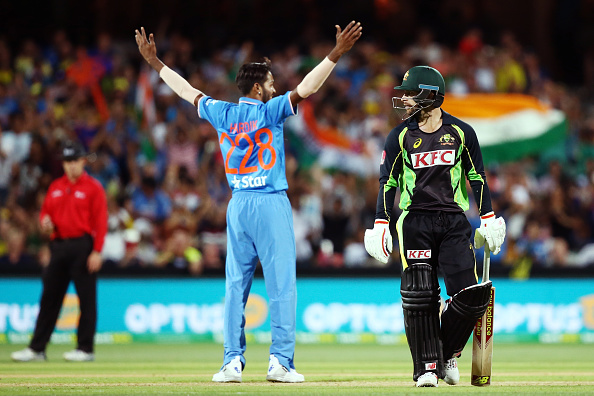 But despite flashes of brilliance, Pandya hasn't been able to inculcate consistency in his game. Irfan Pathan, former Indian seamer, feels that flashes of brilliance that Hardik has displayed are not enough and that India needs an all-rounder who can consistently win games for them similar to what Ben Stokes has been doing for England.
"Ben Stokes has become the number one all-rounder in the world by winning matches for England. What I wish for Team India is to have an all-rounder who wins games for India," Irfan Pathan told cricket.com.
Also Read- Irfan Pathan To Make Sensational Return To Cricket For Overseas T20 League: Report
Hardik Pandya has the potential: Irfan Pathan
Ravindra Jadeja is the only Indian to feature in the leading all-rounder's rankings in any format of the game. Pointing to the fact that Hardik Pandya does not even feature in the top-10 rankings for all-rounders, Irfan said that while he has all the potential in the world, he still is not in the league of Stokes or Jason Holder.
Pathan went on to add that the Indian team can become invincible if they get an all-rounder, who can win games for them consistently.
"Unfortunately, Hardik Pandya is not there in the top 10 (on the rankings) in any format of the game. He has the potential; there is no doubt about it. But what I'm saying is that if we have an all-rounder with that kind of caliber who wins matches, Indian cricket will be invincible," he added.

"If you compare man-to-man, we are much better than any other cricket team in the world. You just need that one piece to make everything come together and that one piece as an all-rounder," Irfan Pathan said.
Hardik, who has a hundred and five-for to his name in Test cricket, has suffered from consistent back issues in the past 2 years. The right-hander, who last played a Test back in 2018, hasn't played an international fixture since October 2019, post which he underwent a surgery on his ailing back.