Hard-hitting Australian opener Aaron Finch and Pakistan's left-arm spinner Imad Wasim gain the top spot in the batsmen and bowlers list, respectively in the latest MRF Tyres ICC T20I Player Ranking, which got updated after the recently concluded India series against Sri Lanka 3-0.
Finch gained up one place so did Windies left-handed opener, Evin Lewis, as Indian skipper Virat Kohli slipped to the third position after missing the T20I series due to personal commitments. As players lose two percent of their rating points for each T20I missed, Kohli, has slipped from 824 points to 776 points. Although, Kohli is only eight points behind Finch and four behind Lewis.
On the other hand, Jasprit Bumrah slipped to the third place after missing the third game and going wicketless in the first two matches, while Afghanistan wrist spinner Rashid Khan reached his career-best second spot. However, Pakistan's left-arm spinner Imad Wasim found himself at the top spot.
Both Finch and Imad have been top-ranked in the past. Finch was at the top on 18 March 2016 while Imad was at number one position last on 4 November this year.
There were other notable changes like India's Lokesh Rahul gained 23 spots to reach the fourth position after scoring 154 runs in the series including two half-centuries. Sharma's 162 runs in the series, which included a magnificent knock of 118 in the second match in Indore helped him gain six slots to reach 14thposition.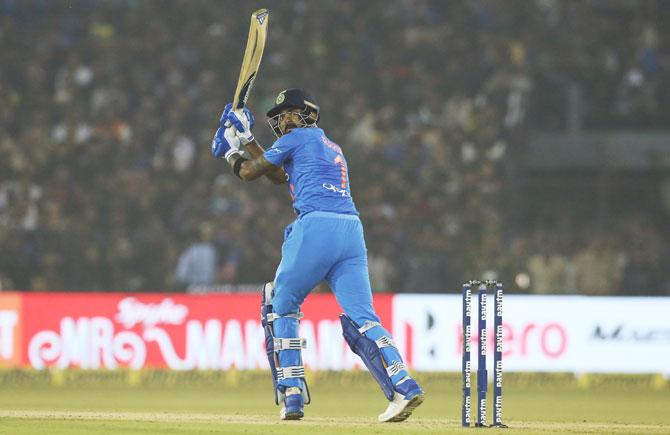 Indian bowlers also made a substantial gain in the ranking lists, as Yuzvendra Chahal's eight-wicket in the series helped him to reach 16th position while Hardik Pandya and Kuldeep Yadav are tied to joint 39th and 64 spots, respectively.
Sri Lanka's Kusal Perera has moved up eight places to take the 30th spot in the batsmen's list after averaging 100 runs in the series while opener Upul Tharanga jumped 36 slots to reach 105th position after his total of 81 runs. Sri Lankan captain Thisara Perera has gained two places to reach 70th position among bowlers.
India has improved their tally of 119 points to 121 points. They left behind England, New Zealand and the Windies to move from fifth to the second position in a list headed by Pakistan with 124 points.
Here are the top 10 T20I Batsmen in the ICC Ranking List:
| | | | |
| --- | --- | --- | --- |
| RANKINGS | PLAYER | COUNTRY | POINTS |
| 1 | Aaron Finch | Australia | 784 |
| 2 | Evin Lewis | West Indies | 780 |
| 3 | Virat Kohli | India | 776 |
| 4 | Lokesh Rahul | India | 726 |
| 5 | Kane Williamson | New Zealand | 716 |
| 6 | Glenn Maxwell | Australia | 700 |
| 7 | Alex Hales | England | 690 |
| 8 | Joe Root | England | 683 |
| 9 | Hashim Amla | South Africa | 682 |
| 10 | Martin Guptill | New Zealand | 678 |
Here are the Top 10 Bowlers on the ICC's Ranking List:
| | | | |
| --- | --- | --- | --- |
| RANKINGS | PLAYER | COUNTRY | POINTS |
| 1 | Imad Wasim | Pakistan | 718 |
| 2 | Rashid Khan | Afghanistan | 717 |
| 3 | Jasprit Bumrah | India | 702 |
| 4 | Samuel Badree | Rest of the World | 694 |
| 5 | Imran Tahir | Rest of the World | 691 |
| 6 | Sunil Narine | West Indies | 676 |
| 7 | Mustafizur Rahman | Bangladesh | 667 |
| 8 | James Faulkner | Australia | 661 |
| 9 | Shakib Al-Hasan | Bangladesh | 661 |
| 10 | Ish Sodhi | New Zealand | 656 |
Here are top 10 teams in ICC's Ranking List:
| | | | | |
| --- | --- | --- | --- | --- |
| RANKINGS | COUNTRY | MATCHES | POINTS | RATINGS |
| 1 | Pakistan | 23 | 2843 | 124 |
| 2 | West Indies | 20 | 2395 | 120 |
| 3 | New Zealand | 16 | 1925 | 120 |
| 4 | India | 26 | 3106 | 119 |
| 5 | England | 17 | 2029 | 119 |
| 6 | South Africa | 20 | 2238 | 112 |
| 7 | Australia | 15 | 1665 | 111 |
| 8 | Sri Lanka | 25 | 2246 | 90 |
| 9 | Afghanistan | 25 | 2157 | 86 |
| 10 | Bangladesh | 17 | 1289 | 76 |