A rain-marred evening in Bengaluru saw the high-profile clash reduced to five overs to set-up an exuberant clash at the M Chinnaswamy Stadium. Just when the game was up for a classic finish with 22 required off 10 balls, the rain gods came down heavily once again forcing the umpires to call it off. As a result, Royal Challengers Bangalores have officially been knocked off the tournament.
Chasing 63 runs, Sanju Samson provided Rajasthan Royals with a perfect they would have wanted. Missing the first ball from Umesh Yadav, he struck the next two for a six and a four to start the chase on a high. But the senior India fast bowler came back in style to bowl three dot deliveries to keep the game open. However, Liam Livingstone took on Navdeep Saini from the other end taking on 10 runs from the first two balls and the game shifted like a pendulum. The young Saini gave just two runs from the last four deliveries to keep Rajasthan Royals at 22 for 0 at the end of two overs.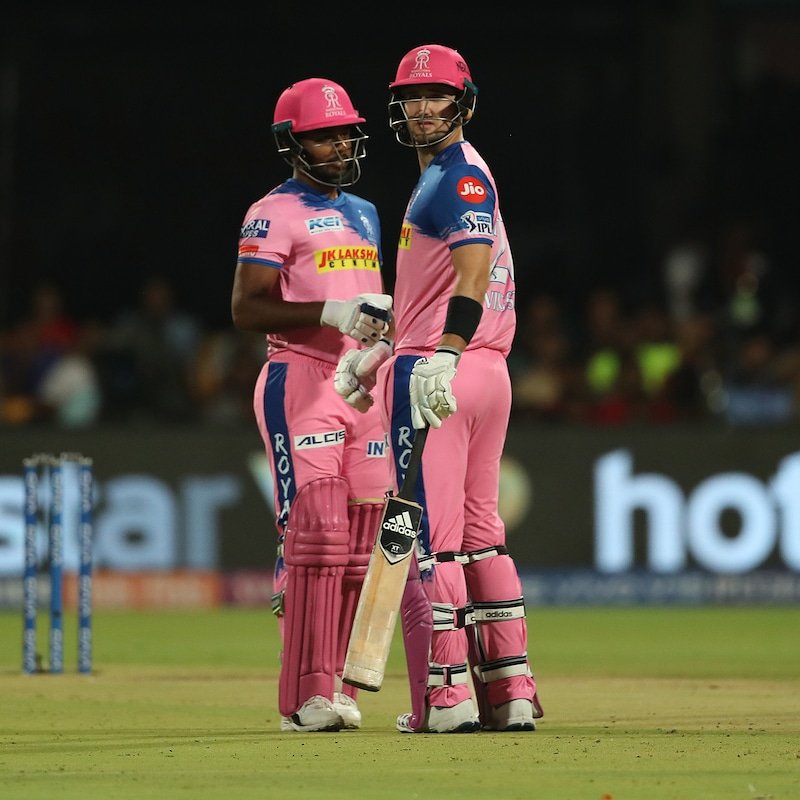 Despite getting hit for boundaries, the Royal Challengers Bangalore bowlers kept chipping with the dot deliveries which was like gold dust. With 23 required off the last two overs, Yuzvendra Chahal dismissed Sanju Samson (28) who looked in devastating form to nip ahead in the game when the rains started pouring in once again compelling the umpires to call it off just ending Bangalore's campaign this year.
Gopal – the hat-trick hero for Rajasthan
Previously, Royal Challengers Bangalore opened with their two-star cricketers in skipper Virat Kohli and AB de Villers. Kohli started in the fifth gear hitting two consecutive sixes off Varun Aaron in the first two deliveries. Ab de Villiers also joined the party as they took 23 runs from the first over. The duo went all guns blazing as Kohli struck Shreyas Gopal for 12 runs in the first three balls before holing out to Liam Livingstone in the third delivery. But Gopal responded in style getting a hattrick from the next three balls to have Bangalore at 35 at three from 35 for 0. The young leg-spinner had made a habit of getting big wickets, and he has done it again at the M Chinnaswamy.
Steven Smith played a masterstroke bringing in young Riyan Parag seeing in the slowness of the wicket. The 17-year-old held his composure to dismiss Gurkeerat Mansingh to keep Rajasthan Royals in the game. Royal Challengers Bangalore failed to recover from that as they could manage to post 62 runs as Oshane Thomas bowled a brilliant last over to keep the score within reach.
Twitter Reactions
Hard luck Rajasthan

— Cricketwallah (@cricketwallah) April 30, 2019
At the end of all that, it's abandoned. Well, well…

— Harsha Bhogle (@bhogleharsha) April 30, 2019
What an Anti-climax! #RCBvsRR

— Vikrant Gupta (@vikrantgupta73) April 30, 2019
5 over game! Shouldn't you be allowed to change teams because it is really, a different cricket match now? Even do the toss again? The law says no but it is worth a thought.

— Harsha Bhogle (@bhogleharsha) April 30, 2019
gopal will go home a happy man tonight. and once this game is over, he can actually go home. #RCBvRR

— Gaurav Kalra (@gauravkalra75) April 30, 2019
RCB hit massive trough after blazing start. Can't see how they can win this match unless RR lose their nerve or just get too excitable and error-prone

— Cricketwallah (@cricketwallah) April 30, 2019
https://twitter.com/Anbhidnya/status/1123289445954797568
Shreyas Gopal has nerves of valerian steel .. Arya Stark would be proud of him.. Quite a hat-trick this #RCBvRR #GOT

— Jatin Sapru (@jatinsapru) April 30, 2019
Waaah. Assamese guy, Riyan Parag is doing bihu dance after taking a wicket. #RCBvRR

— Nayab Hussain (@me_Nayab) April 30, 2019
RCB tried their best to give everyone a chance to bat in a five-over game. #IPL2019

— Chetan Narula (@chetannarula) April 30, 2019
Shreyas Gopal's Last 4 innings vs RCB:

Removed ABD & Kohli
Removed ABD
Removed ABD & Kohli
Removed ABD & Kohli

— Broken Cricket (@BrokenCricket) April 30, 2019
Even in a 5 over match, there is more time than you think there is…..

— Harsha Bhogle (@bhogleharsha) April 30, 2019
RCB right now
Mai Nahi Khel Rha
#RCBvRR pic.twitter.com/QgdEtjfYmd

— Dev pokhariya (@Devpokhariya) April 30, 2019
https://twitter.com/graphicalcomic/status/1123295782885441536
Ankush Das
I am an accountant by qualification, my parents thought their obedient son would study further to become a CA, but I had other things in mind. An ardent Cricket fan is following his passion and making a living watching and working around his favorite sport.
Related posts