The tag of babysitter is definitely going to remain with Rishabh Pant for a long time if not the life time. The tag emerged during India's historic tour of Australia a couple of months ago. The incident took place during the third Test of the four-match Test series.  Seeing Rishabh Pant new to the crease, Australia skipper Tim Paine sensed an opportunity and tried to unsettle him.
The wicketkeeper teased Pant over MS Dhoni's inclusion back in the T20I side and his exclusion, telling him they could use him at Hobart Hurricanes in the Big Bash League. Not only that, Paine also asked Pant if he could babysit, saying:
"Tell you what big MS is back in the one day squad. Should get this bloke down to Hurricanes.. They need a batter. Fancy that extend you Aussie holiday, beautiful town Hobart too… get him a water front apartment. Have him over for dinner. Do you babysit? I can take my wife to the movies while you watch the kids."
Rishabh Pant later avenged for the sledging when Paine came out to bat in the second innings.  The India wicketkeeper welcomed Paine to the crease with some banter of his own calling him the "temporary captain" and telling Ravindra Jadeja that Paine only knows how to talk. He also went on to say that the 'you don't need anything to get him out'.
"We have got a special guest here. Have you heard the word temporary captain ever. You [Jadeja] don't need anything to get him out. Come on lads.
"He loves to talk, that's the only thing he can do. Only talking talking,"  Pant sledged from behind the stumps.
And while the incident did manage to attract a lot of attention, it started garnering more attention after Bonnie Paine, Paine's wife, posted a picture alongside Pant who was holding one of her kids.  The picture went viral within a blink of an eye and fans are still not over it.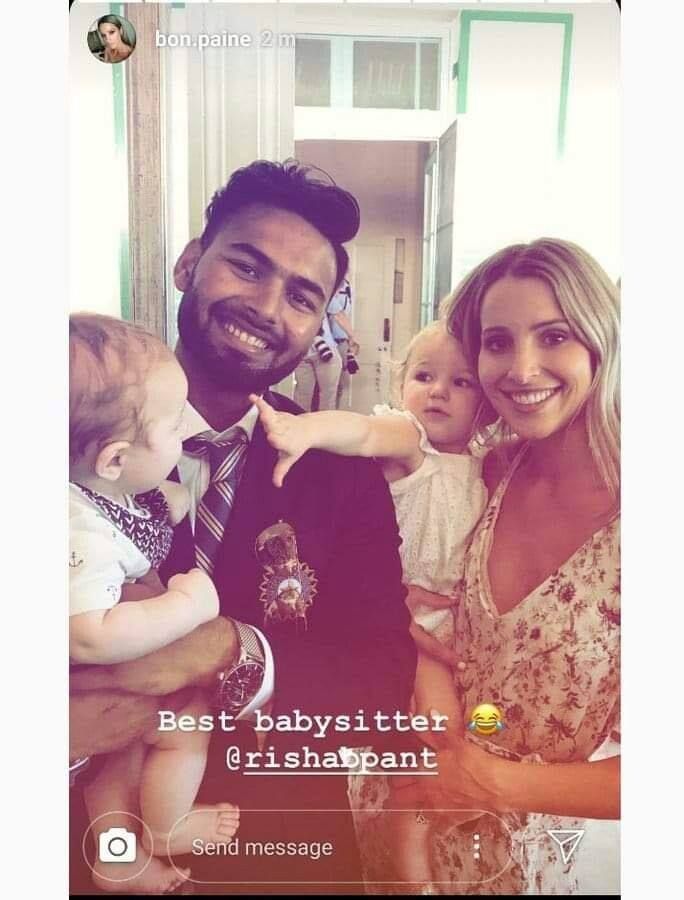 Pant had met Bonnie when the Australian Prime Minister had invited both the teams to his residence before the fourth Test in Sydney. And now the India star has revealed what was the conversation between him and Bonnie. Pant said that contrary to popular speculations, his interaction with Bonnie was just a normal one.
"It was a good, normal interaction. There was a dinner at the (Australian) Prime Minister's House. She posted the picture over there and it went viral because me and Tim Paine were having some banter during the match, but we were just playing cricket, hard Test cricket. That's all," he told Sportstsar.
Pant, meanwhile, is currently gearing up for the upcoming Indian Premier League where he will ply his trade for Delhi Capitals. The southpaw was a huge success last year, scoring 684 runs to finish as the second top-scorer. Delhi will be desperate to see him fire again as they seek their maiden IPL title.