A matured unbeaten knock by skipper Sanju Samson [42* off 41 balls] and a disciplined bowling performance has helped Rajasthan Royals pick up a six-wicket win against Kolkata Knight Riders, who have sunk to their fourth consecutive defeat in their IPL 2021 campaign.
Chasing 134 to win, Rajasthan Royals lost both their openers but they ended up making the most of the powerplay thanks to a brilliant cameo from Yashsvi Jaiswal [22 off 17 balls].
Playing in his first game in IPL 2021, Jaiswal started off on an imperious note as he flicked Pat Cummins past midwicket before smashing the pacer with a fierce square-cut off the very next delivery to get consecutive fours.
Cummin retaliated by bowling a deadly bouncer to Jos Buttler, one that proceeded to knock the English opener back substantially.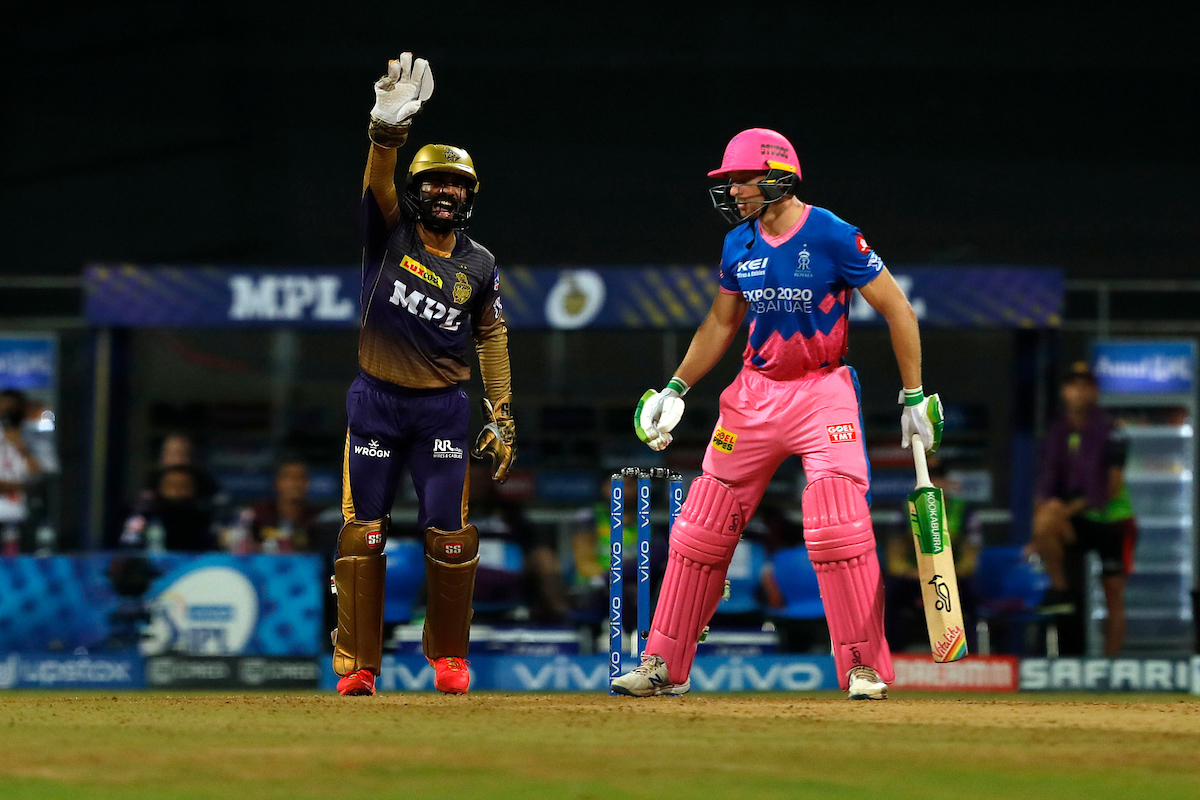 Buttler, however, recovered and smoke Varun Chakravarthy for a boundary past extra cover. But the right-hander's poor form continued as he was trapped leg-before wicket for a 7-ball 5.
Jaiswal continued to pick his spots and smash boundaries but one shot proved to be too many for the young opener as he holed out at deep extra-cover against Shivam Mavi. Shivam Dube clubbed a six off Sunil Narine in the final over of the powerplay to ensure that Rajasthan Royals finished at 2/50.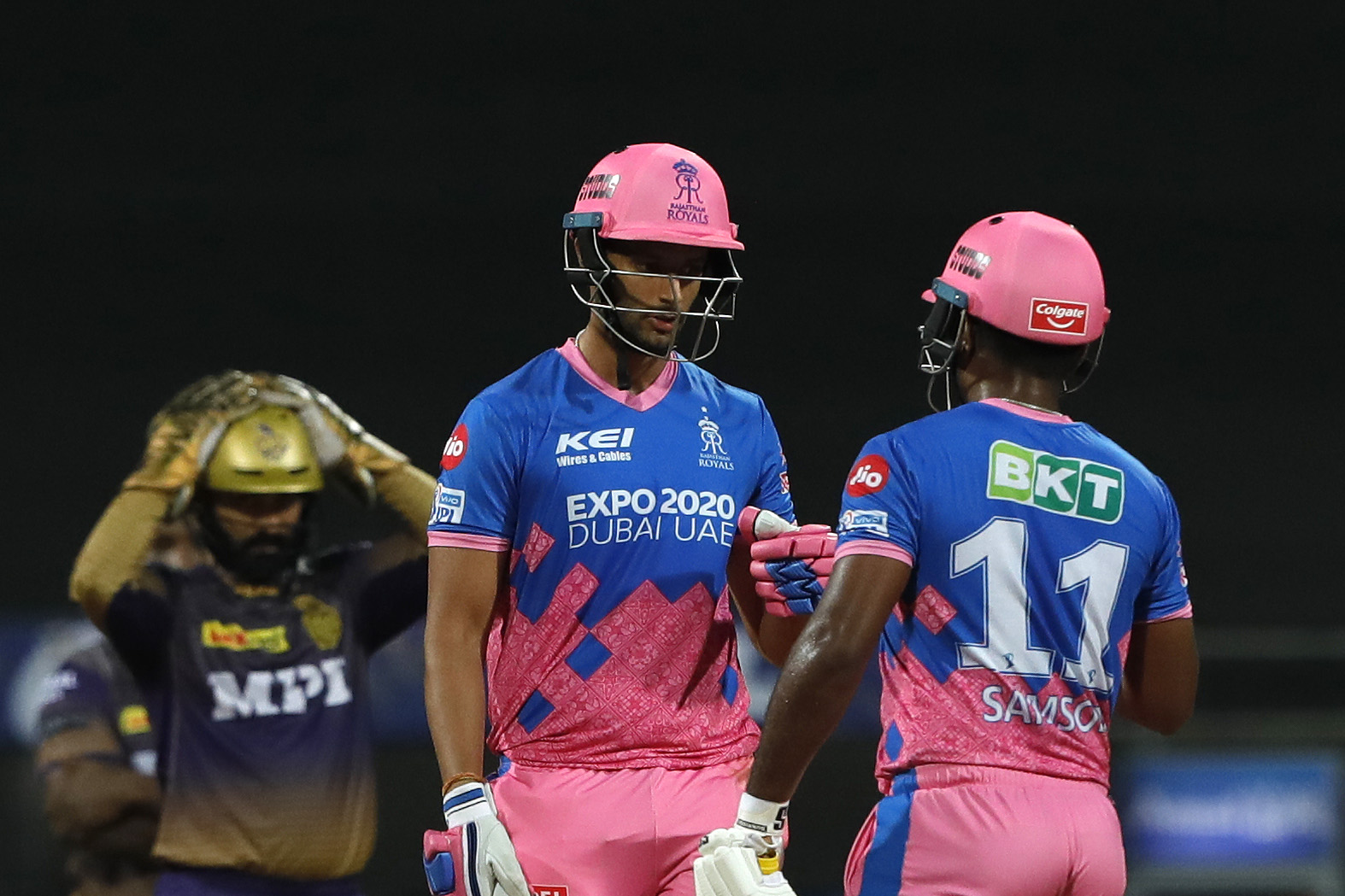 Shivam Dube (22 off 18) and Sanju Samson stitched a breezy 45-run-stand for the 3rd wicket in six overs before Dube holed out against the bowling of Varun Chakravarthy (2/32 in four overs).
The next two overs brought just 12 runs and it eventually led to the dismissal of Rahul Tewatia, who top-edged in an attempt to pull off the front foot at fine-leg.
David Miller survived two close LBW calls against Shivam Mavi in the 15th over. But, Sanju Samson, who paced his innings with great maturity amid some brilliant strokeplay, and David Miller ensured that there was no last-minute hiccups as they condemned Kolkata Knight Riders to their fourth consecutive defeat.
Disciplined bowling by Rajasthan Royals ensured that Kolkata Knight Riders managed a mere 9/133
Batting first, Kolkata Knight Riders got off to a poor start as the opening duo of Shubman Gill (11 off 19) and Nitish Rana (22 off 25) failed to make the most of the powerplay against some pretty disciplined bowling by Rajasthan Royals.
Shubman Gill's- who had earlier been dropped by Yashasvi Jaiswal- painstaking knock of a 19-ball 11 finally came to an end with an unfortunate run-out in the ongoing encounter against Rajasthan Royals in Mumbai.
It all happened during the fourth ball of the sixth over when Shubman Gill jammed out a Mustafizur Rahman towards cover and set off for a non-existent run.
The problem was that Jos Buttler moved quickly to his right, picked up the ball, and under armed it straight onto the stumps.
Shubman Gill made the desperate dive and was still ended up being a yard short of the crease.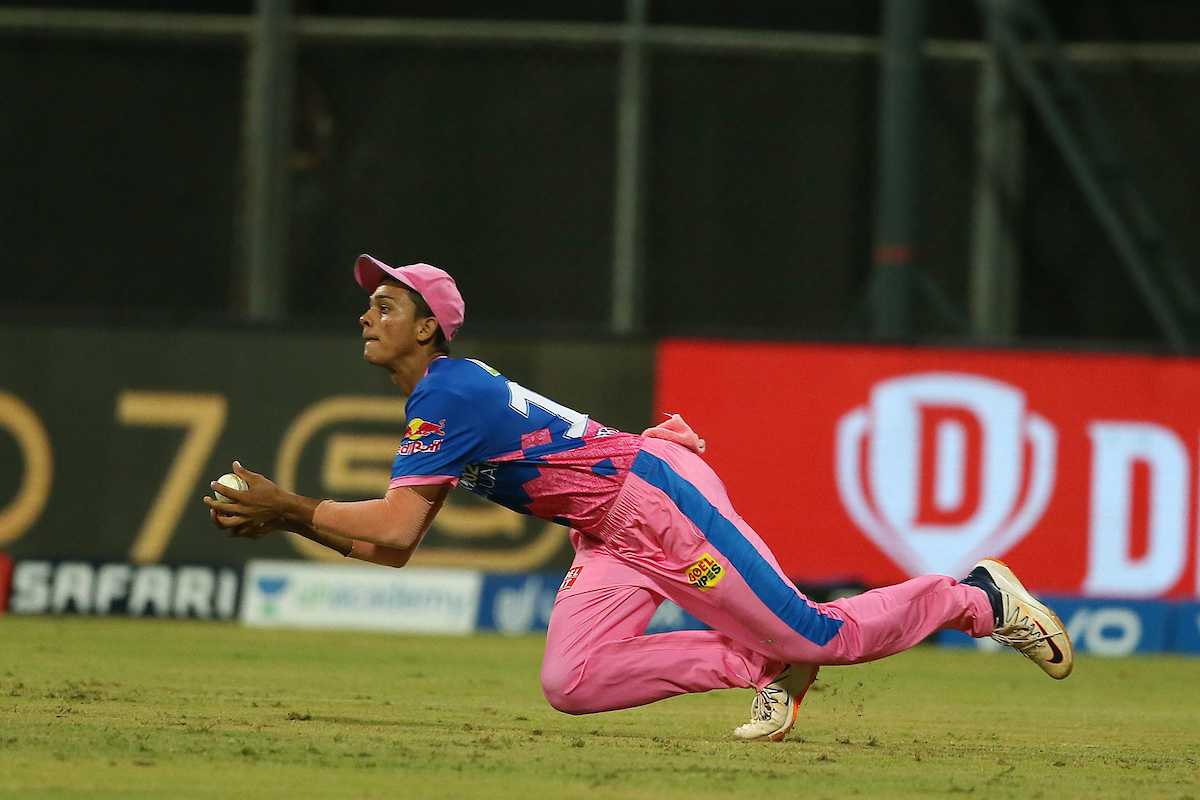 Kolkata Knight Riders managed a mere 25 runs in the powerplay but one would have hoped that Nitish Rana, after chewing up a lot of deliveries will finally break free. He tried to do the same but in an attempt to do so, he perished to Chetan Shakariya. The Knight Riders took a punt by promoting Sunil Narine at No.4.
But the move backfired as Narine holed out in an attempt to pull a Jaydev Unadkat slow bouncer with Yashasvi Jaiswal completing a brilliant diving catch.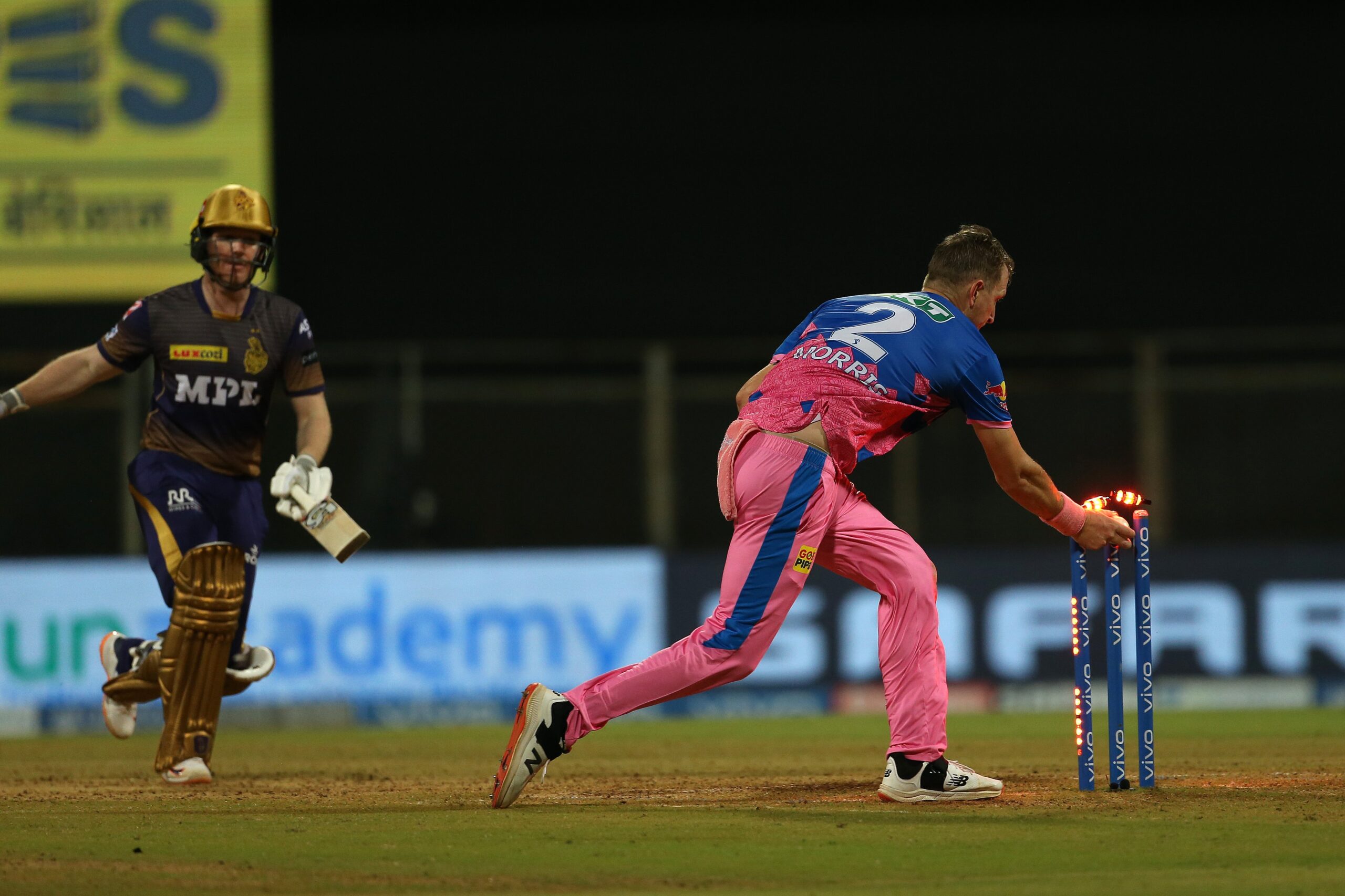 It kept getting worse for Kolkata Knight Riders as they lost their skipper Eoin Morgan for a diamond duck courtesy of a horrible miscommunication between him and Rahul Tripathi, leaving KKR reeling at 4/61 in the 11th over.
Rahul Tripathi and Dinesh Karthik did a rebuilding job for the next few overs but with just 93 runs on the board after 15 overs, Tripathi, in an attempt to break the shackles, holed out at deep square-leg on a slower delivery bowled by Mustafizur Rahman.
It was all down to Andre Russell and Dinesh Karthik to help Kolkata Knight Riders get to a competitive score but Chris Morris ended all those hopes within a space of three balls in the 18th over.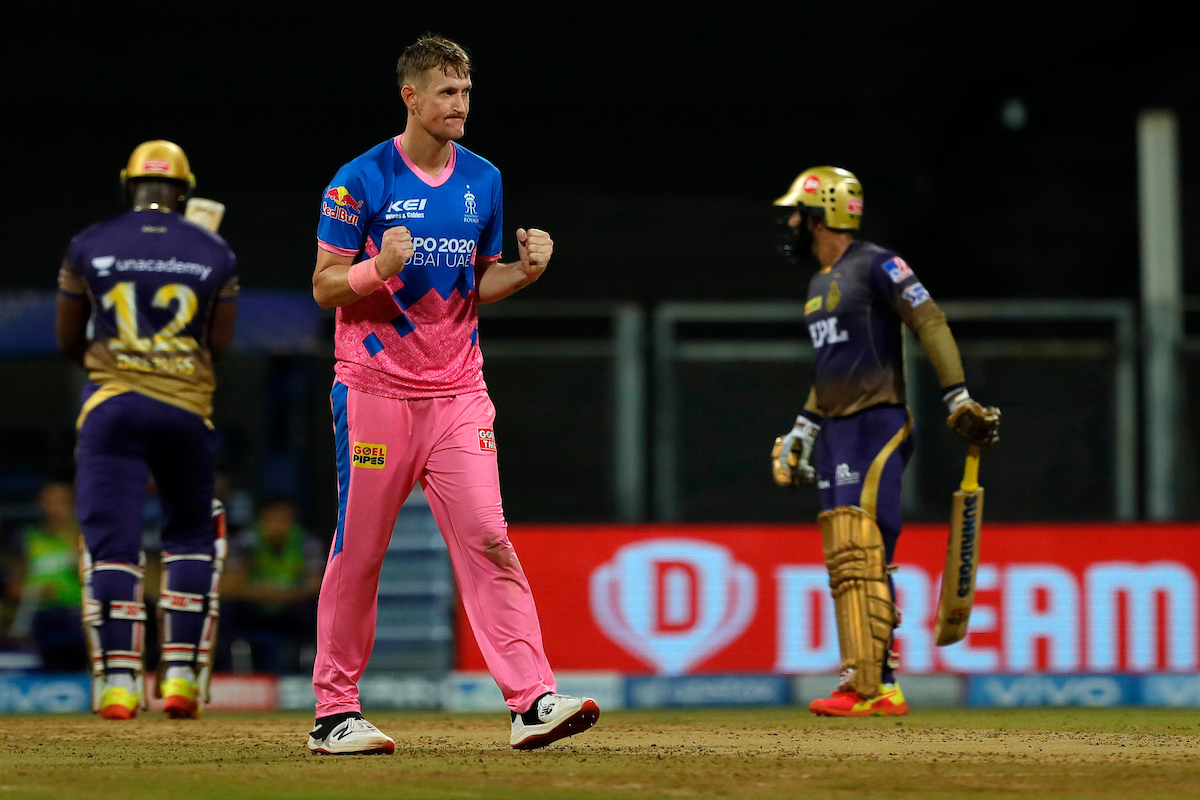 Morris had dismissed Dre Russ thrice prior to the current game and he once again got rid of the swashbuckler as the right-hander holed out at long-on.
Morris then proceeded to send back Dinesh Karthik, who was brilliantly caught by Chetan Shakariya at cover. Morris (4/23 in four overs) backed it up with a couple more wickets in the final as he dismissed both Pat Cummins- thanks to a freak of a catch by Riyan Parag- and Shivam Mavi to restrict KKR to 9/133.
Here's how Twitter reacted:
Where does #KKR go from here? Defending 133 and no attacking field at all! No slip to Varun or Cummins? What are they thinking? @rajasthanroyals was totally in control from ball one.

— Boria Majumdar (@BoriaMajumdar) April 24, 2021
Sanju Samson has faced 40+ deliveries on 13 occasions in the IPL. The false shot percentage he recorded today (7%) was the equal lowest for any of those knocks. Clinical from the RR captain. #IPL2021 #RRvKKR

— The CricViz Analyst (@cricvizanalyst) April 24, 2021
Well done @rajasthanroyals for winning this game convincingly. Bowling was top notch from Morris and Chetan. Kkr needs to regroup quickly before it's too late.They have a better team on paper.

— Irfan Pathan (@IrfanPathan) April 24, 2021
Did gill need to throw the ball up in the air ? He didn't touch the boundary after throwing it up in the air !! #IPL2021 #KKRvRR

— Rohan Gavaskar (@rohangava9) April 24, 2021
Sanju Samson is managing this chase nicely. His false shot percentage, 3%, is the lowest for any batsman on either side today. #IPL2021 #RRvKKR

— The CricViz Analyst (@cricvizanalyst) April 24, 2021
I really hope Jaiswal makes the most of this opportunity, else these dudes will once again drop him.

— Yash Mittal 🇮🇳 (@im_yash2307) April 24, 2021
Well played, Yashasvi Jaiswal!

Seems to have found a higher gear this season. Hope this is a big season for both him, Ravi Bishnoi & Kartik Tyagi(when he plays), the class of 2020! 👍👍

— Bubba Gump Shrimp Company (@wildcardgyan) April 24, 2021
In the last three IPL seasons, Sanju Samson has a Power Rating of 160. The only players with a higher Power Rating in that time, are Chris Gayle, Kieron Pollard, and Nicholas Pooran. #IPL2021 #RRvKKR

— The CricViz Analyst (@cricvizanalyst) April 24, 2021
Nasty blow to Buttler. #RR can't afford another player loss in the tournament. Happily, he's recovered and batting on

— Cricketwallah (@cricketwallah) April 24, 2021
Just a food for thought for @KKRiders management, you guys should look at sending #Russell up the order rather than waiting for the 16th, sometimes gut feel is much better than ppl punching nos! Brilliant bowling by @rajasthanroyals and @Tipo_Morris ! #KKRvRR

— Kris Srikkanth (@KrisSrikkanth) April 24, 2021
Riyan Parag is too cool. It's offensive to be this good at batting, this chilled out, this young.

— Ben Jones (@benjonescricket) April 24, 2021
Disappointed with the approach of #kkr batsmen

— Irfan Pathan (@IrfanPathan) April 24, 2021
Riyan Parag with 2 absolute screamers. Made them look so so easy. Top stuff @ParagRiyan 👏

And obviously, those selfies!#IPL2021 @rajasthanroyals

— Subhayan Chakraborty (@CricSubhayan) April 24, 2021
This isnt fair on Russell. You sent him in way way too late. #kKR is just all over the place.

— Boria Majumdar (@BoriaMajumdar) April 24, 2021
Chetan Sakariya has shown his temperament bowling tough overs for RR. To do that at Wankhede Stadium is a great achievement. Mighty impressive. One of the finds of the tournament #RRvsKKR

— Sarang Bhalerao (@bhaleraosarang) April 24, 2021
Not Russell @Russell12A but @KKRiders have failed. You can't have him sitting in the dugout for 16 overs and then come and wave some magic wand. Strange tactics, even stranger batting #KKRvsRR #IPL2021

— Vikrant Gupta (@vikrantgupta73) April 24, 2021
Sakariya was celebrating before he landed. Absolute joy.

Everything Rajasthan have tried has come off – catch sums it up perfectly.

— Ben Jones (@benjonescricket) April 24, 2021
Captains out for a duck without facing a ball in IPL (batting in top-7):-

Gautam Gambhir vs DC in 2013
Eoin Morgan vs RR today#KKRvRR

— Kausthub Gudipati (@kaustats) April 24, 2021
This isn't a typical Wankhede pitch but I reckon KKR about 25 behind at this stage.

— Bharath Ramaraj (@Fancricket12) April 24, 2021
Sakariya in #VIVOIPL 2021:
3⃣/3⃣1⃣
0⃣/3⃣3⃣
3⃣/3⃣6⃣
0⃣/3⃣5⃣#RR fans, chronology samajh rahe ho? 😉 What will his figures look like tonight?#RRvKKR pic.twitter.com/yjItpwM3jL

— Star Sports (@StarSportsIndia) April 24, 2021
Andre Russell v Mustafizur Rahman in T20:

64 runs
38 balls
3 wickets#IPL2021 #RRvKKR

— The CricViz Analyst (@cricvizanalyst) April 24, 2021
KKR's think tank needs to give a thought of promoting Sunil Narine to open the innings and give more overs to Dre Russell to bat.#KKRvRR #IPL2021 @KKRiders

— Vinay Kumar R (@Vinay_Kumar_R) April 24, 2021
So far I haven't understood a thing what #KKR is trying here. And the run outs. Baffling. And it's the Wankhede.

— Boria Majumdar (@BoriaMajumdar) April 24, 2021
It's becoming a comedy of errors for @KKRiders #KKRvsRR

— Vikrant Gupta (@vikrantgupta73) April 24, 2021
KKR trying same tactics to give most number of deliveries to Russell? #IPL

— Silly Point (@FarziCricketer) April 24, 2021
Oh dear. What a mess up. Diamond duck for Morgan.

— Saurabh Malhotra (@MalhotraSaurabh) April 24, 2021
Bunny alert!@JUnadkat gets Sunil Narine for the 3rd time in IPL. Fantastic spell, deserved that wicket.#IPL2021 #RRvKKR

— Subhayan Chakraborty (@CricSubhayan) April 24, 2021
I'm sure there'll be criticism of KKR's intent here, but Rajasthan have bowled about two bad balls in eight overs. Really impressive, controlled work. #IPL2021

— Ben Jones (@benjonescricket) April 24, 2021
Hit the ball to the right hand of a fielder and take off. I mean, come on.

— Jarrod Kimber (@ajarrodkimber) April 24, 2021
Shubman Gill has to find ways of scoring runs in the Powerplay. Think he puts too much pressure onto himself.

— Vikrant Gupta (@vikrantgupta73) April 24, 2021
Shubman Gill needs to chill, spend some time by himself and reboot. For such a high quality young player, making too many goof ups: low percentage, high risk shots and attempting impossible singles suggest lack of concentration and impatience

— Cricketwallah (@cricketwallah) April 24, 2021
Shubman has been so disappointing lately starting from the England series and now IPL.

— Saurabh Malhotra (@MalhotraSaurabh) April 24, 2021
Feel Shubman Gill will get a big one tonight #RRvsKKR

— Sarang Bhalerao (@bhaleraosarang) April 24, 2021
Since the start of the last IPL season, there have been 21 men to open the batting 5+ times.

Of those players, Shubman Gill has:

– The 6th highest Timing Rating (137)

– The second lowest scoring rate (7.1rpo)#IPL2021 #RRvKKR

— The CricViz Analyst (@cricvizanalyst) April 24, 2021