A sensational maiden T20 hundred by Jos Buttler [124 off 64 balls] and an all-round bowling effort has helped Rajasthan Royals beat SunRisers Hyderabad by 55 runs in Delhi.
Needing 221 to win, SunRisers Hyderabad got their team off to a blazing start after having managed just 14 runs in the first three overs.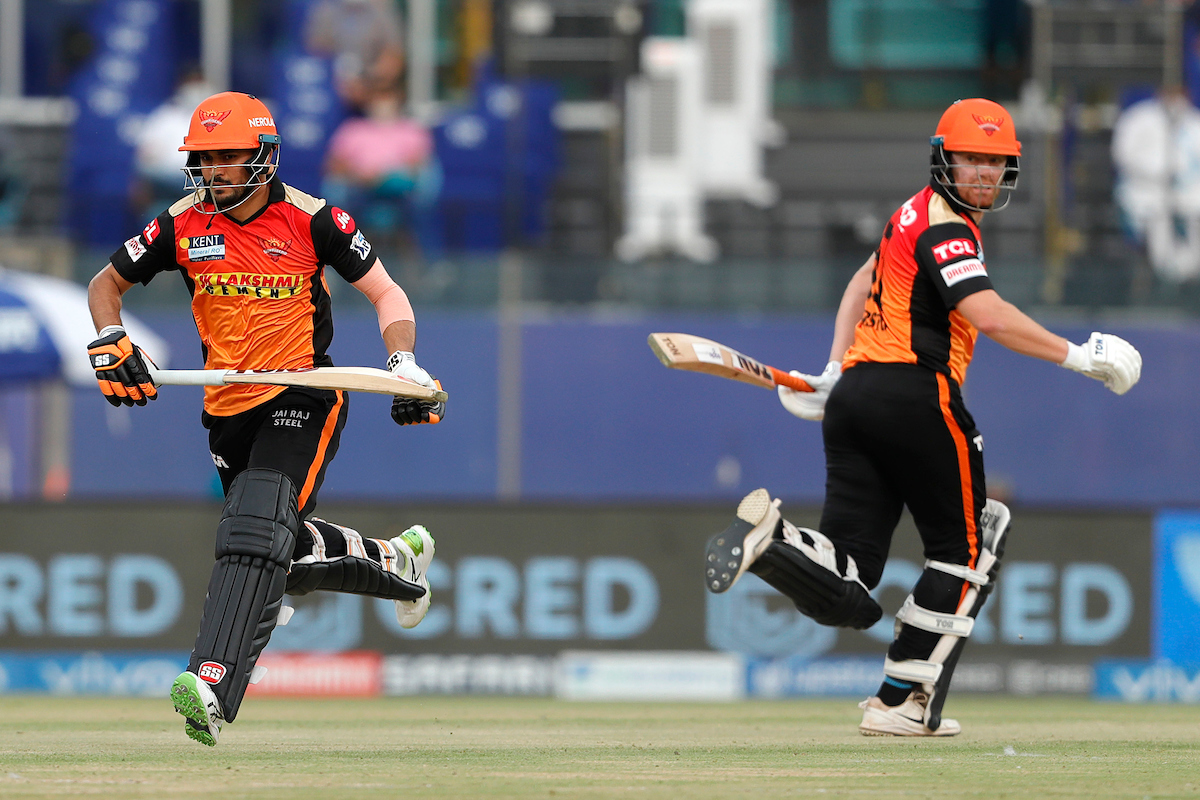 Jonny Bairstow broke the shackles by smashing Chetan Sakariya for a six and a couple of fours on three consecutive deliveries before Manish Pandey smoked a couple of sixes off Kartik Tyagi to rack up 46 runs in five overs.
Pandey backed it up a couple of fours in the next over bowled by Chris Morris as SunRisers Hyderabad finished the powerplay at 0/57.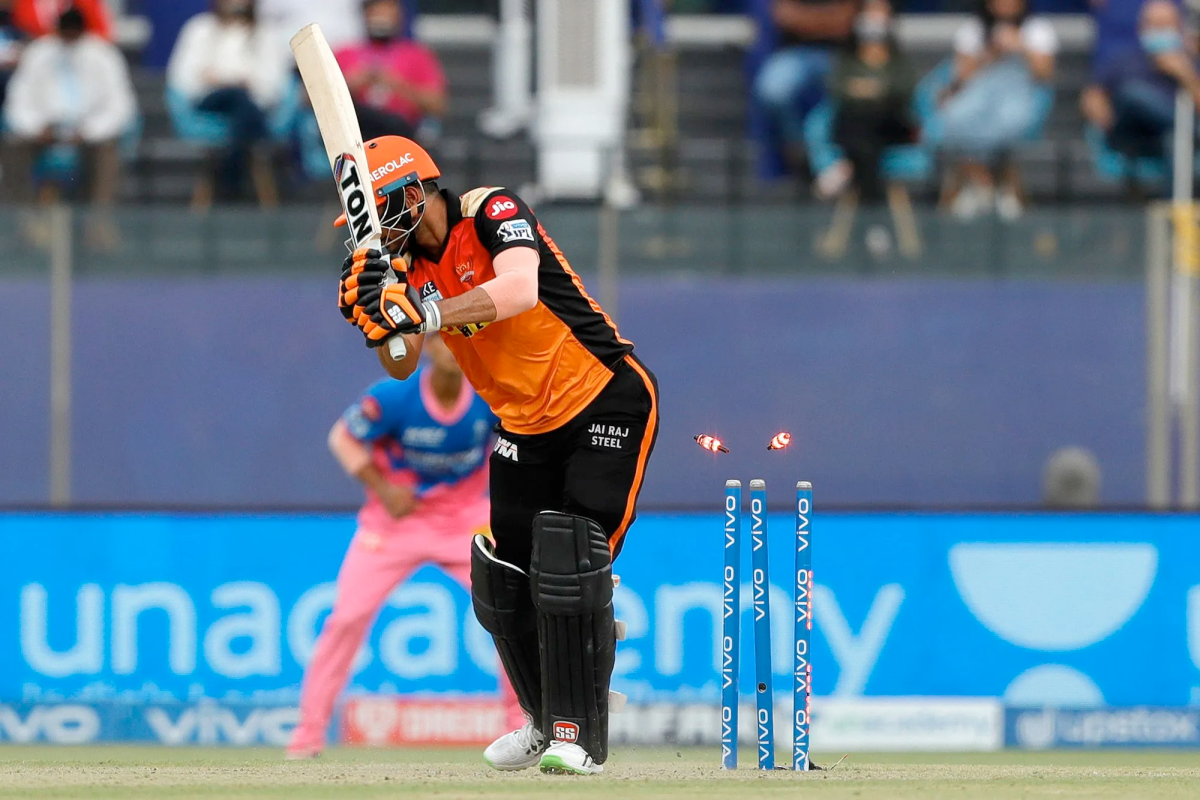 Mustafizur Rahman [3/20] gave Rajasthan Royals the much-needed breakthrough as he knocked over Manish Pandey by taking the pace off on the first delivery after the powerplay.
Manish Pandey, in an attempt to flick the ball on the on-side, was undone by the change of pace by Mustafizur Rahman.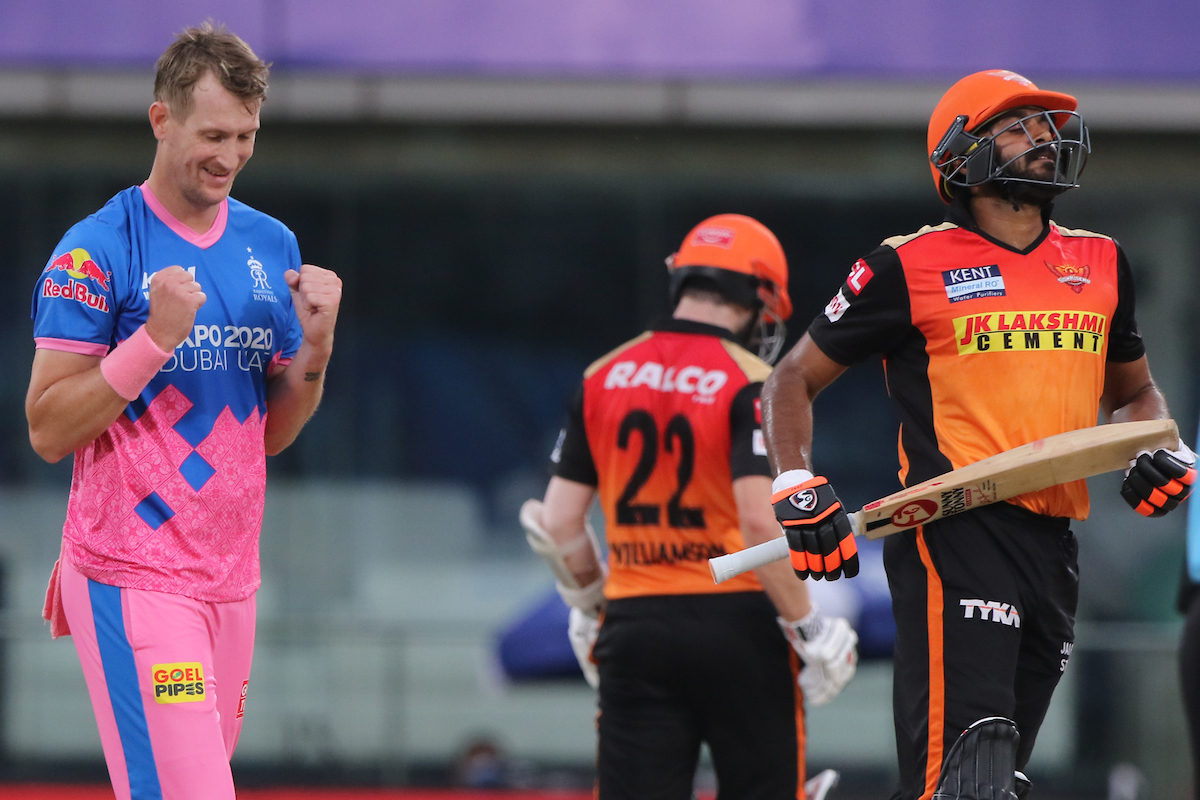 His dismissal triggered a collapse as Jonny Bairstow (30 off 21) and Vijay Shankar (8 off 8) holed out against Rahul Tewatia and Chris Morris to leave SunRisers Hyderabad reeling at 3/85 after 10.4.
Wickets continued to tumble for SunRisers Hyderabad as they lose their skipper Kane Williamson for an underwhelming 21-ball 20 and then Mohammed Nabi, who after having smashed a couple of sixes and a four during his 5-ball 17, holed out in trying to get quick runs.
Kedar Jadhav continued to play yet another Test innings in a T20 even as his batting partners kept getting out while trying to up the ante.
Morris [3/29] dismissed both Abdul Samad [10 off 8 balls] and Kedar Jadhav [19 off 19 balls] in the 17th over but by then, the game had already been sealed and it was a matter of when and not if Rajasthan Royals will win. And, the wins was finally sealed in the last over by 55 runs.
Jos Buttler's whirlwind maiden T20 ton propelled Rajasthan Royals to 220
Batting first, Rajasthan Royals got off to a poor start as they lost their opener Yashasvi Jaiswal in just the 3rd over of the innings.
Jaiswal, after having smashed Khan for a boundary, was pinned plumb in front after he failed to connect with the attempted pull shot.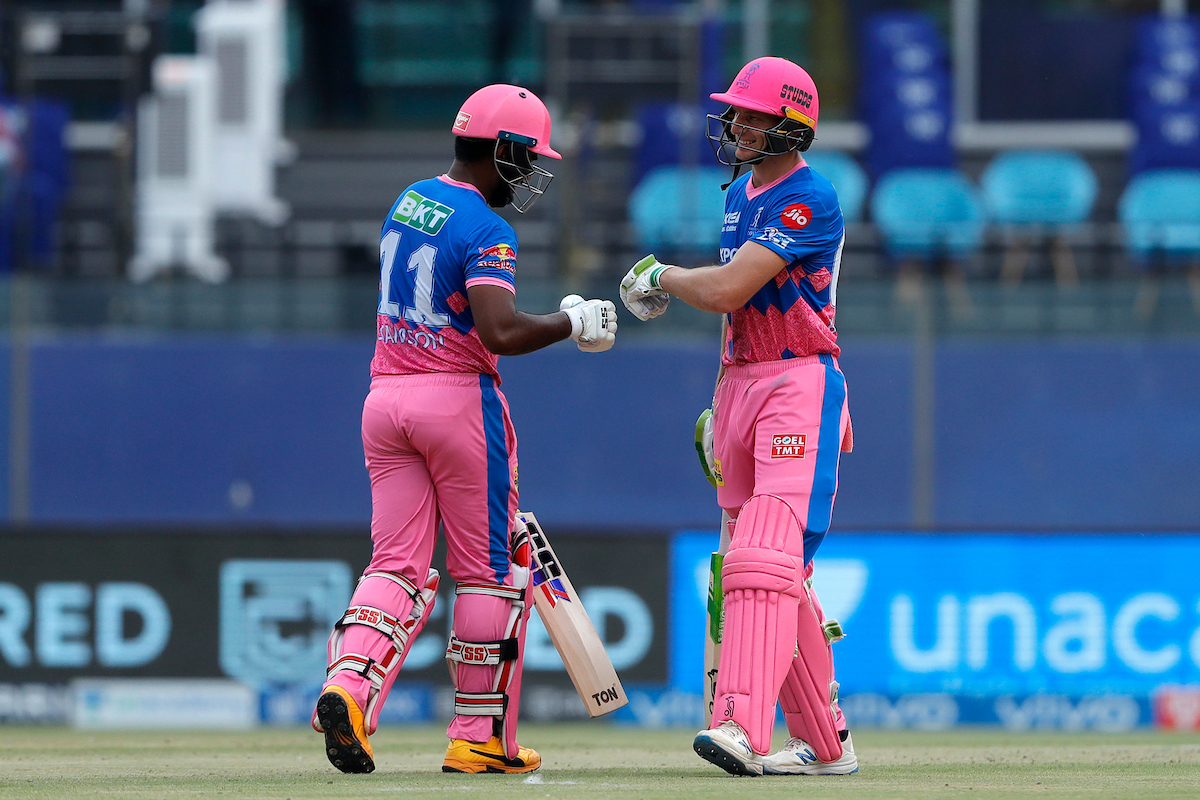 Sanju Samson, however, once again came out with attacking intent and even as Jos Buttler struggled in the first half of the innings, the Rajasthan Royals skipper ensured that his side posted 1/77 at the halfway mark.
Buttler, who managed his first 35 runs in 33 deliveries, finally cut loose as he smashed the likes of Sandeep Sharma, Khaleel Ahmed, Mohammad Nabi, Bhuvneshwar Kumar in the next five overs for as many as five fours and four sixes to rack up 95 in just 54 deliveries.
Sanju Samson (48 off 33), in an attempt to continue with the onslaught, holed out to Abdul Samad off the bowling of Vijay Shankar.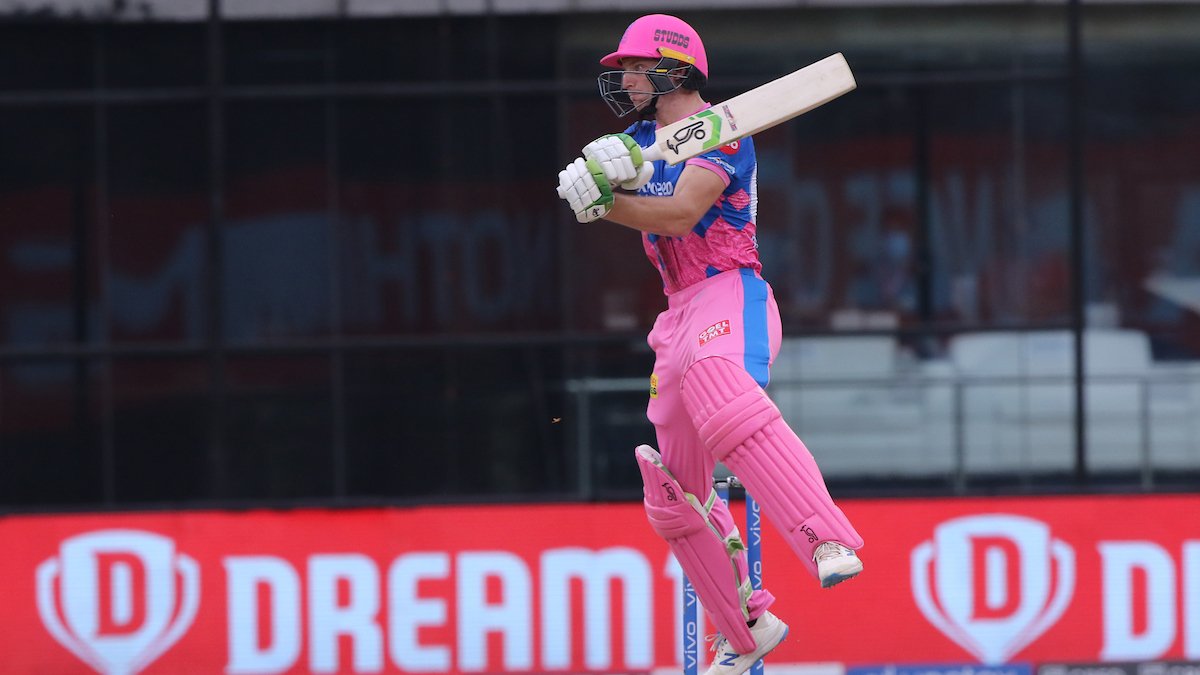 Buttler continued in his merry way as he smashed Shankar for another boundary before knocking a single to bring up his maiden T20 century.
This was Jos Buttler's first hundred in his 282nd T20 innings and he celebrated that by smashing Sandeep Sharma for three sixes and a four in the 19th over to bring up Rajasthan Royals 200 before he was finally dismissed for a 64-ball 124.
Rajasthan Royals eventually finished with the highest total of the season- 3/220.
Here's how Twitter reacted:
A huge, crucial win for Rajasthan Royals 👏

SRH's first game without David Warner ends in a 55-run defeat. #IPL2021 #RRvSRH pic.twitter.com/mCuD9zHCkk

— Wisden India (@WisdenIndia) May 2, 2021
'Jos' se bolo – #HallaBol

A fine win for #RR as the beat #SRH by 5⃣5⃣ Runs!#RoyalsFamily #VIVOIPL #IPL2021 pic.twitter.com/WUYPssj8a0

— Star Sports (@StarSportsIndia) May 2, 2021
Together, no matter what.#RRvSRH #OrangeOrNothing #OrangeArmy #IPL2021 pic.twitter.com/s4EDWed8yS

— SunRisers Hyderabad (@SunRisers) May 2, 2021
Rajasthan Royals win by 55 runs – that's their 7th biggest win ever in terms of runs. #IPL2021 #RRvSRH

— The CricViz Analyst (@cricvizanalyst) May 2, 2021
We are watching an exhibition here in how not to play T20 cricket from #SRH. Disasterclass start to finish. Horrible horrible day for them.

— Adam Sutherland (@ADSutherland_) May 2, 2021
Average Batting Impact since start of 2020 IPL:

David Warner +3.4
Kane Williamson +2.8

Average Batting Impact this season:

David Warner +0.4
Kane Williamson +1.8#IPL2021 #RRvSRH

— The CricViz Analyst (@cricvizanalyst) May 2, 2021
Tyagi deserved that wicket #SRH

— Udit (@udit_buch) May 2, 2021
Williamson returns with 20 (21) in a chase of 221 runs. 😐#RRvSRH

— Omkar Mankame (@Oam_16) May 2, 2021
20 (21) by the #SRH captain. More things change, they remain the same. pic.twitter.com/4VYHeSTRwk

— Saurabh Malhotra (@MalhotraSaurabh) May 2, 2021
A flying start for #SRH. They have been much more aggressive than RR were in the Powerplay (Attack Rating 187 v 151), but have played with less risk (false shots 19% v 22%). #IPL2021 #RRvSRH

— The CricViz Analyst (@cricvizanalyst) May 2, 2021
So good to see Kartik Tyagi steaming in and bowing at full tilt in an actual match after having seen him do that tirelessly for hours in the nets during the Australia tour #IPL2021 #RRvSRH

— Bharat Sundaresan (@beastieboy07) May 2, 2021
CSK plays RR next and Jos Buttler is going to retire Shardul from IPL, I'm afraid. #IPL

— Silly Point (@FarziCricketer) May 2, 2021
Well deserved 💯 for @josbuttler Looking in a dangerous form. #SRHvsRR #IPL2021

— Vinay Kumar R (@Vinay_Kumar_R) May 2, 2021
124 (64) for Jos Buttler.

The highest score by a Rajasthan Royals batsman.

The third highest score at Feroz Shah Kotla.

The highest score in IPL by an Englishman, and the seventh highest by an Englishman in any T20 game.#IPL2021 #RRvSRH

— The CricViz Analyst (@cricvizanalyst) May 2, 2021
JOS BUTTLER this innings
First 32 balls: 34 runs, SR 106.25 (3 X 4s + 1 X 6s)
Last 32 balls: 90 runs, SR 281.25 (8 X 4s + 7 X 6s)#IPL2021 #RRvSRH pic.twitter.com/IyS97Ld9vK

— Cricbuzz (@cricbuzz) May 2, 2021
So, morons at SRH dropped Warner to beef up their bowling when its their batting that's been their actual issue. And, Nabi bowled just one over in which he was banged for 21.

🤡🤡🤡🤡🤡🤡🤡🤡

— Yash Mittal 🇮🇳 (@im_yash2307) May 2, 2021
First T20 century for Buttler, in his 282nd match. #IPL2021 #RRvSRH

— Bharath Seervi (@SeerviBharath) May 2, 2021
JOS BUTTLER SCORES HIS FIRST HUNDRED IN THE @IPL. 💗💗💗 pic.twitter.com/1lYKl9zLwt

— Rajasthan Royals (@rajasthanroyals) May 2, 2021
Jos Buttler's first 50 runs took 39 balls, but the next 50 took just 17. His Attack Rating leapt from 168 to 217, and his Timing Rating from 113 to 336 – he flicked a switch, and now RR are looking at 200+. #IPL2021 #RRvSRH

— The CricViz Analyst (@cricvizanalyst) May 2, 2021
IPL Centuries for RR

Yusuf vs MI (2010)
Rahane vs RCB (2012)
Watson vs CSK (2013)
Watson vs KKR (2015)
Samson vs SRH (2019)
Rahane vs DC (2019)
Stokes vs MI (2020)
Samson vs PBKS (2021)
Buttler vs SRH (Today)*#RRvSRH

— CricBeat (@Cric_beat) May 2, 2021
Not bad by Buttler who averages under 10 vs #SRH has x that by 10!! Amazing 💯👏🏽👏🏽

— Lisa Sthalekar (@sthalekar93) May 2, 2021
England batsmen with both a Test ton, and an IPL ton:

Kevin Pietersen
Jonny Bairstow
Ben Stokes
Jos Buttler#IPL2021 #RRvSRH

— The CricViz Analyst (@cricvizanalyst) May 2, 2021
THERE'S JUST SOMETHING ABOUT WICKET KEEPER BATSMAN

Quinton de kock
Jos Buttler
Muhammad Rizwan

😍😍😍😍😍

— Sabeeha Majid 🏏 (@SabeehaMajid) May 2, 2021
Jos Buttler's last 13 balls at the crease:

6⃣4⃣2⃣1⃣1⃣6⃣.6⃣4⃣.4⃣6⃣4⃣#IPL2021 pic.twitter.com/Js9FeL9mCN

— Wisden (@WisdenCricket) May 2, 2021
Jos Buttler vs SRH:

1st 5 matches: 46 runs
Today: 78*

Jos has arrived. 🔥#IPL2021 #RRvSRH #RRvsSRH

— CricBlog ✍ (@cric_blog) May 2, 2021
Jos Buttler gets his first ever IPL century. Such a good knock too. Congrats to Jos! #RRvSRH

— Chloe-Amanda Bailey (@ChloeAmandaB) May 2, 2021
Jos Buttler was 42*(37) at the end of 12th over and then smashed hundred from 55 balls including 10 fours and 5 sixes. Welcome back, Jos the boss. #IPL2021 pic.twitter.com/r8TyZCtj5X

— Johns. (@CricCrazyJohns) May 2, 2021
First T20 ton for Jos Buttler.
Had SRH not lost their review & used it later, Buttler would've been out on 7 #RRvsSRH

— Sarang Bhalerao (@bhaleraosarang) May 2, 2021
So, now Jos Buttler has as many T20 centuries as Sir Alastair Cook! Well played…

— Nishad Pai Vaidya (@NishadPaiVaidya) May 2, 2021
Jos Buttler against SRH:-

Until today – 73(77) in 8 innings
Today – 84*(50) so far#IPL2021 #SRHvRR

— Kausthub Gudipati (@kaustats) May 2, 2021
Jos Buttler scores his first-ever century not only in IPL but T20 cricket as well. Cracking knock.#IPL2021

— Subhayan Chakraborty #MaskUp (@CricSubhayan) May 2, 2021
Maiden IPL century for Jos Buttler, what an innings this has been for him. Last 67 runs he scored in just 21 balls, a quality knock from a quality player. The way he accelerated after crossing fifty was brilliant.

— Mufaddal Vohra (@mufaddal_vohra) May 2, 2021
In the last 13 balls, Jos Buttler smashed 4 sixes and 3 fours – including 20 runs against Nabi. Crazy hitting. #IPL2021

— Johns. (@CricCrazyJohns) May 2, 2021
What a knock Buttler👏👏👏👏 superb acceleration 🎉🎉

— Anju #followcovidrules🙏 (@Deep_Point_) May 2, 2021
.@rashidkhan_19 finishes his spell with 👉 4-0-24-1#RRvSRH #OrangeOrNothing #OrangeArmy #IPL2021 pic.twitter.com/1KefxFBQj4

— SunRisers Hyderabad (@SunRisers) May 2, 2021
This guy, putting his team before anything else.
Warner, you have my respect.
Come back stronger legend💪❤#RRvSRH #SRHvsRR #SRH pic.twitter.com/bSmKQDQah0

— Rajneesh Chaudhary (@Rajneesh1609) May 2, 2021
Sanju Samson v Rashid Khan in T20:

46 runs
56 balls
1 wicket#IPL20201 #RRvSRH

— The CricViz Analyst (@cricvizanalyst) May 2, 2021
Can't believe shameless people still watching SRH match and wasting Warner's sacrifice. I boycott this match. #ButtaBommaForever

— Silly Point (@FarziCricketer) May 2, 2021
David Warner Dropped : It's the "Black Day" of Indian Premier League pic.twitter.com/AMSoZ7ifco

— 𝐍𝐈𝐓𝐈𝐍 (@Nitin__10) May 2, 2021
Highest Average Batting Impact in IPL last three seasons (min 20 inns):

Andre Russell +5.7
David Warner +5.0
Jonny Bairstow +4.4#IPL2021 #RRvSRH

— The CricViz Analyst (@cricvizanalyst) May 2, 2021
SRH's stupid auction was never questioned bcoz Warner mostly made up for their horrible batting & got into playoffs. One season he's struggling, entire batting exposed & SRH holds Warner as scapegoat.

— arfan (@Im__Arfan) May 2, 2021
'David Warner will not feature in today's game. The decision is purely based on team combination.'

– Tom Moody, Director of Cricket Operations, SRH#VIVOIPL #RRvSRH pic.twitter.com/8sAncr0hBh

— IndianPremierLeague (@IPL) May 2, 2021