Back in the country following a fairy-tale wedding in Italy and honeymoon in Finland, newlyweds Virat Kohli and Anushka Sharma are all set to face the hustle and bustle of the post-wedding ceremonies now.
After dating each other for the last four years, the cricketer and the actress tied the knot in Italy on last Monday (December 11). They took to Twitter to share the good news, sharing different pictures with the same caption that read:
"Today we have promised each other to be bound in love for ever. We are truly blessed to share the news with you.This beautiful day will be made more special with the love and support of our family of fans & well wishers. Thank you for being such an important part of our journey."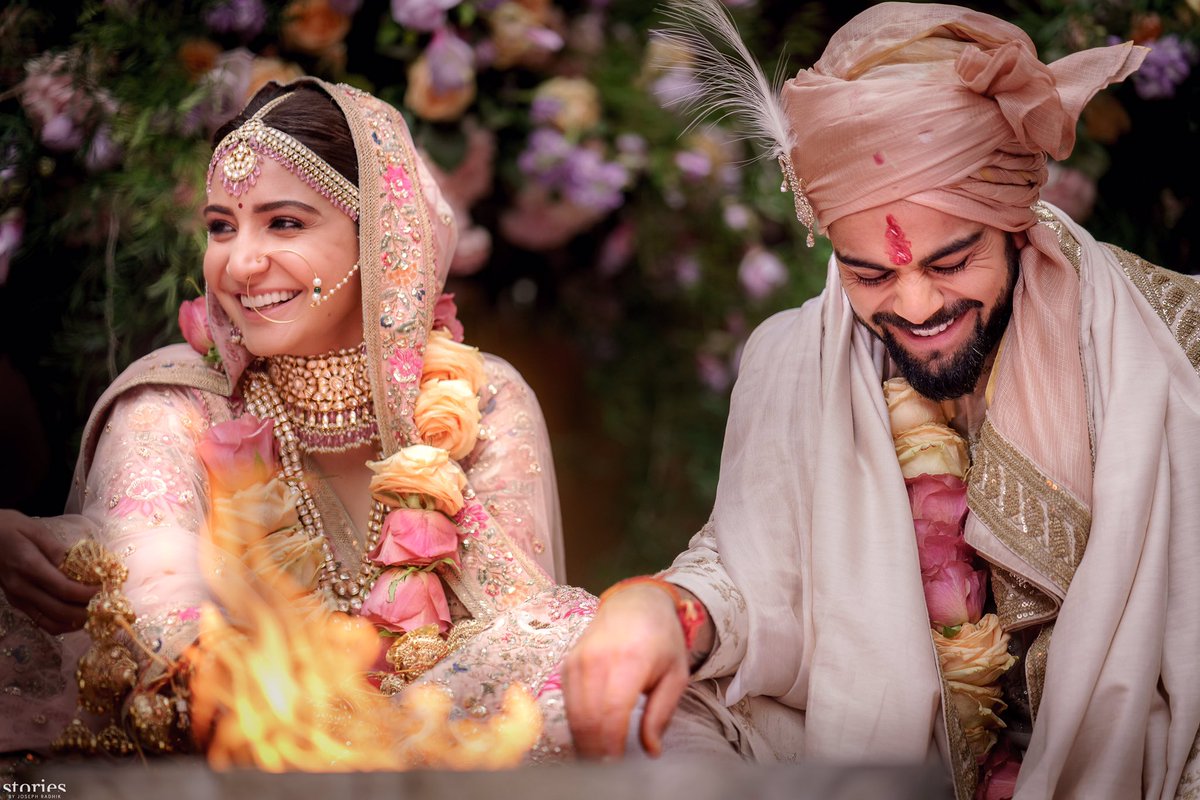 But while they managed to stay away from any media hype and attention while their wedding was underway in Italy, they are not going to enjoy the same privacy now. The couple is set to host a couple of reception in the coming days, The first one will be held in New Delhi for their relatives on 21st December, and it will be followed by a reception for industry friends and cricketers in Mumbai on 26th December. The couple now seems to have started inviting the guests.
Well, it looks like the first eminent personality who has been invited to the reception is none other than the honorable Prime Minister Narendra Modi. The newlyweds personally met the Mr Modi and extended the invitation to him.
Narendra Modi also conveyed his regards and congratulated the couple on their marriage.
"Captain of the Indian cricket team @imVkohli and noted actor @AnushkaSharma met PM @narendramodi this evening. The Prime Minister congratulated them on their wedding," tweeted the Prime Minister's Office.
Captain of the Indian cricket team @imVkohli and noted actor @AnushkaSharma met PM @narendramodi this evening. The Prime Minister congratulated them on their wedding. pic.twitter.com/sFP52DCJH3

— PMO India (@PMOIndia) December 20, 2017
The Twitterati, meanwhile, was quick to jump into action as soon as the pictures of the couple's meeting with the Prime Ministers was posted on the internet. While some took a dig at the BJP leader Panna Lal Shakya who had questioned Kohli's patriotism for marrying in Italy, some just tried to draw a funny angle of the meeting:
Here are some of the reactions:
Tight slap to person called kolhi not deshbhakt,

— VJ (@Vinaybioinfo1) December 20, 2017
This is a real leadership

— Shivam kumar (@SHIVAM72720602) December 20, 2017
Did they prove their nationality n patriotism before the meeting ???

— Pinky (@pinkeeisin) December 20, 2017
So now they are nationalists.

— prashant sharma (@prashan87537686) December 20, 2017
Congratulations to Virat and Anushka for being a new couple.Proud to be Indians.

— Pradeep Kumar Sahu (@Pradeep15522302) December 20, 2017
Modi ji ko reception ka invitation mil gya, i guess

— Smile ? (@Mysteriouss____) December 20, 2017
Virat Kohli and Anushka Sharma met PM Modi this evening. Prime Minister congratulated them on their wedding @PMOIndia pic.twitter.com/Dp7Q2vzXrq

— Prince Cinemas (@PrinceCinemas) December 20, 2017
@rahulkanwal @TimesNow PM congratulated Anti National @imVkohli and @AnushkaSharma , Shame on MLA who only wants himself to be on limelight pic.twitter.com/zV4ZklRd5w

— NNN (@Godluvshumanity) December 20, 2017
[MORE PICS]@imVkohli Bhai @AnushkaSharma Bhabhi….met Prime Minister @narendramodi ji Today…. pic.twitter.com/F5zwQEOqGg

— Mayur Solanki (@MayurSolankiVK) December 20, 2017
Three legend in a single pic #VirushkaWEDDING #ViratKohli @narendramodi @AnushkaSharma @imVkohli pic.twitter.com/rMxCWvLo59

— Rishab (@_rish_ab_) December 20, 2017
I think u didn't get invitation? That's why sharing it here?? Tagging them ?????

— Khelan Thakrar (@Thakrarkhelan) December 20, 2017
Modi/Bjp certified Indian by prime minister,hope no one ll give anti national certificate any more.Congratulations guys .Look great together

— VVikas Kumaarr ©️ (@flyingvikas129) December 20, 2017
A man in traditional looks much more hotter//?
Skyfallen ❤#ViratKohli pic.twitter.com/Az63b8BPEd

— Prajakta (@18prajakta) December 20, 2017
Captain of the Indian cricket team @imVkohli and noted actor @AnushkaSharma met PM @narendramodi this evening. The Prime Minister congratulated them on their wedding. pic.twitter.com/sFP52DCJH3

— PMO India (@PMOIndia) December 20, 2017
Masha Allah!!! My precious babies @imVkohli @AnushkaSharma ? ? ? ? ? ????? #viratanushka #virushka #ImmeseRespect #relationshipsgoal https://t.co/OEFPRMDjTh

— ? (@weirdreshmi01) December 20, 2017
Virat Kohli (@imVkohli) giving century scoring tips to PM @narendramodi 😛 #ViratKohli #Virushka #Modi #99 pic.twitter.com/bsaOdY1FiQ

— Apoorv Kumar (@ApoorvaKumar4) December 20, 2017
Congratulations to the beautiful duo ✨?
How lovely! This is such a nice gesture to wish our India's Pride Virat Kohli & International National Awardee Anushka Sharma. #Virushka @narendramodi Ji can I hv this very unique painting on your wall as my Christmas gift ?:) pic.twitter.com/MpRPMhy6cV

— Dr. Gouri Shankar ?? (@Gracious_Gouri) December 20, 2017
Virat Kohli and Anushka Sharma handing over their Aadhar card to PM Modi.. Link them with all you want ?? #Virushka https://t.co/h3i5Jrk1pa

— Jigarr Jain (@MeinTeraHero) December 20, 2017
Namo with VKAS .. pic.twitter.com/vpPM1vuFTB

— Aditi. (@Sassy_Soul_) December 20, 2017