25 June 1983 will always be remembered as the red-letter day in the history of Indian cricket as it was on this very day 38 years ago when Kapil Dev and his devils went on to script one of the greatest miracles in the history of sport; one that not only changed Indian cricket forever but it also paved way for a whirlwind change in the world cricket.
One-day cricket was just 12 years old in 1983 and India, much like T20 cricket two decades later, was pretty apprehensive about the format since its inception.
India had played just 40 ODIs in the decade or so since the start of One-day International cricket in 1971 and their indifferent attitude towards the format was truly visible from their opening World Cup fixture in 1975 where Sunil Gavaskar scored a total of 36 runs in 60 overs.
The winds of change were finally triggered in 1980 when selectors decided to make Kapil Dev the captain of the Indian team.
Under Dev, India beat Sri Lanka 3-0 and lost to Pakistan 1-3 but the nucleus of the team was beginning to take shape. From relying on the spin quartet to bolstering the attack with medium pace all-rounders like Madan Lal, Balwinder Sandhu, Roger Binny, Jimmy Amarnath, India's strategy was clear: rely on the batsmen to post runs on the scoreboard and then leave it to the bowlers to be restrictive rather than attacking.
When Kapil Dev and his team traveled to England to take part in the World Cup in the summer of 1983, the odds stacked against them were 66:1. They had won 12 ODIs in their 40 game history and only one on English soil- against East Africa.
A photo from the Indian innings at the 1983 World Cup final. I spent the pre-lunch session (ODIs back then had lunch at tea breaks) on the grass in front of the Grandstand. It was harder to take photos as it was so packed that everyone was constantly being jostled #WorldCup1983 pic.twitter.com/HOpaup04HZ

— Historic Cricket Pictures (@PictureSporting) June 25, 2020
India started their campaign on an imperious note as they defeated defending champions West Indies by 34 runs. They then swatted aside Zimbabwe in the second game by five wickets before going down to Australia [by 162 runs] and West Indies [by 66 runs] in the following fixtures.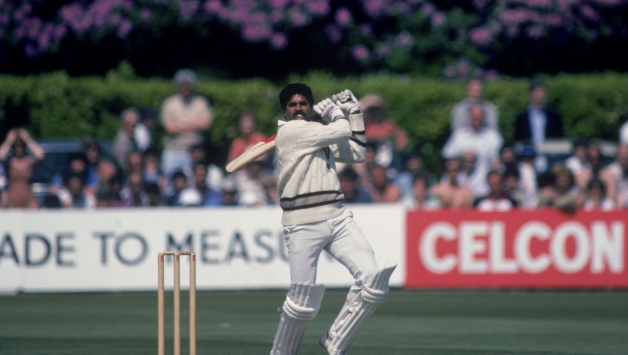 Coming into the match against Zimbabwe, India found themselves in dire straits at 5-17 when Dev played probably one of the most important innings in the history of ODI cricket to lift the team to an unimaginable 266. India went on to win the game by 31 runs, post which they defeated Australia by a margin of 118 to seal their spot in the semi-finals.England was expected to knock over India in the semi-finals but the hosts came in for a huge shock as an all-rounder performance from Mohinder Amarnath [2-27 & 46] and half-centuries from Sandeep Patil [61] and Yashpal Sharma [51 off 32 balls] paved way for a six-wicket win to set up a date with the mighty West Indies in the summit clash.Team India, however, were eventually bowled out for 183 and at the halfway mark, it looked like the West Indies will romp to their third World Cup title.
#OnThisDay in 1983

The great Indian miracle that shattered the serenity of World cricket; one that went on to transform the sport forever!!!

A day where perennial outsiders humbled the world beaters and cricket was never the same again.

THE 1983 WORLD CUP WIN!!! pic.twitter.com/Ru82Dr56Jh

— यश 🇮🇳 (@im_yash2307) June 24, 2020
However, little did anyone realize that a miracle was about to ensue that a defiant Indian bowling attack bowled out the West Indies for a mere 140 to clinch their maiden world title.
Also Read- Team India's Schedule For The 2nd Cycle Of World Test Championship [2021-2023]
Here's how former and current Indian cricketers paid their tribute on the 38th anniversary of the World Cup win–
#OnThisDay in 1983: A historic day for the Indian cricket as the @therealkapildev-led #TeamIndia lifted the World Cup Trophy. 🏆 👏 pic.twitter.com/YXoyLyc5rO

— BCCI (@BCCI) June 25, 2021
38 years ago on 25th June #1983, @therealkapildev #KapilsDevils created history.
Bharat mata was #WorldCupChampions @RaviShastriOfc @BCCI
We are all together and celebrating. Minus #SunilGavaskar and #RaviShastri they're in England. Srikanth is missing due to domestic issues pic.twitter.com/pJFnvvEvPK

— Kirti Azad (@KirtiAzaad) June 25, 2021
A day that changed Indian 🏏 history forever!

I'll always remember the celebration & joy we felt with the fall of every wicket and the pride on witnessing 🇮🇳 win the World Cup. #1983WorldCup #nostalgia #TeamIndia pic.twitter.com/GJtTaoFCgc

— Sachin Tendulkar (@sachin_rt) June 25, 2021
38 years ago on this day , India won the world cup against all odds and this victory inspired a generation of youngsters to take up cricket and dream big. Thank you @therealkapildev Paaji and team for inspiring us. pic.twitter.com/I5Q6xxhP6Q

— VVS Laxman (@VVSLaxman281) June 25, 2021
Grateful for being a part of the winning 83 team . 38 years to this beautiful journey !!!! Celebrating with my team @KirtiAzaad @therealkapildev @DBVengsarkar @KrisSrikkanth @RaviShastriOfc @cricyashpal pic.twitter.com/XC1TF1ABZn

— Madan Lal (@MadanLal1983) June 25, 2021
This day 38 years ago, @therealkapildev paijee and his men changed the cricketing landscape in India forever. Cricket is a proper career option now and I am deeply indebted to the entire team from 1983. @KrisSrikkanth @RaviShastriOfc 🙏

— Mask up and take your vaccine🙏🙏🇮🇳 (@ashwinravi99) June 25, 2021
Kudos to @therealkapildev and his team for winning the World Cup on this day in 1983. #throwback #KapilDev pic.twitter.com/Dgf2MsmE1g

— Mohammed Azharuddin (@azharflicks) June 25, 2021
On this day in 1983, @therealkapildev and his men showed us that anything is possible if we dare to dream. This victory inspired a whole generation to take up cricket and dream big 🙌🏼 pic.twitter.com/nYgOJElYg3

— Wasim Jaffer (@WasimJaffer14) June 25, 2021
The Most Important Day in Indian Cricket. Made millions play cricket. Made a whole generation believe that we can do it…thank you 🙌🙏 #ThisDayThatYear #1983 pic.twitter.com/h2vBGtAzNk

— Wear a Mask. Stay Safe, India (@cricketaakash) June 25, 2021
The magical smile of @therealkapildev and even more magical performance by his teammates on this day in 1983 is the only reason why cricket is greater than any religion in our country . pic.twitter.com/TqXczoKUVd

— R P Singh रुद्र प्रताप सिंह (@rpsingh) June 25, 2021
A day that changed the face of cricket in India and inspired so many kids to pick up a bat and ball 🇮🇳 Congratulations to the wonderful 1983 team on creating history and inspiring generations. pic.twitter.com/xYmalq4ZPO

— Shikhar Dhawan (@SDhawan25) June 25, 2021