Jitendra Singh, the coach of Krunal Pandya, is a delighted man after the allrounder began his international career on a good note.
Krunal Pandya pretty much justified the hype surrounding him with an all-round show in the first T20I between India and Windies. Despite making his international debut just a couple of days ago, Krunal is a household name in the country thanks to his exploits in the Indian Premier League.
Krunal marked his arrival on the biggest stage during the 2016 Indian Premier League.  In his very first season, he scored 237 runs and picked up 6 wickets. He did even better in 2017 as he scored 243 runs and picked up 10 wickets. He was rewarded for the performance with a maiden call up from the India A team. In 2018 edition of the IPL, he scored 228 runs and picked up 12 wickets.
The hard work finally paid off as he earned his maiden India call-up for the T20I series in England. However, he could not break into the playing eleven. But his long wait to get his debut cap finally ended on Sunday as he received his debut cap.
And Krunal went on to justify the faith shown in him, contributing with both bat and ball. With the ball, he conceded just 15 off 4 overs and picked up the important wicket of Kieron Pollard. With the bat, he scored 21 off just 9 and also hit the winning runs.
As expected, his coach Jitendra Singh is delighted with the performance.
"Yes Krunal did well and batted as per the situation (of the game), which is a good thing. I am very satisfied and there is always score of improvement. Finishing a match has been there in my coaching philosophy," Jitendra told PTI.
"A good player is the one who finishes the match and you should not leave it for anyone else. And he (Krunal) did that yesterday which I felt was more satisfactory," he added.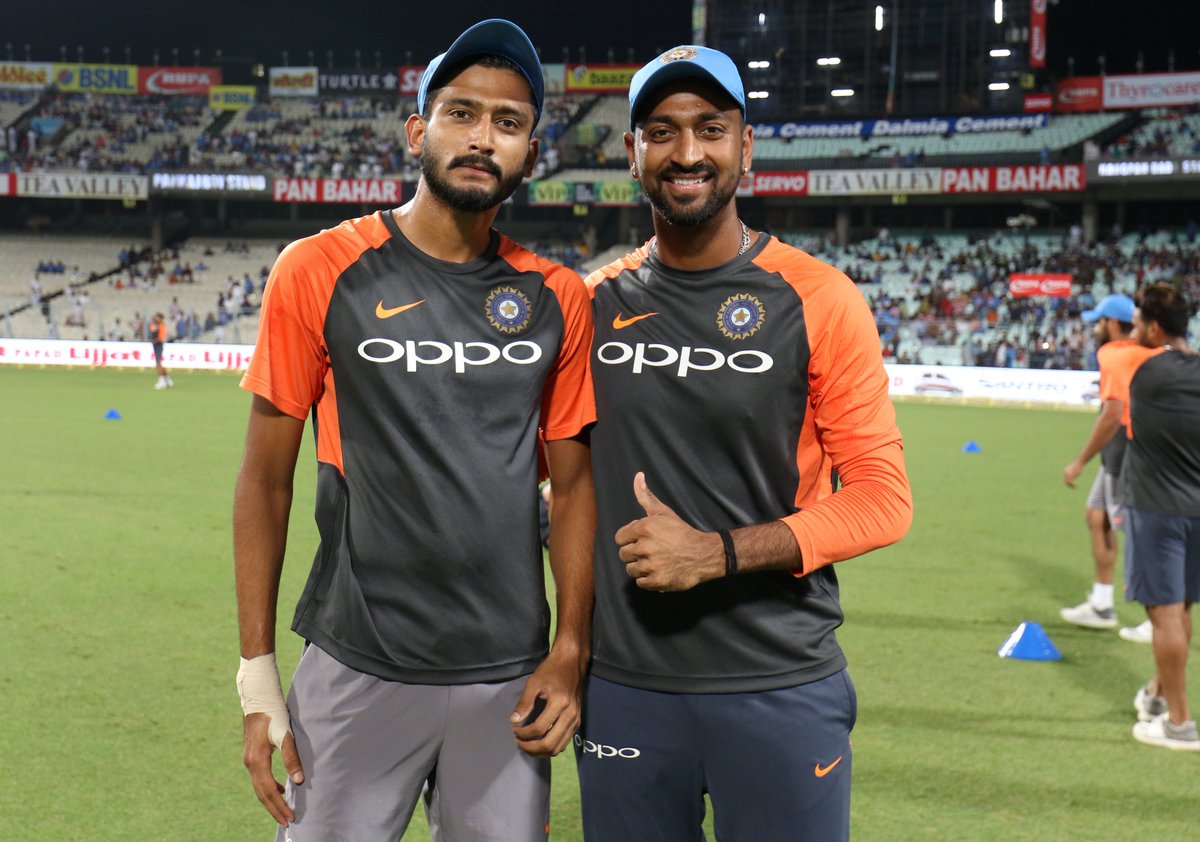 Jitendra Singh further said Krunal has "matured" as a player. He revealed that though he was working with Krunal for the last eight years, Krunal started focussing more on his game in the last four years only. He went on to reveal the incident that changed Krunal's attitude.
"There was a U-23 match and he was in the Baroda side. But after that particular match, he (Krunal) was dropped from the side. After that, he started focussing (on the game) more," Jitendra recalled.
"After that he started working hard towards the game and his attitude towards the game changed," the coach added.
Meanwhile, Krunal also became the first Indian to score over 20 runs at a strike-rate of 200+ and concede 16 or fewer runs bowling four overs in the same T20I.