Neeraj Chopra, competing in the men's Javelin Throw competition in the ongoing Tokyo Olympics, has brought the first gold medal for India. As a result, Neeraj Chopra became the first gold medalist of Independence India in Athletics and was also India's seventh in the Tokyo Olympics 2020. Hence, the Indian cricketing fraternity lauded him for his accomplishment.
Also Read: Herschelle Gibbs Confirms Participation In The Controversial KPL In Pakistan-Occupied Kashmir
Neeraj Chopra seemed to have killed the competition when he covered a distance of 87.03 metres in his first attempt, followed by 87.58 in his second. It proved to be a golden throw, while the 23-year old produced a distance of 80 in his third try. However, Chopra fouled in his fourth and fifth opportunities. He faced a close competition from Czech Republic's Viteszalav Veslay, who threw 86.67 meters.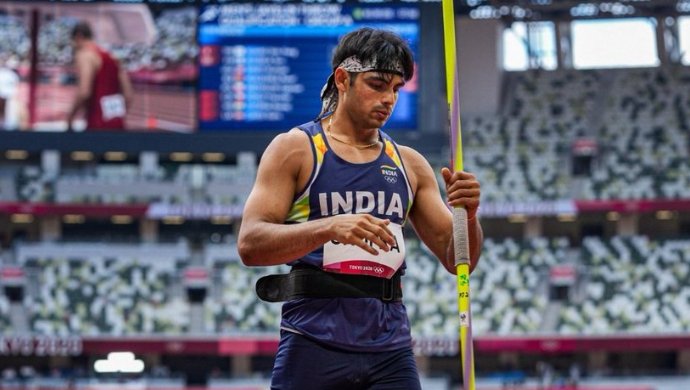 However, world champion Johannes Vetter fell by wayside. Earlier, Indian golfer Aditi Ashok raised hopes for India on Saturday of earning a gold medal; however, she had to walk away empty-handed even after losing the bronze medal encounter to Lydia Ko. But Bajrang Paunia got the sixth medal for India by winning the wrestling match for the Bronze Medal bout.
Even before that, Mirabai Chanu won the silver medal in weightlifting, PV Sindhu snared bronze in Badminton, followed by the men's hockey team doing the same. The cricketers have been quite regularly following the global event and have been cheering the athletes and encouraging them.
Below is some of the cricketers' tweets congratulating Neeraj Chopra:
Wow….. GOLD! Brilliant #NeerajChopra 🙌🏽 thank you #Toyko2020 #Gold

— Pragyan Ojha (@pragyanojha) August 7, 2021
#NeerajChopra you are a legend at 23! Don't have words. So proud and overwhelmed.

— R P Singh रुद्र प्रताप सिंह (@rpsingh) August 7, 2021
Proud proud moment for India 🇮🇳 congratulations to whole country. Thank you for making us proud #NeerajChopra #goldmedal

— Irfan Pathan (@IrfanPathan) August 7, 2021
Proud proud moment for India 🇮🇳 congratulations to whole country. Thank you for making us proud #NeerajChopra #goldmedal

— Irfan Pathan (@IrfanPathan) August 7, 2021
What a day this is for Indian sports.
One of the most significant days in the history of Indian sports.
First ever athletics medal and a #goldmedal at that. Super Proud ! #NeerajChopra you are a champion ! pic.twitter.com/SzyilzUrKk

— VVS Laxman (@VVSLaxman281) August 7, 2021
Gold for India. Wow!!! #NeerajChopra #Athletics #Olympics #Gold What a moment !!

— Anil Kumble (@anilkumble1074) August 7, 2021
Khush kitta desh nu… 🇮🇳 #neerajchopra #TeamIndia #Gold pic.twitter.com/orU6RSbwnb

— Gurkeerat Mann (@gurkeeratmann22) August 7, 2021
Heart filled with pride !!! Absolutely superb from Neeraj Chopra . #Gold #ind

— Rohan Gavaskar (@rohangava9) August 7, 2021
What a proud moment for all of us Neeraj chopra you are GOLD my brother 🥇🇮🇳 @Olympics @NBCOlympics

— Harbhajan Turbanator (@harbhajan_singh) August 7, 2021
Yes boy !! You did it . The country salutes you 👏🏽🙋‍♂️ so proud of you 👏🏽👊🏽👊🏽👊🏽👊🏽👊🏽! 🥇 @Neeraj_chopra1

— Yuvraj Singh (@YUVSTRONG12) August 7, 2021
Proud of you #NeerajChopra.. Whole nation is celebrating your win #Gold #Olympics #TeamIndia pic.twitter.com/TytnLOBSLl

— Barinder Sran (@sranbarinder) August 7, 2021
Wow that is incredible! https://t.co/n9b75zLuMX

— Isa Guha (@isaguha) August 7, 2021
There are decades where nothing happens; and there are weeks where decades happen. #TeamIndia #Proud #Olympics #NeerajChopra pic.twitter.com/TDkR9oNfQE

— Wasim Jaffer (@WasimJaffer14) August 7, 2021
His arm represents the strength of 1.3 billion people! 🇮🇳 #NeerajChopra #Gold pic.twitter.com/GrMQ51qO1l

— Gautam Gambhir (@GautamGambhir) August 7, 2021
It's a #Gold for Neeraj Chopra in Javelin Throw 🇮🇳🥇

WE NOW HAVE AN #OLYMPICS CHAMPION!!! 🥇

What an ATHLETE!! 🏆🏆🏆

JAI HIND!!! 🇮🇳#Tokyo2020 | #TeamIndia | #Athletics | #Javelin | #Cheer4India 🇮🇳 pic.twitter.com/eLyphsUqxf

— MANOJ TIWARY (@tiwarymanoj) August 7, 2021
Yesss !!! @Neeraj_chopra1 🥇First ever Gold in track and field for India 🇮🇳!!!! India finishing with a bang 🇮🇳 Big Big congratulations 🎉!!! So so proud #Olympics #Tokyo2020 #TrackandField #javelin #NeerajChopra #Gold pic.twitter.com/pXAT0t62eE

— Veda Krishnamurthy (@vedakmurthy08) August 7, 2021
Heartiest Congratulations @Neeraj_chopra1 for this stupendous victory in the Men's Javelin Throw.
You have created history ! #Gold for India 🇮🇳@Olympics #Tokyo2020 #Olympics #Cheer4India #JavelinThrowFinal pic.twitter.com/oWitbPHvFS

— Dhawal Kulkarni (@dhawal_kulkarni) August 7, 2021
🥇 Congratulations @Neeraj_chopra1 on winning the Gold in Tokyo. What a brilliant performance to bring our 🇮🇳 first medal in track and field. 👏🏽💥

— Jhulan Goswami (@JhulanG10) August 7, 2021
What an AMAZING day for 🇮🇳 at the #TokyoOlympics
Congratulations #NeerajChopra on bringing home our first 🥇at #Olympics2021. You are an inspiration for everyone! 🙌🏻
Congratulations to #BajrangPunia also for the🥉

CHAMPIONS 💪🏻#Cheer4India #Olympics pic.twitter.com/iwnF6739BK

— Prasidh Krishna (@prasidh43) August 7, 2021
नीरज ने जैवेलिन को पहुंचाया सूरज तक!

India shines brighter today because of you, Neeraj.

Your javelin carried the tricolour 🇮🇳 all the way and made it flutter with the pride of every Indian.

What a moment for Indian sport!#Olympics #Tokyo2020 #Athletics #Gold pic.twitter.com/FZ52Ti6EZc

— Sachin Tendulkar (@sachin_rt) August 7, 2021
Neeraj Chopra- legendary stuff! #Gold #TeamIndia #Olympics

— Shikha Pandey (@shikhashauny) August 7, 2021
A huge moment in Indian sports..men's javelin throw winner is an Indian..so so proud..#NeerajChopra ..

— parthiv patel (@parthiv9) August 7, 2021
Neeraj chopra we salute you🤩🇮🇳🇮🇳🇮🇳 pic.twitter.com/oL2rEDYyqZ

— Sheldon Jackson (@ShelJackson27) August 7, 2021