Zimbabwe Cricket team is hopeful about a positive result in the upcoming four-day Test match against South Africa scheduled to start on Boxing Day, as shorter formats reduce quality differences between two teams.
Although many cricketers including South Africa's Faf Du Plessis and Dean Elgar are sceptical about the idea of the four-day Test match, Graeme Cremer feels it could give his team, ranked No. 10, a more significant opportunity to compete with their opponents, who are ranked No. 2 in the ICC Test Rankings.
"I think it's a good thing, especially when the two teams aren't ranked that close together. The game will move that much quicker because it's only four days. It will be good to watch and good for the crowd," Cremer was heard saying at Zimbabwe's arrival press conference in Paarl on earlier today.
Cremer feels the 'bigger' teams will try to bat only once and score quick runs and try and knock out the other side twice.
"The bigger teams will have to probably score a bit quicker and give the lesser team a lot more opportunity to get wickets, and the game will move quite quickly," Cremer further stated.
Also Read: South Africa vs Zimbabwe: AB de Villiers, Dale Steyn make comeback in Test cricket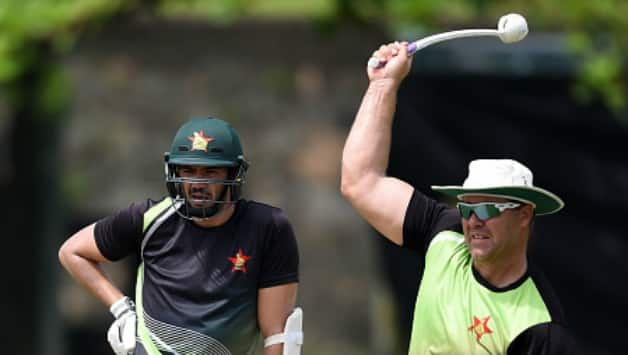 However, Zimbabwean head coach Heath Streak feels this approach can create an opportunity for the smaller teams to work its way back in the game. Streak wants his team to aim for victory and not settle for anything less.
"It's about shaking off the underdog mentality and playing to win, not to compete and to not embarrass ourselves. Our series in Sri Lanka was a watershed moment for us, more mentally than anything else. We are out to play winning cricket, and we'd rather lose trying to play a winning brand than just to compete. We'll have our challenges, especially in the longer format because we don't play that much, but this team is going places," Streak mentioned in the press conference.
Also Read: Zimbabwe includes Two Uncapped Players for their Tour to South Africa
The major challenge for the Zimbabwean team is they lack a significant amount of game time, as they play fewer Test matches than other countries. Streak stated they would like to play any matches in any format just to improve themselves.
The Boxing Day Test will not only be the first four-day Test since 1973, but it will also be the first day-night Test, which Zimbabweans are not used, as they have no floodlights in Harare Sports Club or Queens in Bulawayo.
Cremer feels the Zimbabwe batsmen will face problems to play the pink ball as many others did.
"We've had two sessions under lights with the pink ball. It was good to see how it reacts. At that twilight time, a little bit more seems to happen with the ball off the wicket. We'll be careful of that. It will probably swing," he further added.
Also Read: AB de Villiers Ruled Out Of Zimbabwe Warm-Up Tie
Zimbabwe is yet to decide their team combination, and it will depend on the three-day warm-up match starting from Wednesday.
Dale Steyn will make a comeback for the South Africa team, as he played his last Test in November last year when he broke a shoulder bone in Perth. The Zimbabwe batsmen will use the practice game to see off Steyn, as his final selection also depends on the warm-up match.
"It is exciting. Dale brings a lot to cricket in general. He is a good guy, and he is one of the better bowlers going around. It will be good to have him back, not only just for this Test match but going forward in his career. He is great to watch, and we are excited to see him in the three-day game and hopefully in the Test," Cremer signed off.
Ankush Das
I am an accountant by qualification, my parents thought their obedient son would study further to become a CA, but I had other things in mind. An ardent Cricket fan is following his passion and making a living watching and working around his favorite sport.
Related posts