Years of toil, years of relentless hard work. Multiple snubs from the national selectors, but Suryakumar Yadav did not get bogged down. He continued to work hard, smash runs after runs in domestic and IPL cricket until it eventually got impossible for anyone to ignore him.
He continued to pile up performances after performances until the national selectors had to stand up and take notice. He essentially broke the door down and was finally rewarded with his maiden India cap during the second T20I against England.
But, nothing has come easy for Suryakumat Yadav. He had to wait and wait and wait for his debut game and in the same manner, he also had to wait for his chance to stroll out in the middle with bat in his hand. Yadav made his debut in the second T20I but with his fellow debutant Ishan Kishan and skipper Virat Kohli going hammer and tongs, he did not get a chance to bat.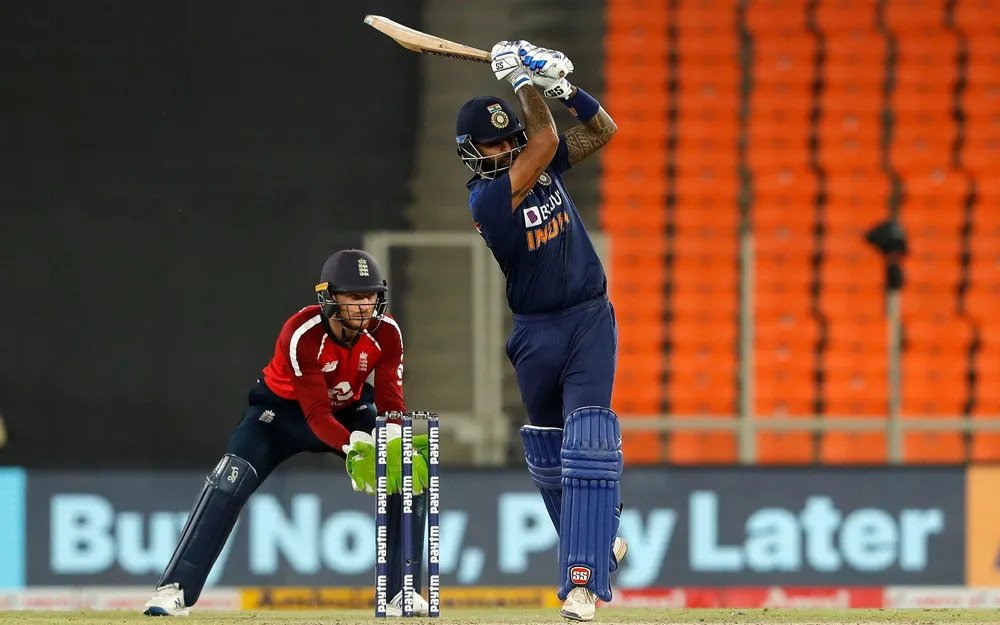 He was dropped from the playing 11 in the following game as Rohit Sharma made his return to the playing 11 and eventually it was an injury to Ishan Kishan, which paved way for his return to the playing 11.
When you work so hard for something throughout your life, it can sometimes overwhelm you when you eventually achieve it but that has clearly not been the case with Surykumar Yadav, who dazzled in his debut innings.
When he eventually got his chance to bat for the first time in an Indian jersey, Suryakumar Yadav showed what world cricket and especially Indian cricket has been missing all this while.
This is How you start Your International Debut Match#suryakumar
#INDvsENG pic.twitter.com/FO9oB3QjDq

— Kishan Shivrajkumar (@Kishans73645975) March 18, 2021
Surya came to bat after the fall of Rohit Sharma's wicket and during his 31-ball 57, he said- 'Hey! Cricket fans, stop whatever you are doing and come look at me. Drop everything and see how I audaciously mow Jofra Archer for a six over deep fine-leg. Look, how I get on my backfoot and punch one of the fastest bowlers in the world for a classy punch in the cover-region. Look, how I get on my knees and slog-sweep Adil Rashid. Look, how I cream fast bowlers for sumptuous drives in the cover-region. Look, how I dance down the track and hit Adil Rashid for an inside-out six-over covers. Look, how I get to my half-century in my debut innings'.
It was a special inning by Suryakumar Yadav and as expected, Twitter went bonkers.
Here are some of the best reactions-
Congratulations @surya_14kumar for your first international 50. Many more to come.

— Irfan Pathan (@IrfanPathan) March 18, 2021
Well played @surya_14kumar !! A long wait comes to an end & with a bang , onwards and upwards !! Well done 👏 #INDvsENG_2021 #T-20

— Mithun Manhas (@MithunManhas) March 18, 2021
Not getting to bat on debut and then getting a big one in the next match played. Before Surya Kumar Yadav, the last Indian batsman I remember doing that was Yuvraj in Nairobi in 2000!

— Joy Bhattacharjya (@joybhattacharj) March 18, 2021
Well done @surya_14kumar #INDvEND @StarSportsIndia @BCCI

— Harbhajan Turbanator (@harbhajan_singh) March 18, 2021
.@surya_14kumar 👏👏👏 Proud of you brother! 🤗💥 pic.twitter.com/o2ylH660Pz

— Krunal Pandya (@krunalpandya24) March 18, 2021
Fancy that! @surya_14kumar, literally sprinting out to bat for the first time for India. And playing his favourite pick up shot for six first ball!

— Harsha Bhogle (@bhogleharsha) March 18, 2021
50+ score on T20I debut inngs for India
Robin Uthappa
Rohit Sharma
Ajinkya Rahane
Ishan Kishan
Surya Kumar Yadav

All five have played for @mipaltan at some point in their IPL career!!!#INDvENG

— Deepu Narayanan (@deeputalks) March 18, 2021
Fearless. Innovative. Aggressive. Thoroughly enjoyed @surya_14kumar first knock at the highest level. An innings of some serious quality. Hopefully first of many half centuries #IndvEng pic.twitter.com/2zVLQr5zWr

— VVS Laxman (@VVSLaxman281) March 18, 2021
This SKY is LIT … And he's gotten here with pure grit, courage and tremendous hard work. Well played @surya_14kumar – You're a fabulous story of belief and faith in one's own ability – And this is just the beginning 🙌🏻🤞🏻 Shine On budd #IndvEng

— Jatin Sapru (@jatinsapru) March 18, 2021
Suryakumar Yadav has scored 23 (8) against Adil Rashid today. His record against high pace in the IPL is outstanding, but he matches it with intent (and execution) against spin. He should be India's No.4, or No.3, for the World Cup. #INDvENG

— Ben Jones (@benjonescricket) March 18, 2021
50 when it mattered the most! Well played Suryakumar Yadav.#suryakumar pic.twitter.com/p6AxUWYsvp

— Kp (@KshitizP007) March 18, 2021
Sunrise ☀️🔥😇♥️🥳🥳🥳🥳#suryakumar #INDvsENG_2021 pic.twitter.com/7L7txn7965

— Dinu Rajput 💛/ S Mandhana 🤩 stan (@kyonbtaye7) March 18, 2021
50 when it mattered the most! Well played Suryakumar Yadav.#suryakumar pic.twitter.com/p6AxUWYsvp

— Kp (@KshitizP007) March 18, 2021
These Mumbai Indian lads can play.

SKY has been playing a different game today. You feel he's shown the way in terms of approach to some of his seniors. 👏 🇮🇳🏴󠁧󠁢󠁥󠁮󠁧󠁿

— Adam Sutherland (@ADSutherland_) March 18, 2021
Was cheering for @surya_14kumar Very well played! Disappointed by umpire's decision for declaring it out. To me it was clearly not out. We all are so proud of you Surya. @soumghoshal & you played together as kids in the same Anushaktinagar colony ground. Feeling so happy for you!

— Shreya Ghoshal (@shreyaghoshal) March 18, 2021