England, on Friday, once again displayed just why they are the No.1 ranked white-ball team in the world, as they thumped Team India by eight wickets to take a 1-0 in the five-match series.
Defending just 124, India needed wickets at the top to give themselves any chance of making a comeback. However, the duo of Jason Roy and Jos Buttler ensured that it wasn't the case.
Roy, in particular, came out all guns blazing, as he raced to a 15-ball 24. Jos Buttler survived two close calls in the 4th over- first when he mistimed a lofted drive over Axar Patel's head, which was nearly caught courtesy of an incredible effort by KL Rahul, and then when he was trapped in front of the wicket by the left-arm spinner, only for the 'Umpire's Call' to come to his rescue.
Buttler, however, responded with an audacious backfoot punch over covers and then with a monstrous six over midwicket as England raced to 42 runs in just 5 overs.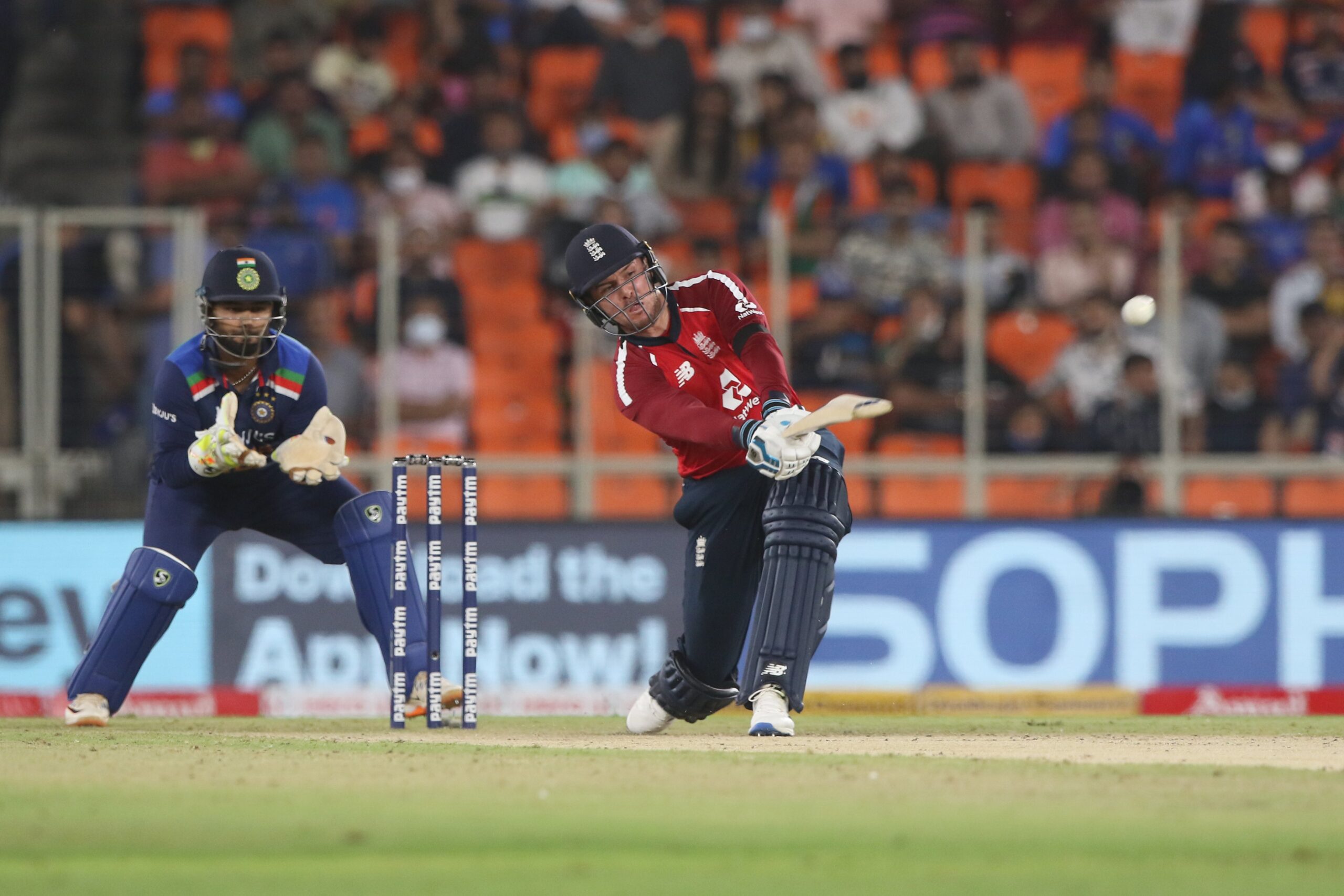 England finished the first powerplay at 0/50, a score that India couldn't manage in the first ten overs.
Jason Roy continued his onslaught against the Indian spinners, especially against Yuzvendra Chahal, who he smashed for a four and six off consecutive deliveries in the 8th over. Chahal got India the first breakthrough as he pinned Jos Buttler plumb in front to break the 72-run opening stand. Thanks to that wicket, Chahal leapfrogged Jasprit Bumrah to become the leading wicket-taker for Team India in T20I cricket.
Roy [49 off 32 balls], however, failed to get past the 50-run mark as he was pinned plumb in front by Washington Sundar after the opener failed to connect the leg-glance for a single.
But Jonny Bairstow's belligerence [26* off 17 balls] ensured that England knocked off the remaining runs in a canter to take a 1-0 lead in the five-match series.
Lackluster India managed a mere 7/124 against a disciplined England bowling
Batting first, Team India got off to the worse possible start as they lost opener KL Rahul in just the second over of the innings after the stylish batsman dragged on to his stumps in an attempt to drive Jofra Archer towards the cover region.
With just two runs coming in the first two overs, captain Virat Kohli perished for a 5-ball duck in an attempt to up the ante after he backed away from the crease stroked Adil Rashid straight to the mid-off fielder.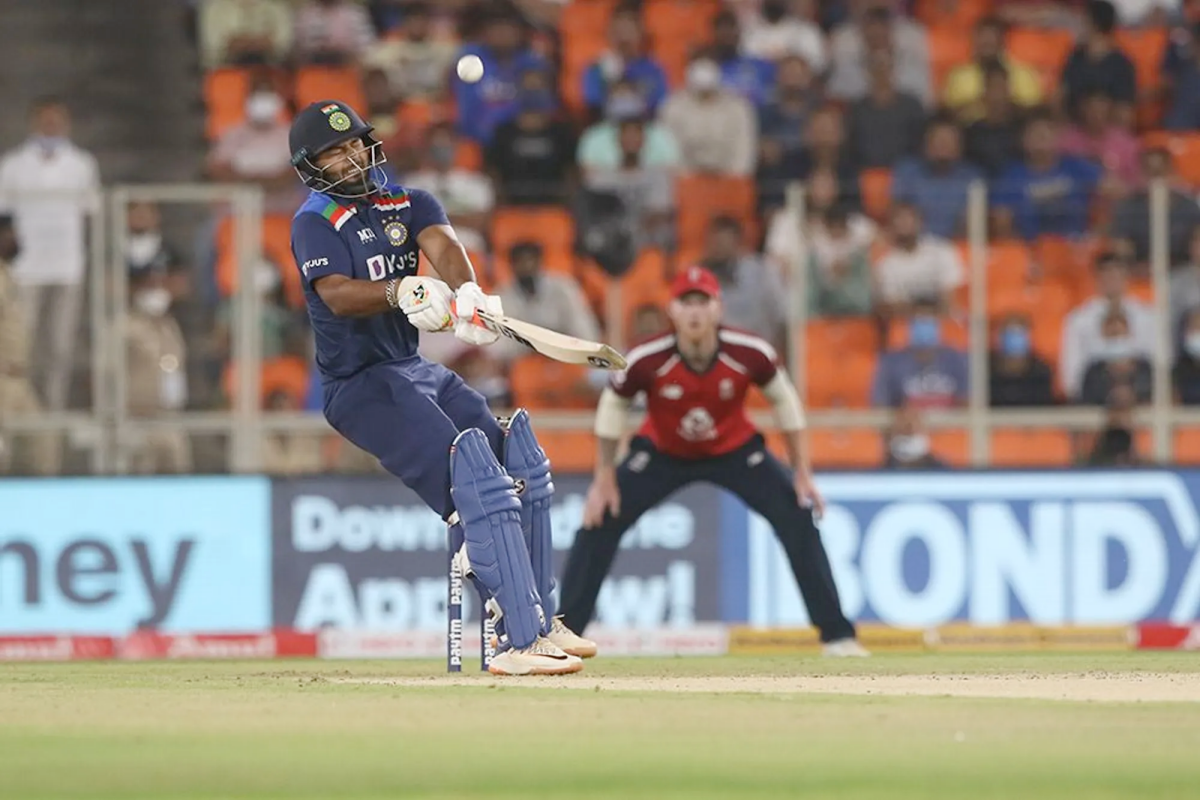 Rishabh Pant picked off from where he had left in the Test series as he played some enterprising strokes- none better than the audacious reverse-sweep off Jofra Archer.
However, Shikhar Dhawan (12-ball 4) continued to struggle at the other end before he eventually perished as his stumps were knocked back after he missed the hoike across the line.
India managed a mere 21 runs in the powerplay. Rishabh Pant slowed down after a brisk start and in an attempt to break the shackles, he perished for a 23-ball 21 after he picked out Jonny Bairstow at the deep square-leg boundary.
Shreyas Iyer played some beautiful orthodox strokes against Ben Stokes and Adil Rashid as he and Hardik Pandya looked to rebuild the Indian innings.
England pacers were outstanding, not only did they made subtle changes in pace to great effect but they also tested the Indian batsman with searing pace courtesy Mark Wood, who gave away just 12 runs in his first three overs.
Wood, in particular, troubled Hardik Pandya with his extra pace and bounce as the all-rounder managed just 5 runs off the first 9 balls he faced.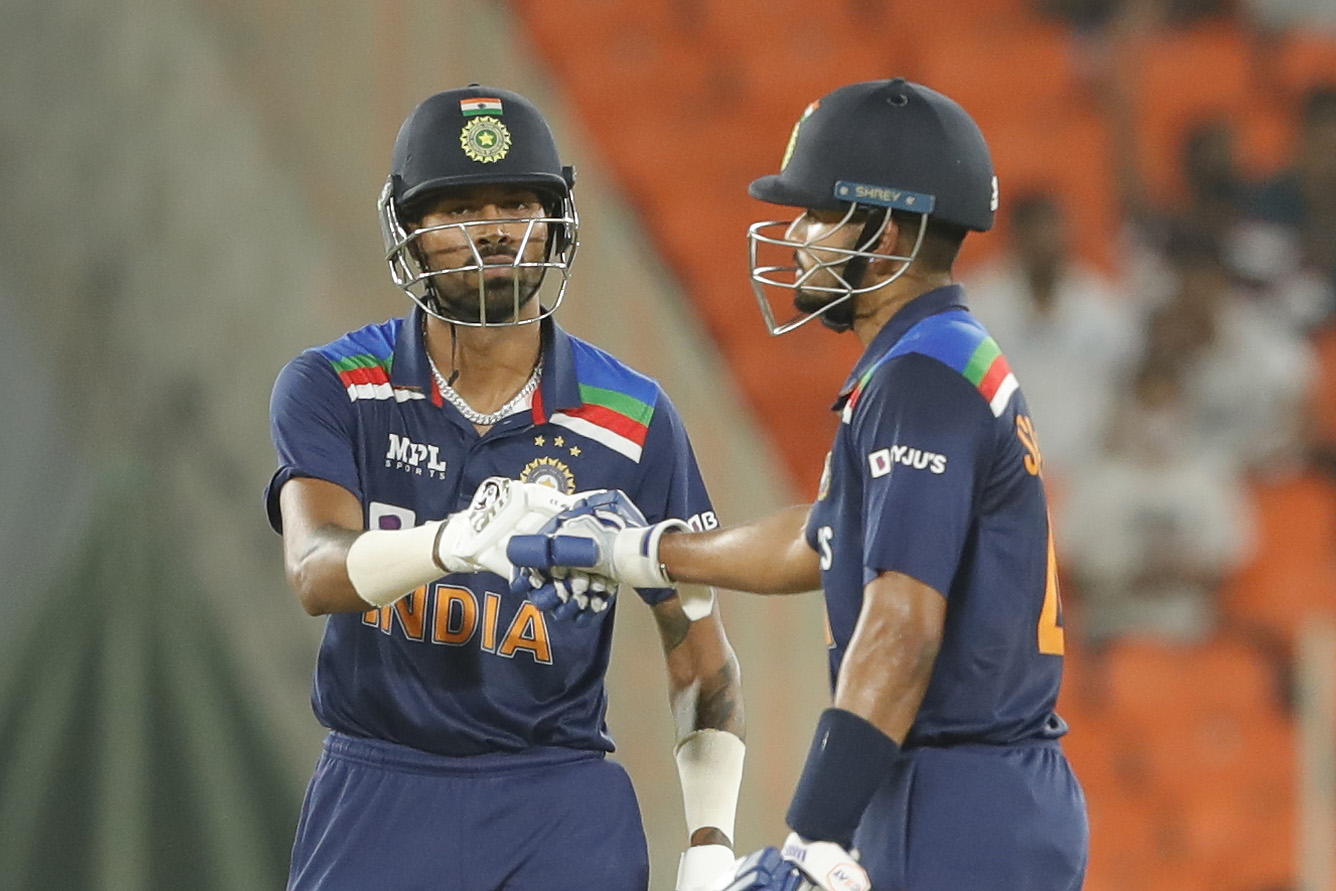 With just 71 runs on the board after 14 overs, India desperately needed a strong push from Shreyas Iyer and Hardik Pandya to get themselves anywhere near a competitive total.
Pandya finally opened up his long levers in the 15th over as he smashed Ben Stokes over his head for a six before playing a cheeky dab for a boundary on the very next delivery. Shreyas Iyer looked the best Indian batsman on show as he played some beautiful strokes all around the ground. The Mumbai cricketer welcomed Jofra Archer back in the attack with two classy back-to-back boundaries. He completed a 36-ball 50 in the next over of Chris Jordan, and he celebrated that with an audacious six over a backward point to bring up India's 100.
However, India continued to lose wickets and they lost a big one in the form of Hardik Pandya, who in an attempt to cut Archer over mid-off, proceeded to hit it straight to Chris Jordan. Archer backed it up with another wicket on the very next delivery as Shardul Thakur holed out in the deep.
Shreyas Iyer (67 off 48 balls) eventually holed out in the last over courtesy a brilliant catch by Dawid Malan as India finished at an underwhelming 7/124 after 20 overs.
Here's how Twitter reacted:
That is an absolute shellacking. India were out-bowled, out-batted, out-fielded and out-thought.

The most complete English white ball performance since the World Cup semi-final.

A serious statement in the first of five matches. Morgan's England are in superb nick.#INDvENG

— Ben Jones (@benjonescricket) March 12, 2021
Brilliant England! 🏴󠁧󠁢󠁥󠁮󠁧󠁿 Great team performance.
Hard to look past this as the highlight of the day tho… @Eoin16 @josbuttler 🤝 pic.twitter.com/QshTeHeHR4

— Stuart Broad (@StuartBroad8) March 12, 2021
Superb win, @englandcricket. Dominated from start to finish.
👏👏👏#INDvENG

— Ian Bell (@Ian_Bell) March 12, 2021
Effortless by England, 50 more would have been needed to test England. Faultless in every way.

— James McCaghrey (@JMccaghrey) March 12, 2021
Impressive from England. From the first over, India didn't have a sniff.

— Lawrence Booth (@the_topspin) March 12, 2021
Most T20I wickets for India

Yuzvendra Chahal 60
Jasprit Bumrah 59
Ravichandran Ashwin 52#INDvENG

— Subhayan Chakraborty (@CricSubhayan) March 12, 2021
Jason Roy's scores for England in the last 12 months

Ireland ODIs

24 (22)
0 (3)
1 (4)

Australia ODIs

3 (12)
21 (22)
0 (1)

South Africa T20Is

0 (2)
14 (19)
16 (14)

India T20Is

41* (22) – TODAY

This is his highest international score in over a year.#INDvENG pic.twitter.com/8SoGX6rLPd

— Wisden (@WisdenCricket) March 12, 2021
The @mipaltan are a better T20 team than @BCCI !!! #JustSaying #INDvENG

— Michael Vaughan (@MichaelVaughan) March 12, 2021
This is why England persist with Jason Roy. Plays the same way when out of form as he does when he's got runs behind him. Selfless player. England are a much better side with him firing. 👏

— Adam Sutherland (@ADSutherland_) March 12, 2021
Brilliant from Jason Roy so far – legitimate questions about his record against slow left-armers and leggies heading into this series, but this has been an emphatic answer to them

— Matt Roller (@mroller98) March 12, 2021
What an effort by KL flying Rahul #INDvENG

— Rizwan Haider (@razi_haider) March 12, 2021
Flying KL Rahul at the boundary line! 🔥#INDvEND pic.twitter.com/3P2Ct3YieX pic.twitter.com/6gPRyMD7tD

— Abhishek Lohia (@JuniorLohia) March 12, 2021
Shreyas Iyer's last seven innings in international cricket:

44
17
1
33*
12*
0
66* – TODAY

A good time to register your highest T20I score 👏#INDvENG pic.twitter.com/mKahug7VmU

— Wisden India (@WisdenIndia) March 12, 2021
Shreyas Iyer might not have the power game but his timing and placement have been of top notch in this innings.. He has done what he could have done best, in a much better way..👌👏👏❤️ #INDvENG

— Debashish Sarangi (@Plumb_infront) March 12, 2021
Washi, Axar, Shardul, Bhuvi all can bat. What's the need for such a long tail if your middle order won't play shots even after 14 overs?#INDvENG

— Subhayan Chakraborty (@CricSubhayan) March 12, 2021
Fastest average speed in T20Is last two years:

Riley Meredith – 144.7kph
Lockie Ferguson – 143.1kph
Mark Wood – 142.8kph#INDvENG

— The CricViz Analyst (@cricvizanalyst) March 12, 2021
Imagine negotiating ADIL RASHID's spin only to be faced with JOFRA ARCHER's bounce and to then face MARK WOOD's blistering pace followed by CHRIS JORDAN's impeccable length and if you survive ALL THAT…you then have to deal with BEN STOKES.
England: you are relentless! #INDvENG

— Aatif Nawaz (@AatifNawaz) March 12, 2021
Reverse laps Anderson for four
Reverse laps Archer for Six
This is Rishabh Pants world
We are just living in it#indvsengt20 #IndvEng pic.twitter.com/34sHYoWtU2

— Wasim Jaffer (@WasimJaffer14) March 12, 2021
91.6mph/147.4kph the slowest ball of Mark Wood's first over. England's powerplay wickets problem doesn't look like so much of a problem tonight

— Matt Roller (@mroller98) March 12, 2021
He'll hit you for a six 😜😜 #INDvENG

— Chloe-Amanda Bailey (@ChloeAmandaB) March 12, 2021
Rishabh Pant just reverse-lapped Jofra Archer for six, this is the greatest sport in the world

— Ben Jones (@benjonescricket) March 12, 2021
What a player, new on the crease, two wickets gone still played this kinda shot to archer who's one of the fastest bowler in current times. 🔥👌

Anderson in test ✅
Archer in T20Is ✅

Incredible PANT! #INDvEND #INDvsENG_2021 #INDvEND pic.twitter.com/z8QGhhKgIL

— | 𝑴𝑨𝑵𝑱𝑬𝑬𝑻 |™🦁 (@HeyManjeet_) March 12, 2021
Never underestimate the role of genuine pace in T20 cricket. England have rocked India with genuine speed.

— Harsha Bhogle (@bhogleharsha) March 12, 2021
From Daddy Hundreds to Daddy Ducks

The Virat Kohli story.#IndvEng

— Gaurav Sethi (@BoredCricket) March 12, 2021
Rishabh Pant has reverse swatted James Anderson (Test) and Jofra Archer (T20I) in full-tilt.

Unbelievable. Incredible. Insane!#INDvENG

— Subhayan Chakraborty (@CricSubhayan) March 12, 2021
Reverse scooping Jofra Archer for 6 is just next level from Rishabh Pant. Madly, this is his first white-ball game for India since being recalled

— Tim Wigmore (@timwig) March 12, 2021
Stop it 😳😳 @RishabhPant17 🔥 #INDvENG

— Alex Tudor (@alextudorcoach) March 12, 2021
Another day, another disappointment for Virat Kohli fans. #INDvENG

— 𝓢𝓮𝓱𝓻𝓲𝓼𝓱 🇵🇰 (@itsmeSehrish) March 12, 2021
Jofra Archer in the Powerplay since the start of the 2020 IPL:

12 wickets
Strike rate 16.2
Economy rate 4.70#INDvENG

— The CricViz Analyst (@cricvizanalyst) March 12, 2021
Threaten with Archer, tempt with Rashid … Double whammy for England! Over to the young brigade again … #IndvEng

— Jatin Sapru (@jatinsapru) March 12, 2021
The pitch looks ok … Should be a good one for T20 Cricket … very similar to that 3rd Test match … Prepared to last around 40 overs … 😜😜 #INDvENG

— Michael Vaughan (@MichaelVaughan) March 12, 2021