Last Update on: July 10th, 2022 at 09:27 pm
The 22-year-old Jammu and Kashmir express pacer Umran Malik had a forgettable day on the field in the third and final match of the three-match T20I series against Jos Buttler-led England National Cricket Team at the Trent Bridge, Nottingham on Sunday, July 10.
India National Cricket Team made four huge changes to the playing XI in the third T20I after winning the first two games in a dominant fashion and getting an unassailable lead of 2-0.
ICC Teams Rankings | ICC Players Rankings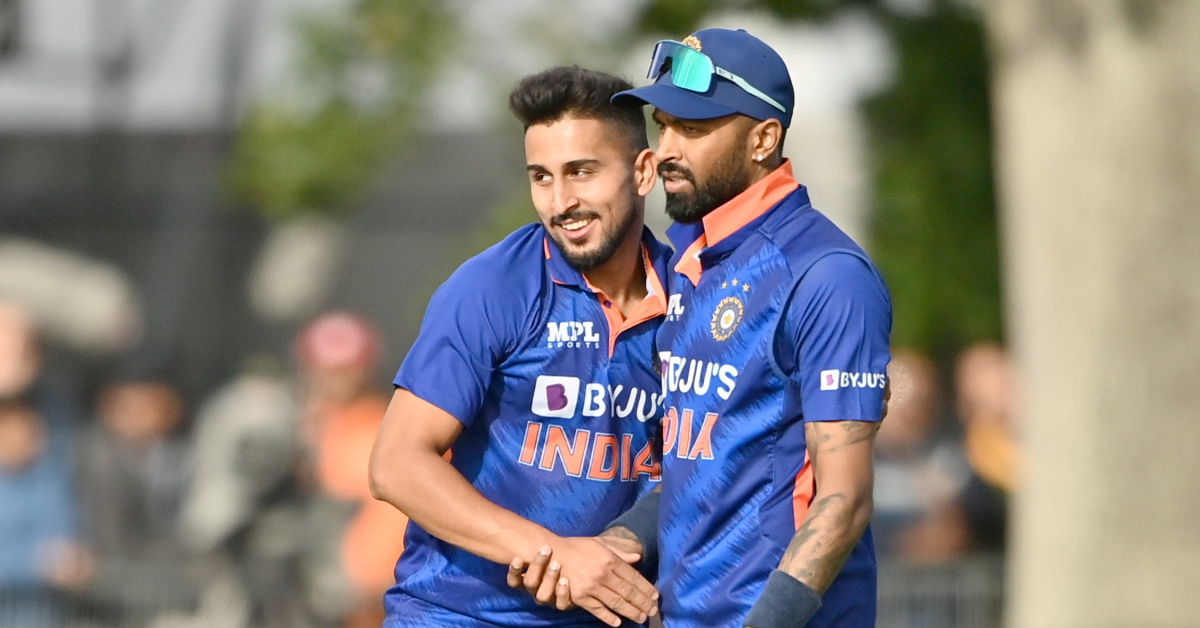 Leg-spinner Ravi Bishnoi, pacer Avesh Khan, pacer Umran Malik and batter Shreyas Iyer replaced leg-spinner Yuzvendra Chahal, pacer Bhuvneshwar Kumar, pacer Jasprit Bumrah and all-rounder Hardik Pandya in the playing XI.
Meanwhile, Umran started off poorly in the Nottingham T20I against England, leaking 17 runs in his first over. In his second over he gave away 10 runs and picked the wicket of opening batsman Jason Roy. In his third and fourth over, the express pacer gave away 14 and 17 runs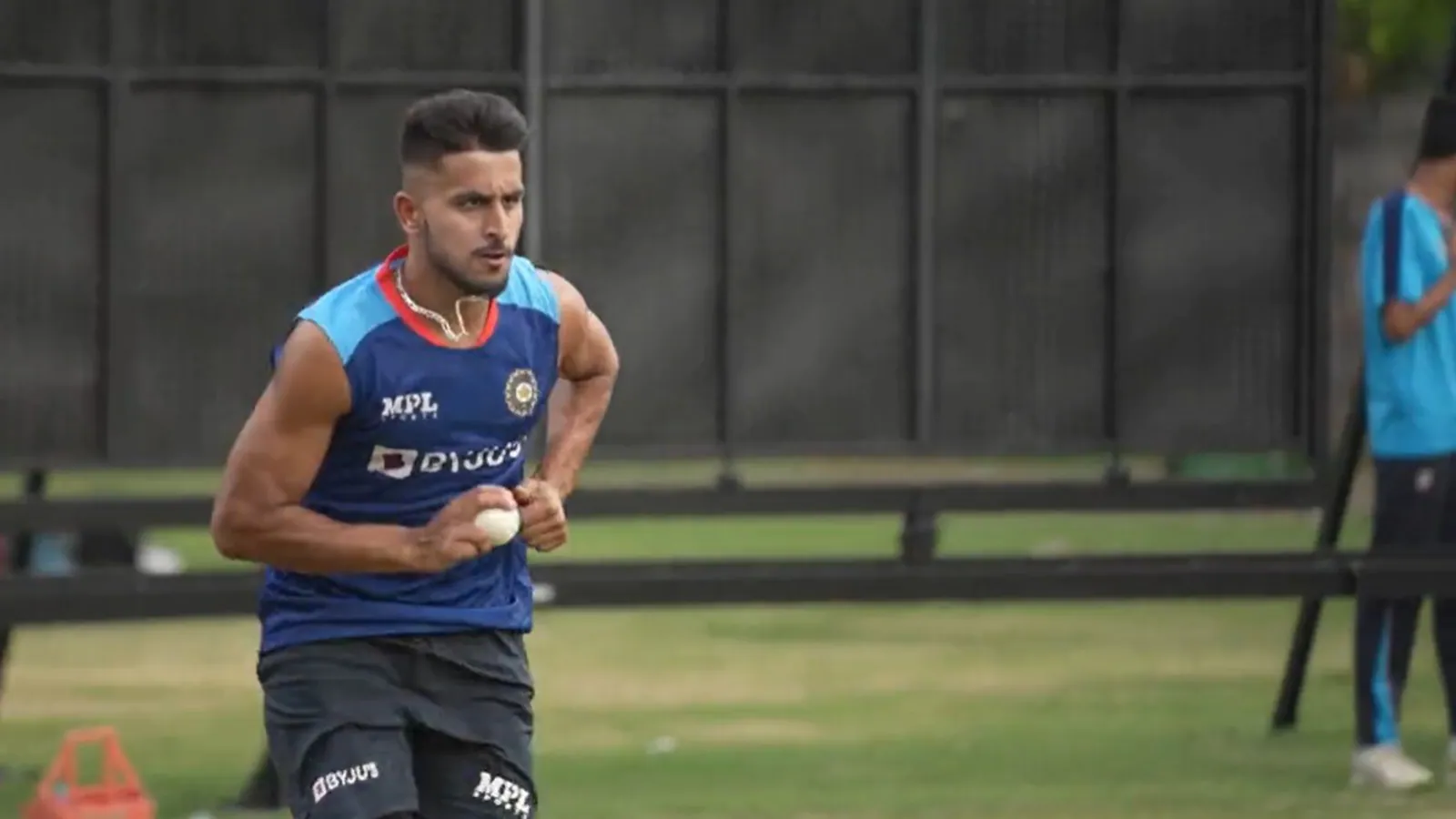 Umran Malik ended his 4-over spell with the bowling figures of 4-0-56-1, which is the third most expensive figures ever for an India National Cricket Team bowler in T20I cricket.
Most runs conceded by an Indian bowler in T20Is:
0/64 – Chahal, 2018
0/57 – Joginder Sharma, 2007
1/56 – Deepak Chahar, 2019
1/56 – Umran Malik, 2022
Notably, Umran Malik made his T20I debut in the first match of the two-match T20I series against the Ireland National Cricket Team in Dublin and he bowled a poor first over, as a result, he was given only one over in the match by the stand-in captain Hardik Pandya. In his second T20 International game, he picked one wicket and gave away 42 runs.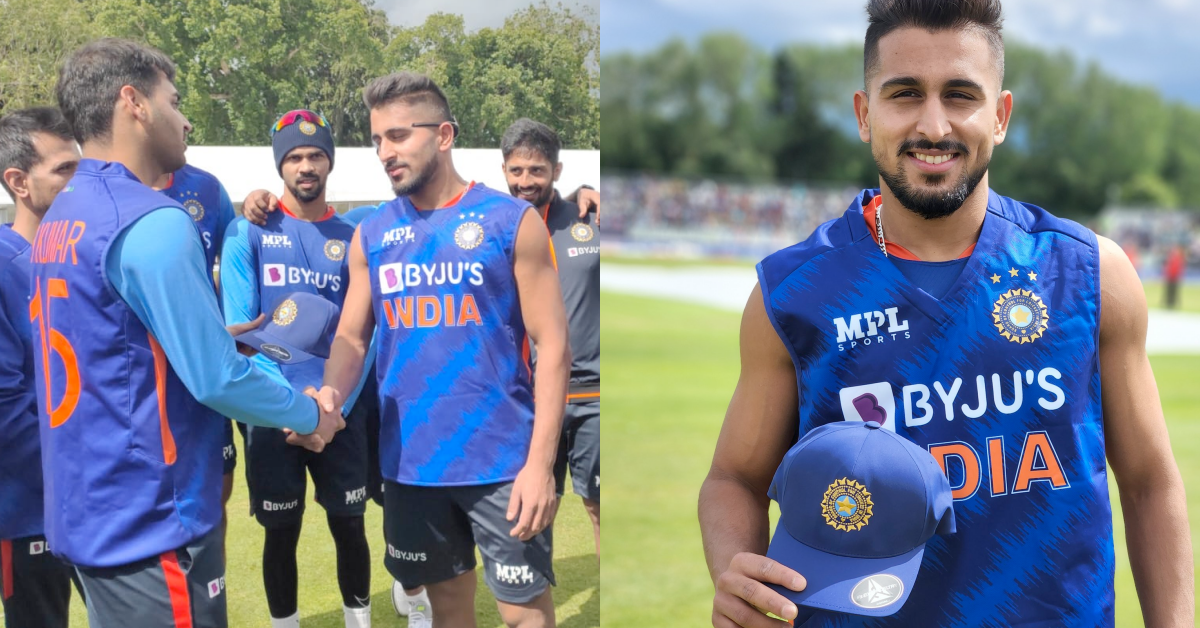 Overall in the three T20 International games, he has played, the pacer has managed to pick only two wickets at an average of 56.00, an economy of 12.44, and a strike rate of 27.0.
Here's How Twitter Reacted To Umran Malik's Bowling Performance In 3rd T20I vs England:
Today it's Umran Malik on his radar. Sanju bro he is Umraaaan not UmRun (I guess).

Screwing up names since eternity.

— Naman Agarwal (@CoverDrivenFor4) July 10, 2022
No, Umran Malik is not ready for international cricket! Not until he develops a few variations. Wonder what the bowling coach's up to. Pace on every delivery won't work in T20s. #ENGvIND

— Rajdweep Sharma (@RajdpS12) July 10, 2022
Umran Malik ran towards bathroom when he came to know he has to bowl to Livi in the 20th over, Rohit had to pull him back
Source – TOI

— Deep Bairstow stan (@manianipbks) July 10, 2022
Paaji , i think exposing Umran Malik to international Circuit so soon was not needed , they could've let him play domestics first , get him to have some control on his line and lengths and then bring into the internationals.

— Rahul (@Lost_guy01) July 10, 2022
This is not the Umran Malik we know,he has barely crossed 150+ today.#INDvENG

— Delhi Capitals Fan (@pantiyerfc) July 10, 2022
Umran Malik ends with 4-0-56-1, the third most expensive figures ever for an Indian bowler in T20I cricket. #ENGvIND

— The CricViz Analyst (@cricvizanalyst) July 10, 2022
We are happy to announce that Umran Malik has joined our prestigious Dinda academy of excellence.

Hope he will flourish more under my and king unadkat guidance.

Many more such performances to come in upcoming years. He is here to stay in academy. ❤️ pic.twitter.com/53M4XHDpZO

— Sir Dinda¹⁶¹ (@ReallyDinda) July 10, 2022
Umran Malik cannot retain his place in the playing XI with this economy rate.
This will only send him back to the bench..

— Venkat Aranthady (@venkataranthady) July 10, 2022
India need 216 for 3-0 clean sweep

Malan 77 (39)
Livingstone 43* (29)
Umran Malik 56 (24)#ENGvIND

— Abhijeet ♞ (@TheYorkerBall) July 10, 2022
Now please shut the fuck up this umran Malik jaap from now on.
He has only speed no line and length what so ever🙄🙄#INDvsENG

— Arvind (@Arvinda68655380) July 10, 2022
Umran Malik Need to Improve quality and Needs to bring variation in bowling erena

He only depends on speed speed speed

But generation now-a-days Beliveing in thought process of work like bhuvi , harshal and arshdeep singh #INDvsENG

— Celebrity Craze Official (@CrazeCelebrity) July 10, 2022
Superb 56 off just 24 balls from UMRAN MALIK 🥵 pic.twitter.com/GYpTmg6pXg

— Asad Abdullah (@asad_qureshi257) July 10, 2022
Umran Malik is a great talent except he goes for too many runs🤐🤐 pic.twitter.com/F3g4HDDCDI

— میر باسط (@wagonR1328) July 10, 2022
Unpopular opinion:

Umran Malik right now, ain't it. Like maybe on some hard decks you could use him, just maybe. Otherwise literally no point calling him up.

Concedes way too many runs. All over the place with his line and length. Lots of improvement needed.

— Pranay ❁ (@lostprxnxy) July 10, 2022
Maiden fifty for Umran Malik, more to come if he plays 👊

— muffadal vohra🏴󠁧󠁢󠁥󠁮󠁧󠁿 (@Rcb18forever) July 10, 2022
Umran Malik outcoring Kohli's series tally today 😂😂😂

— Vishwas (@GargBurner) July 10, 2022
Poor bowling performance frm #umran Malik. To early to play INTL #INDvsENG #ENGvsIND pic.twitter.com/S4OMeSODwX

— Jeetendra (@Jeetendra0908) July 10, 2022
Umran Malik the run machine 🔥.
If he thinks the pace is only his strength today will repeat in his entire career.
He has to vary pace to become more deadly.#ENGvsIND #INDvsENG #RohitSharma𓃵 #HardikPandya

— Hema Kumar (@HemaKumar7745) July 10, 2022
Umran Malik is just an overglorified Ashok Dinda.

— Timothy Clifford (@Tim_Clif) July 10, 2022
Umran Malik's Pace trying to stop Runs pic.twitter.com/l6GbeZiYUJ

— g0v!ñD $#@®mA (@rishu_1809) July 10, 2022
Umran Malik is not International level bowlervas of now, he needs to groom properly

— Om Pandey (@iamompandey) July 10, 2022
Congratulations Umran Malik On His First 50 🎉🎉🥳#INDvsENG #umranmalik pic.twitter.com/T6gbS0Qznu

— जेंटल मैन (@gentleman07_) July 10, 2022
Umran Malik is the most overrated fast bowler in current times. No control on line & length. Arshdeep is better option#INDvsENG

— Common Man (@CommonM24106139) July 10, 2022
Shame that Umran Malik is playing over someone like Arshdeep. Should've been in the squad

— Ayan (@TheUpperCut_) July 10, 2022
Umran Malik hit for 16 runs
Arshdeep Singh : pic.twitter.com/kOrBpqtOjt

— Aadvik (@thecoolguy03) July 10, 2022
Also Read: IND vs ENG: Virender Sehwag Lauds Rishabh Pant's Decision To Open Batting In Second T20I Against England
Get All Cricket match prediction and fantasy Tips – CLICK HERE
Cricket Match Prediction | T20 World Cup Match Prediction | Today Match Fantasy Prediction | Fantasy Cricket Tips | Cricket News and Updates | Cricket Live Score