Last Update on: April 12th, 2022 at 09:53 pm
CSK all-rounder Shivam Dube missed his century by just 5 runs as he powered his way through 95 runs off 46 balls.
Chennai Super Kings in the first innings scored a massive 216/4.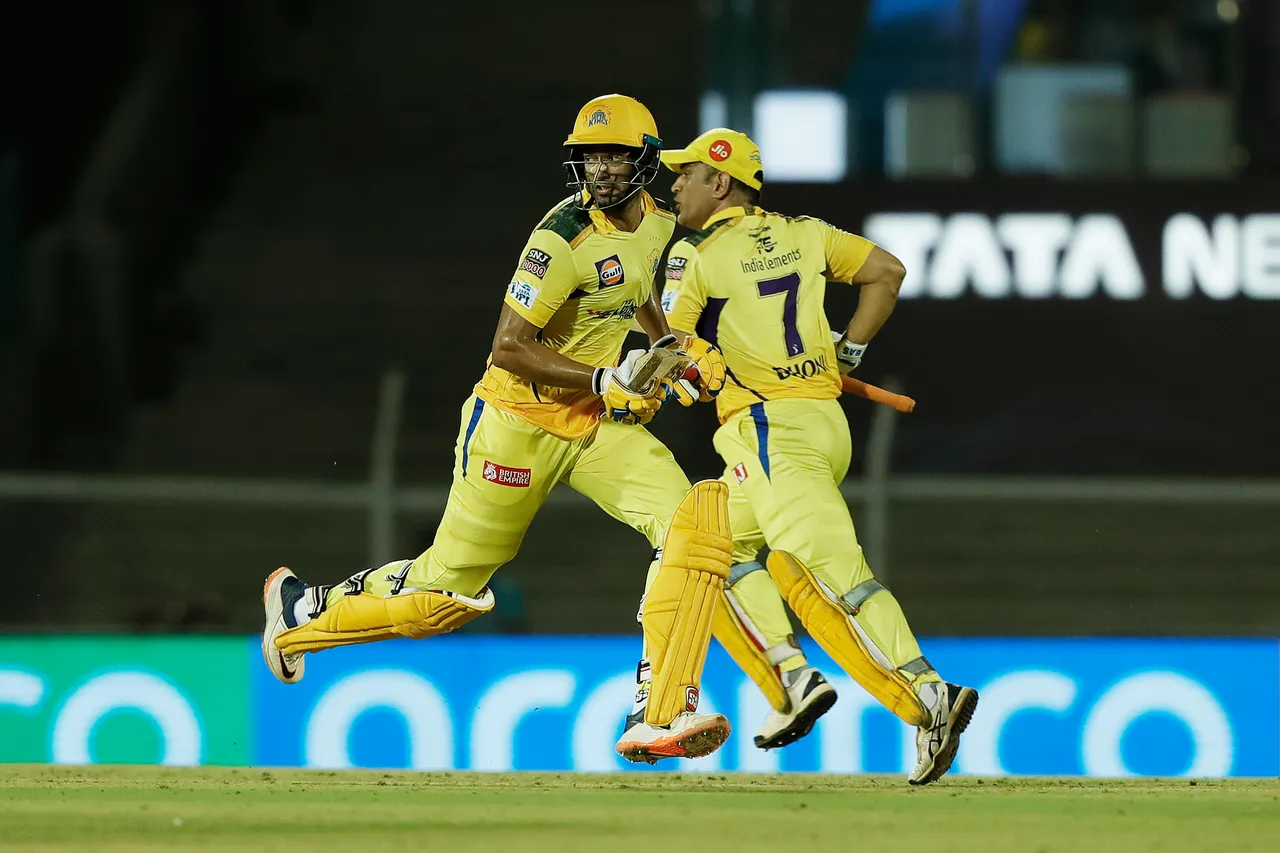 Shivam Dube Punishes RCB Bowlers
Faf du Plessis had won the toss and put CSK to bat first. His decision to bowl first, it seemed was working in favour of RCB until Shivam Dube arrived at the crease.
CSK could manage only 36 runs from the powerplay, they also lost the wickets of Ruturaj Gaikwad and Mooen Ali. But Dube came with an aggressive mindset.
He went about his business from the word go. He targeted all the three spinners of RCB. He first hit Glenn Maxwell for six, then took 13 off Wanindu Hasaranga's over and then took Shahbaz Ahmed to cleaners.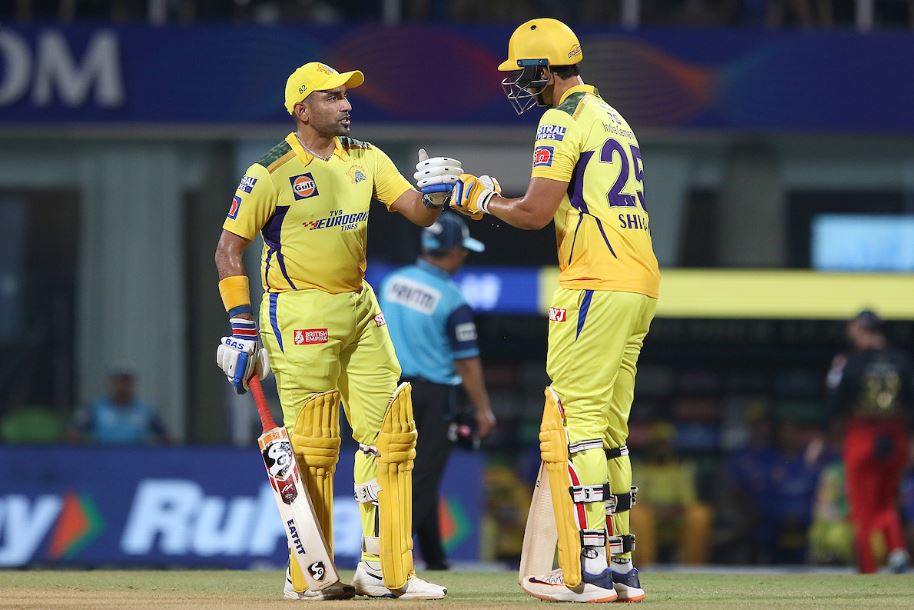 Robin Uthappa was struggling to time the ball, but as they say, after seeing Dube tee off he too went ballistic against Maxwell and Changed gears.
Uthappa and Dube scored 156 runs in overs between 11th- 20th, the 3rd most in the phase in the history of the IPL.
Robin Uthappa got out for 88 in the penultimate over, but Dube had the chance to score his century in the last over. He was batting on 94 with the last ball to be bowled, he hit the low full-toss from Hazelwood in the air, but Faf du Plessis dropped it in the deep.
Dube looked a bit disappointed after missing his century but he nevertheless did a great job for his team. Chennai Super Kings hit 17 sixes in their innings. RCB has also conceded the most number of sixes this season so far.
CSK have given themselves the best chance to win their first game of the season, by posting a massive total on the board.
Here's how twitter reacted to Shivam Dube missing his century by just 5 runs:
Incredible knock from Shivam Dube. This inning of dube was need of time for him as well as the team.

Its more than century for us CSK fans.

Good score to defend. Now over to bowlers. Bacha lena 🤲🥺😭#CSKvsRCB pic.twitter.com/2iIZIOZ8Wt

— Riaaaaa (@riaa0riaa) April 12, 2022
What a wonderful batting by Robie and Dube… Both deserved century 💯 here.

#CSKvsRCB #RCBvsCSK #WhistlePodu #Yellove pic.twitter.com/OpiRdTWdfE

— Shadev Pundir (@pundirshadev1) April 12, 2022
Feeling sad for dube just one 6 six left for the century

— Ankit Pandey (@AnkitPa17437667) April 12, 2022
How great can it be🔥💯
Although felt sad for Shivam Dube though, missed century by 5 runs. pic.twitter.com/2HGnfimSTO

— Hritik Dubey (@__hritikk__) April 12, 2022
The Dube carnage.. finally comes to an end! falling just short of a well deserved century..#CSKvsRCB

— Abdul Yahya Idrisi (@abdulishtic) April 12, 2022
Fantastic Dube's Show🔥💛💥Mass Mass Hitting 🥵🔥 Unbeatan 95runs off just 46 Balls💛🔥 Deserves a Century..💛@IamShivamDube @ChennaiIPL 💛#IPL2022 #RCBvCSK pic.twitter.com/lAeuS8ijBf

— SaiNath (@SainnathR) April 12, 2022
Dube deserve century. Anticipated finishing like previous year rutu century

— Varathan (@doo_byscoo) April 12, 2022
Dube missed a very well deserved century.Well played champ.#TATAIPL2022 #cskvsrcb #CSK𓃬

— Nidhi (@nidhiiixo) April 12, 2022
CSK 216/4 in 20 overs Dube misses out on the century but what an extraordinary innings that was.@covid_21___ #IPL #iplfantasy

— Nikita Rawat🇮🇳🇮🇳 (@theuunniikk) April 12, 2022
Shivam Dube Ne #CSK𓃬 ki doobati naiya ko bacha liya .
He deserves his century 👏. #CSKvsRCB

— आyush (@aayushandilya) April 12, 2022
Shivam Dube deserved that century. Feel gutted for him! He'll never forget this knock, not will the fans. #CSKvsRCB

— fUnkydORy (@tHefUnkYdORy) April 12, 2022
Dube deserved that century :(

— Gol_Gappa | Sini's day❤☼ (@Ridzupie) April 12, 2022
At one point I thought Robbin Uthappa and Shivam Dube both gonna hit a century 👑#CSKvsRCB #shivamdube

— Imagineer 🎓👨‍🔬👑 (@theimagineer__) April 12, 2022
Dube deserved the century 😢.. well played @IamShivamDube
Fabulous knock by @robbieuthappa .. onto the bowlers.. Ruturaj continues his bad luck..🥺 All the best CSK.. hope bowlers do a good job.. i have a question… What is CSK loses today ?? Would feel very very baddd🥹🥹

— Ramya S (@RamyaS03623304) April 12, 2022
Shivam 😭😭 missed a century but koi na 🥺💛💛 very well played dube jii #CSKvsRCB

— Vanshika(sidheart❤️) (@siddifam) April 12, 2022
Also Read: Suresh Raina Started Crying When Ravi Bhai Called A Meeting To Announce MS Dhoni's Retirement- Axar Patel