On Monday, May 30, Hardik Pandya stole the show as the Gujarat Titans celebrated their IPL 2022 victory with an open-top bus parade in Ahmedabad.
Hundreds of fans of the franchise came to Ahmedabad's streets to catch a glimpse of the IPL 2022 winners. The open-top bus parade began at Usmanpura Riverfront and concluded at Vishwakunj Riverfront in Ahmedabad on Monday evening.
Gujarat Chief Minister Bhupendrabhai Patel congratulated the players and members of the support staff, including captain Hardik Pandya and head coach Ashish Nehra.
Gujarat Titans players basked in the adoration and support of their fans, who had even set up shop on a flyover along the route.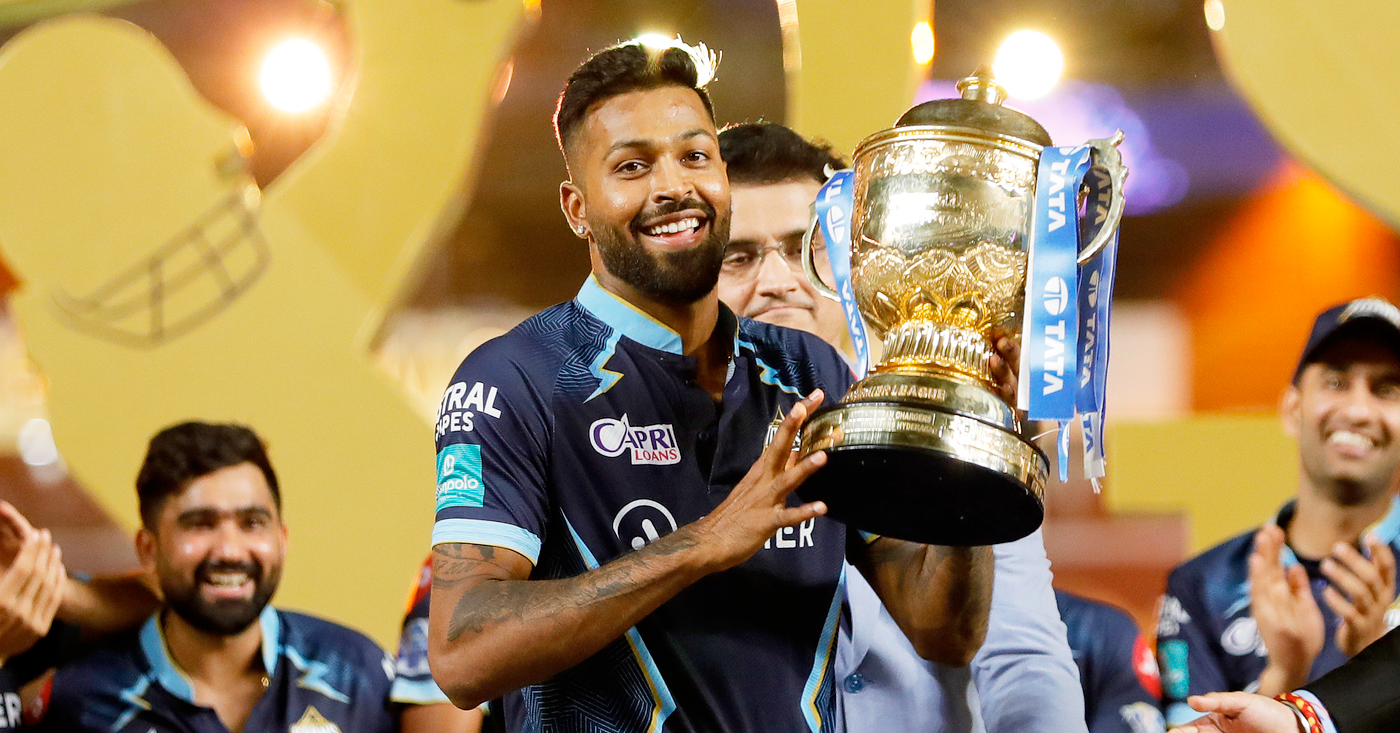 Gujarat Titans Players Were Ecstatic About The Win
Shubman Gill tweeted a video of their open-top bus procession with Hardik Pandya, who was seen flaunting the IPL 2022 trophy. The players and members of the support crew were overjoyed as they expressed gratitude to the fans.
Gujarat Titans had only one home game in IPL 2022 at the stunning Narendra Modi Stadium, and it was a memorable one as they defeated Rajasthan Royals in the final in front of almost 1 lakh fans in Ahmedabad on Sunday, May 29.
We couldn't have won this #SeasonOfFirsts without you, #TitansFAM 💙

We can't thank the city police enough for ensuring our road show was a roaring success! 🙏

Love and wishes, #AavaDe😍 pic.twitter.com/uQHF6bY8ad

— Gujarat Titans (@gujarat_titans) May 30, 2022
Live: IPL-2022 માં વિજેતા ગુજરાત ટાઈટન્સની ટીમને મળીને શુભેચ્છા પાઠવતા માનનીય મુખ્યમંત્રી શ્રી ભૂપેન્દ્રભાઈ પટેલ. https://t.co/ozkOF4MRJK

— Bhupendra Patel (@Bhupendrapbjp) May 30, 2022
IPL-2022 માં વિજેતા 'ગુજરાત ટાઇટન્સ'ના ખેલાડીઓને મળી તેમની સાથે વાર્તાલાપનો અવસર ખૂબ મજાનો બની રહ્યો. ટીમના બધા જ ખેલાડીઓના હસ્તાક્ષર કરેલ બેટ તેમણે મને આપ્યું છે, જેનું ઓક્શન કરીને તેમાંથી થનાર આવક રાજ્યની દીકરીઓના શિક્ષણ માટે વાપરવામાં આવશે. સૌ ખેલાડીઓને ખૂબ-ખૂબ અભિનંદન. pic.twitter.com/gxXYycIO0l

— Bhupendra Patel (@Bhupendrapbjp) May 30, 2022
મુખ્યમંત્રીશ્રી ભૂપેન્દ્ર પટેલે IPL-2022 ક્રિકેટ ટુર્નામેન્ટની વિજેતા ટીમ 'ગુજરાત ટાઇટન્સ' ના ખેલાડીઓને મુખ્યમંત્રી નિવાસે આમંત્રિત કરી ગુજરાતની જનતા વતી સન્માન કર્યું હતું તથા અભિનંદન પાઠવ્યા હતા. pic.twitter.com/S5WtUP51eC

— CMO Gujarat (@CMOGuj) May 30, 2022
મુખ્યમંત્રીશ્રીએ 'ગુજરાત ટાઇટન્સ' ના ખેલાડીઓ સાથેના વાર્તાલાપ દરમ્યાન ફાઇનલ મેચની રોમાંચક પળો વિશે વાતો કરી હતી તથા બાળપણમાં ક્રિકેટ રમવાના તેમના સંસ્મરણો પણ તાજા કર્યા હતા. pic.twitter.com/aZqHRt7Ovr

— CMO Gujarat (@CMOGuj) May 30, 2022
The Gujarat Titans wore dark blue t-shirts and blue jeans for the occasion. Ahmedabad sported a festival look a day after the IPL 2022 final, with dhols and trumpets blasting along the road. Police officers were seen accompanying the players on the bus, indicating that security precautions had been made for the tour.
The successful IPL squad had a fantastic evening thanks to traditional dancers and musicians. Gujarat Titans are only the second side in IPL history to win the final in front of their home crowd, following Chennai Super Kings in 2011.
Hardik Pandya expressed his delight at being able to write history in front of his home audience, saying that the Gujarat Titans' victory will hopefully be the start of a long legacy for the club in the IPL.
Also Read: IPL 2022: Congrats To Hardik Pandya, He Is Gold For Any Team – Ian Bishop