In a shocking turn of events in the last 24 hours, champion opener David Warner has found himself not only get stripped from SunRisers Hyderabad captaincy but also dumped from the playing 11 for the match against Rajasthan Royals.
Warner, who has led SunRisers Hyderabad to their maiden and only IPL title way back in 2016, has led the 'Orange Army' in 67 games, winning 35 of them.
David Warner was the cornerstone of SunRisers Hyderabad batting line-up, having smashed 500+ runs in each of the past seven seasons. The southpaw has racked up 28.68% of the total teams' runs.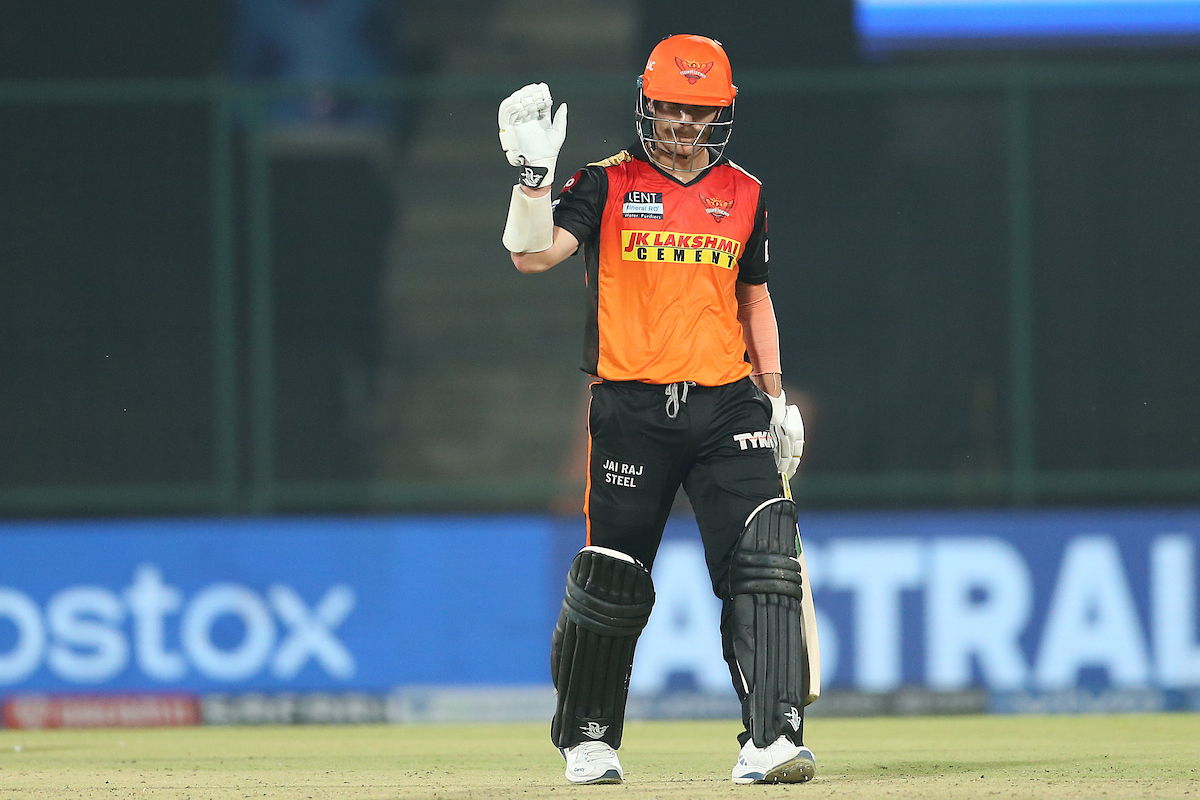 But, Warner's form this year has been pretty lean and it reached its nadir in the last game against Delhi Capitals where he managed a painstaking 55-ball 57, leading SunRisers Hyderabad to their 5th defeat in six games.
Ahead of their all-important fixture against Rajasthan Royals, SunRisers Hyderabad, in a press release announced that Kane Williamson will be taking over the leadership role from David Warner.
Not only that, but the release also suggested that David Warner may not play the next game as the management is looking at a new overseas combination.
And, the same was confirmed by Tom Moody minutes before the fixture against the Royals.
"We have to make a hard call, someone has to miss out and unfortunately it's David Warner. He is shocked and disappointed, anyone will be disappointed. He has come to the terms of what management needs and rallied around the team" said Tom Moody.
Here's how Twitter reacted:
In recent years @davidwarner31 has been the defining player for @SunRisers. This is a big call. Luckily for them,the new captain,Kane Williamson, is hugely respected within the team and among the fans. But it will take time for the fans to come to terms with the absence of Warner

— Harsha Bhogle (@bhogleharsha) May 2, 2021
Warner's replacement can come in and score 1000 runs if he wants. But to drop someone who has been so consistent, the biggest face of your franchise for half a season, seems very very thin line between brave and practical.

— Nikhil 🏏 (@CricCrazyNIKS) May 2, 2021
David Warner Dropped : It's the "Black Day" of Indian Premier League pic.twitter.com/AMSoZ7ifco

— 𝐍𝐈𝐓𝐈𝐍 (@Nitin__10) May 2, 2021
This would have still been a dream if David Warner wasn't there. Put some respect for one of the greatest IPL players. Just FO @SunRisers pic.twitter.com/sbG4g4GWC7

— R A T N I S H (@LoyalSachinFan) May 2, 2021
Warner is too emotionally attached to SRH. He literally carried this whole team on his own and won them their only trophy in 2016. Haven't seen any player's family supporting and celebrating the success of their team the way Warner's family did
💔💔💔 pic.twitter.com/LcRRqWc4up

— CricKing Wear Mask😷😷 (@cricking333) May 2, 2021
Behind the scenes of Warner getting dropped pic.twitter.com/t8QOoM5iRH

— 17 (@varun_rayudu) May 2, 2021
SRH XI without David Warner — hard to believe

— Sarang Bhalerao (@bhaleraosarang) May 2, 2021
SRH's stupid auction was never questioned bcoz Warner mostly made up for their horrible batting & got into playoffs. One season he's struggling, entire batting exposed & SRH holds Warner as scapegoat.

— arfan (@Im__Arfan) May 2, 2021
Feeling Sad For Warner Bhaii 💔 pic.twitter.com/OQdNQNOevs

— 👑 (@UsthadVirat) May 2, 2021
No matter even if SRH wins all their next games and Williamson scores , David Warner will always be a above Williamson . The Greatest Player of SRH pic.twitter.com/AFAbITj818

— . (@nubhav_esque) May 2, 2021
From this. To This💔

Feel for David Warner💔😭.

The Orange Cap winner of #IPL 2015 , 2017 and 2019. And Winning captain of #IPL2016 .💔 pic.twitter.com/4jqyIb6tab

— Diwakar Kumar (@diwakarkumar47) May 2, 2021
David Warner captained #SRH to the title in 2016, while Kane Williamson guided them to the final in 2018 pic.twitter.com/D9Ao9yVrQl

— ESPNcricinfo (@ESPNcricinfo) May 2, 2021
May SRH lose this and rest of the games this season by a huge margin for the manner they have treated Warner. Pathetic.

— Yash Mittal 🇮🇳 (@im_yash2307) May 2, 2021
Warner was here and playing even after being unfit with a road to recovery of his groin. We all know how much games KW missed last season and this season with an injury.

Commitment levels.

— Kaushik 🏏😷 (@_CricKaushik_) May 2, 2021
Feeling sad for David Warner really heart breaking💔#DavidWarner pic.twitter.com/lkoafavgc3

— ੴॐAshutosh ॐੴ (@kingashu_786) May 2, 2021