It might be a cliche that 'it's the batter who set-up Test matches but eventually it is the bowling-attack that helps a team win a five-day game', but it holds true even today, and it will continue to so.
No matter how many runs your batters accumulate, if you don't have the personnel to dismiss the opposition twice, then the most that you can do is aver a defeat. The chances of a team winning a five-day game without a potent bowling attack are extremely slim.
And, perhaps, the inaugural cycle of the ICC World Test Championship and the eventual positions of all the teams testify that to the hilt.
Here's a look at how the bowling attacks of each of the 8 teams fared in the ICC World Test Championship:
9. Bangladesh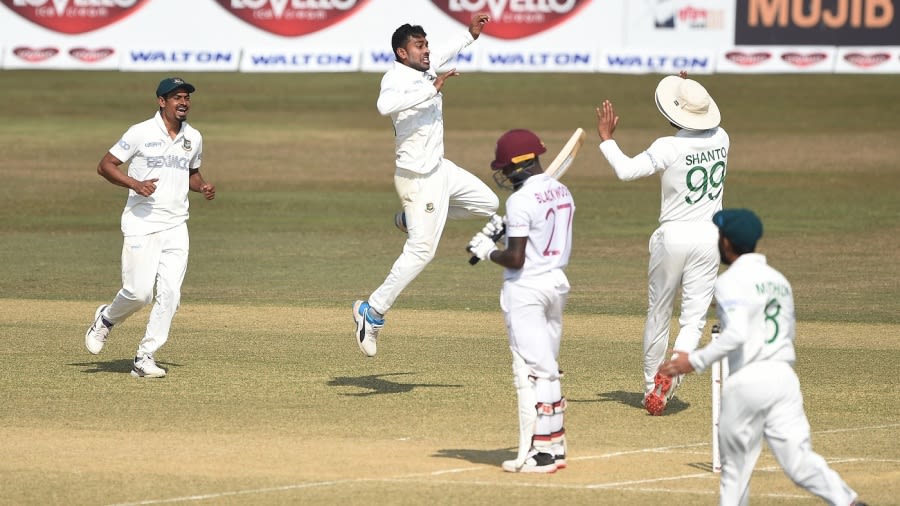 Matches- 7, Innings- 49, Wickets- 84, Avg/SR- 44.52/80.4, 5/10- 1/0
There is a reason why Bangladesh failed to win a single match during the ICC World Test Championship cycle.
And, that is, their bowler's inability to make inroads and take 20 opposition wickets.
The biggest example of it is the home Test against the West Indies earlier this year where they failed to defend 395 in the 4th innings.
Overall, Bangladeshi bowlers managed a total of 84 wickets in 49 innings (7 matches) at an average of 44.52 and a strike rate of 80.4. The fact that even their highest wicket-taker, Taijul Islam averaged 42.43 for his 23 scalps sums up the story.
Also Read: ICC World Test Championship Final: 7 Bowlers To Watch Out For