England Cricket Team registered a resounding victory against Pakistan in the 3rd Test Match. England would be ecstatic with their performance as whitewashing Pakistan in Pakistan is never an easy task. Ben Stokes led team showed great fighting spirit as their 'Bazball' proved to be effective in testing conditions.
The Men in Green once again fell like a pack of cards in the 2nd innings as they lost 7 wickets for 52 runs and set a below-par total of 167 runs which England chased quite easily. Skipper Babar Azam would be furious over the batters as throughout the Series, they haven't been able to perform in crunch situations of the match
IPL 2023 | India tour of Bangladesh 2022 | Dream11 Prediction | Fantasy Cricket Tips | Cricket Match Prediction Today | Cricket News | Cricket Live Score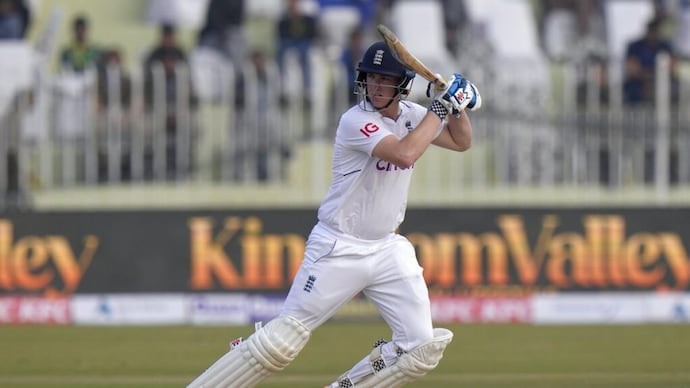 The debutant leg spinner Rehan Ahmed proved to be the lightning spark for the team. He took 7 wickets in the Test match which included a 5 wicket haul in the 2nd innings which changed the dynamics of the match as he got a sharp turn from the wicket.
Harry Brook was the biggest positive for England in the Test Series as he smashed his 3rd century of the Series. The peculiarity of Brook is that he never allows any bowler to settle down. Head Coach Brendon McCullum would be jubilant as winning in sub-continental conditions is always tough.
IPL 2023 Auction | IND vs BAN 2022 | India vs Bangladesh 2022 | India National Cricket Team | IND vs SL 2023 | India vs Sri Lanka 2023 | IND vs NZ 2023 | India vs New Zealand 2023
Twitter Reacts After Pakistan Lose by 3-0
Pakistan team needs to understand that Babar Azam alone cannot carry the burden of entire squad. This team will ruin a great player like Babar Azam by putting too much pressure on him.#PAKvsENG#CricketTwitter

— Himanshu Pareek (@Sports_Himanshu) December 19, 2022
Pakistan lost the WTC by own self because they were only two series away from their home rest all were in Pakistan but I will say unfortunately because they throw their wins out of their hands own and keep saying Babar is our greatest captain#PakvsEng

— Safwaan (@safwaanganaie) December 19, 2022
Totally revamp @TheRealPCB and the playing team. Sack @babarazam258 from Captaincy. Most unlucky fellow?? #PAKvsENG #ENGvsPAK

— Soma (@Visalmama) December 19, 2022
Only one word "embarrassing"#PAKvsENG

— Aymiii (@Aymiii85648134) December 19, 2022
Shame on you @babarazam258 for ruining Pakistan test series by selecting poor performers..
You dont deserve to be a Pakistan Test Captain#PAKvENG #PAKvsENG

— Middle class! (@IbneIshaq2) December 19, 2022
In 2012 we whitewashed England and 10 years later they took the revenge by beating us very badly at home it's something that is not heart breaking but infact it's soul breaking to witness such moments shame to each and every one especially to captain and coaches #PAKvsENG#Babar

— Shahmeer Aslam (@ApkaShahmeer) December 19, 2022
Message to @TheRealPCB, we are happy to come and tour Pakistan and lose 3-0, getting chopped up and sugared like marmalade. Just letting you know in the interests of balance. And we will score at 0.7 not 7.0 an over.

— Iceland Cricket (@icelandcricket) December 19, 2022
Pakistan is a great place for scenery and underappreciated for tourism, but it seems like the English already have a flight booked out of Karachi tonight.

— Iceland Cricket (@icelandcricket) December 19, 2022
This English team is playing with Pakistani's cricketers confidence. loosing test match at your home like this is a shame . Pakistan doesn't look like test team anymore

— Amit (@Amit69025888) December 19, 2022
Criticism is easy but Babar has never looked like captaincy material, either on the field or in press conferences. Very generic responses. We need a captain who is more aware of his surroundings and the problems that come with it.

— OozeMan (@usmanwah1) December 20, 2022
ALHAMDULILLAH Whitewashed at home. Feeling so good early in the morning. Hopefully Babar won't lead them against NZ and PR Ramiz should be kicked.

— Arif Khan (@King___Babar56) December 20, 2022
Babar is aware that we're losing the 3rd test match as well and getting white washed 3-0. Still, he's not even attempting to get 4,5 men around the batter and make them look uncomfortable.
Jab itna zada defensive mindset hoga to phr yehi haal hoga team ka! #PAKvENG #BabarAzam pic.twitter.com/XViB53F7N9

— Ahtram Raheel (@ahtram_raheel) December 20, 2022
The boi looks down and out. Would be very difficult for Pakistan to get out this whitewash at home. Bitter pill to swallow, now is the time to make all the changes, take tough decisions and stick to them for next 5-10 years. #PAKvENG pic.twitter.com/LcG6GKGva6

— Anas. (@Anossid) December 20, 2022
Someone from the crowd just said "Babar rizwan ko rest do" 😅😅#PAKvENG

— Boss Buttler (@BJuttler) December 20, 2022
Also Read: IND vs BAN: "I Have Always Dreamt Of Playing Test Cricket For India" – Suryakumar Yadav
Virat Kohli | Rohit Sharma | Rishabh Pant | KL Rahul | Suryakumar Yadav | Sanju Samson | Shreyas Iyer | Yuzvendra Chahal | Jasprit Bumrah