Former Indian cricketer Maninder Singh has stated that the Indian spin-duo of Ravichandran Ashwin and Ravindra Jadeja are capable of taking wickets on any type of track in the world. He also stated that they should be asked to deliver wickets instead of trying to restrict from one end.
Following India's policy of going in with four seamers and one spinner, much of the debate was centered around the actual contribution of the spinner. It has almost been made clear that Jadeja is in the team more for his batting capabilities than his bowling.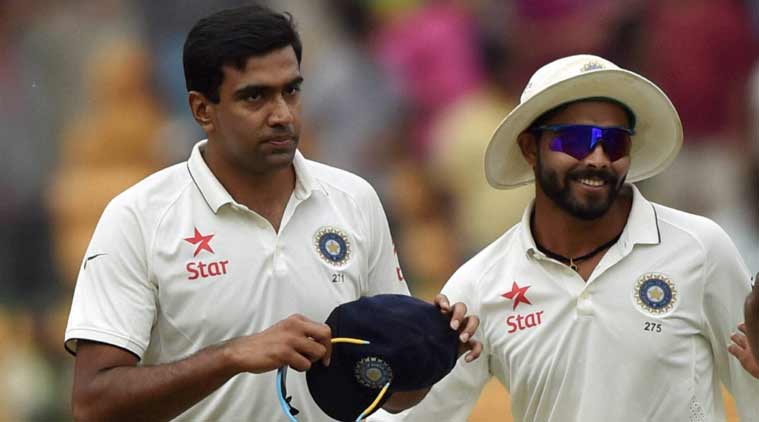 Maninder Singh, however, feels that Jadeja needs to be given the license to bowl freely and pick up wickets instead of just serving as a bowler who can relieve the pacers for a bit. Speaking about the mentality of Indian spinners in overseas conditions during a chat with ESPNcricinfo, Maninder said:
"What happens is it's the captain and the coach who tell you to do that [taking wickets], who give you that confidence. Indian spinners have this feeling [of restricting batsmen]and I don't know why. Is it the captain or the coaches giving that feeling?"

"That in these conditions you just need to restrict. Whereas I feel Jadeja and Ashwin, they're both good enough to get wickets on any kind of tracks. Because they're good bowlers playing international cricket. It's the captain who needs to give you that confidence."

Ravi Shastri, Virat Kohli and R Sridhar. (Credits: Twitter)
"If you're playing as a bowler, you're supposed to get wickets and not restrict" – Maninder Singh
Maninder went on to elaborate that the job of a bowler is always to take wickets, especially international players who are good enough to play at that level in the first place. Maninder also asserted that the team management has to be more positive and back its spinners while playing in foreign conditions.
"I think if the captain and the coach are more positive, they would tell all their bowlers that 'look, we expect wickets from you.' It doesn't really matter what kind of surface you're bowling on. You're in the Indian team and you're there as a bowler, you are supposed to get wickets and not restrict."

Ravindra Jadeja (Image Credit: Twitter)

"You're just playing him [Jadeja] as an all-rounder who gets you a forty and a fifty which he did in the first two Test matches but he's supposed to get wickets as well because he's mainly playing as a bowler who can bat," Maninder concluded.
Jadeja was dismissed for a 29-ball 4 in the first innings of the Headingley Test. He has claimed a wicket so far in England's innings, that of Haseeb Hameed.
Also Read – The Middle Order Has To Take Responsibility If India Want To Win This Series – Madan Lal