A masterclass in how to play spin on a raging turner by Virat Kohli [62] and Ravichandran Ashwin [106] followed by three second-innings wickets of England has put India on the cusp of victory in the second Test at Chepauk.
As has been the case throughout this Test match, the game moved along at a rate of knots in the morning session on the third day as Team India lost wickets in a flurry.
England claimed both overnight batsmen in Cheteshwar Pujara and Rohit Sharma within the first 15 minutes. Pujara was run-out following an unfortunate turn of events that saw the Indian No.3's bat get stuck in the pitch after he played it to short-leg.
Ben Foakes then proceeded to affect two brilliant stumpings to once again display just why he is an artist behind the stumps. The first of his two victims was Rohit Sharma, who was beaten on the outside edge by the sharp dip and turn by Jack Leach. Ben Foakes collected the ball cleanly and broke the stumps before Rohit could move his foot back in the crease.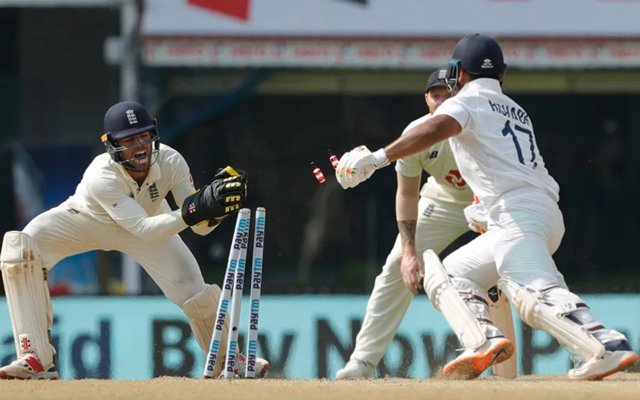 And, then it was the turn of Rishabh Pant. Pant, who was promoted ahead of Ajinkya Rahane, once again decided to take on Jack Leach by dancing down the track but this time he was beaten by the turn and Ben Foakes did the rest as he collected the ball and dislodged the bails at the speed of Chennai's adopted son MS Dhoni.
Ajinkya Rahane decided to take on the spinners but he could not continue for long as he gave an easy bat and pad catch to short-leg off Moeen Ali. But even as the wickets continued to fell, skipper Virat Kohli continued to hold the fort from the other end as he mixed caution with aggression to great effect to take India's lead past the 300 mark.
Axar Patel hung around for a while but he was eventually dismissed LBW by Moeen Ali for an 18-ball 7. However, Ravichandran Ashwin came out all guns blazing as he launched a brilliant counterattack on the English bowling-unit by stroking as many as five boundaries in the first 32 deliveries that he faced. Ashwin's sweeping masterclass against England's spinners was a sight to behold.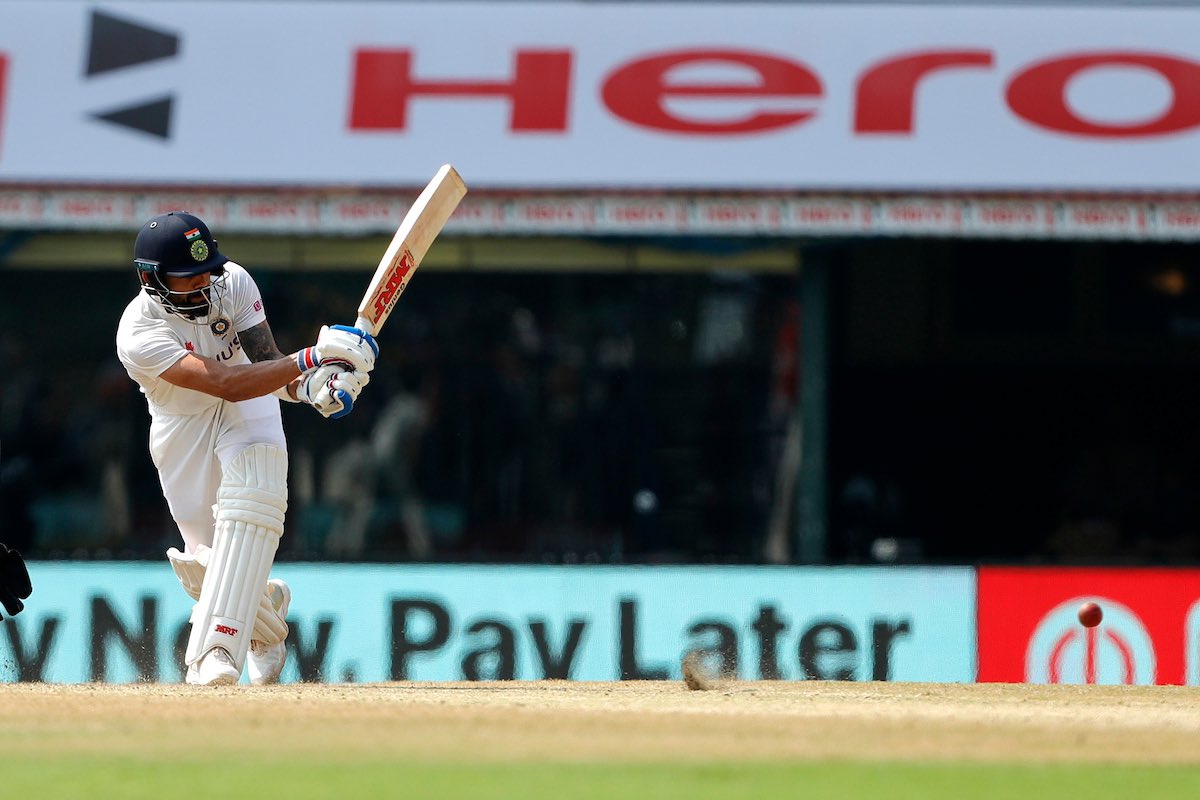 The duo carried on in their merry way after the Lunch break as they completed their respective half-centuries to pile further misery of England. While Virat notched up his 2nd fifty of the series, Ashwin brought up his first 50 in Test cricket since 2017. It is also the 6th time that Ashwin has taken a five-wicket haul and scored a fifty in the same Test match.
The partnership soon crossed the 100-run mark but just as it looked like the King was on course for his first hundred since November 2019, Moeen Ali once again got his man after the Indian skipper got trapped LBW while playing on the backfoot on a length delivery.
Ashwin got another reprieve when Ben Foakes dropped a rather tough opportunity off Stuart Broad but Moeen Ali continued to chip away as he pinned Kuldeep Yadav plumb in front of the wicket.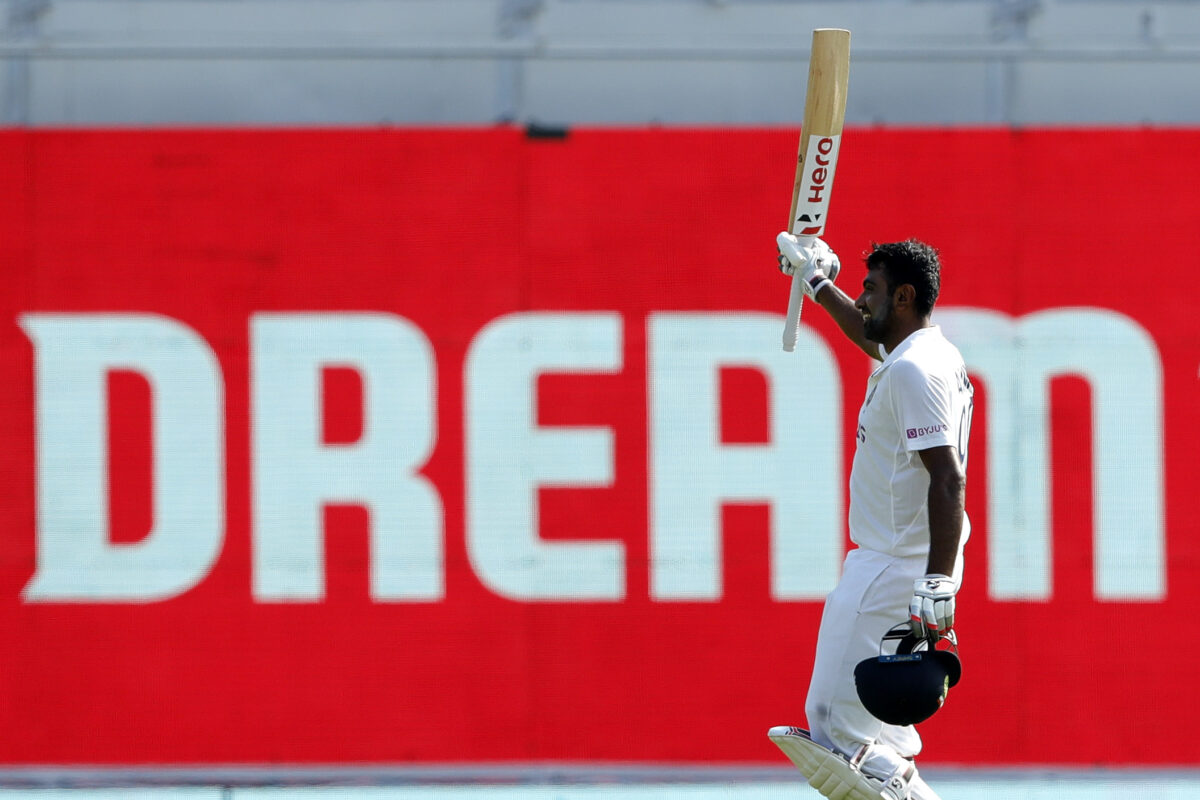 But Ashwin held the fort and batted along with the tail to ensure that he brought up his 5th Test ton. This is the 3rd instance where Ashwin has scored a hundred and has taken a five-wicket haul in the same Test and it's only Ian Botham (5) who has done it more than him. Mohammed Siraj flexed his muscles with two sixes against Jack Leach before the inning finally came to an end after Ashwin dragged one onto his stumps.
England would have hoped to get past the remaining overs but that did not turn out to be the case as Axar Patel knocked over Dom Sibley and nightwatchman Jack Leach while Ashwin dismissed Rory Burns to leave the visitors in tatters at 3/53.
Also Read: India vs England 2021: Twitter Hails Ravichandran Ashwin After The Champion Cricketer Smashes His 5th Test Tonglabnd
Here's how Twitter reacted:
Well played Ash ! 🏏❤️✅ https://t.co/yoRY9S341B

— Suresh Raina🇮🇳 (@ImRaina) February 15, 2021
In a Test match where all the discussions have been centered around what the pitch is doing or rather what it can do; in a Test match where all the talks have been around the pitch rather than on the players performing on it…

— Yash Mittal 🇮🇳 (@im_yash2307) February 15, 2021
Wonderful from Ashwin. I was beginning to fear that the batsman in him was getting lost. On a difficult track, this century is a gem.

— Harsha Bhogle (@bhogleharsha) February 15, 2021
Well played Chennai's Super King !! Brilliant 100 from Ravi Ashwin …

— Nasser Hussain (@nassercricket) February 15, 2021
Ashwin gets to a hundred! This has been some batting on a "minefield." Don't think he has celebrated a five-for or a 10-wicket bag so exuberantly. Richly deserved. #INDvENG

— Anand Vasu (@anandvasu) February 15, 2021
An unbelievable 100 from Ashwin, his fifth in Tests. And so cool to hear his home crowd anticipate it then celebrate it in the manner they have.

— Will Macpherson (@willis_macp) February 15, 2021
🏴󠁧󠁢󠁥󠁮󠁧󠁿: it's a bad pitch
🇮🇳: 'Ravichandran Ashwin scores a ton'

— Chloe-Amanda Bailey (@ChloeAmandaB) February 15, 2021
Players to a score a hundred & take a five-wicket haul in a Test Match

Ian Botham – 5
R Ashwin – 3*
Garry Sobers – 2
Mushtaq Mohammad – 2
Jacques Kallis – 2
Shakib Al Hasan – 2#INDvENG https://t.co/yTfBcueNOO

— The CricViz Analyst (@cricvizanalyst) February 15, 2021
Century and a 5-for by Indians in the same Test match:

R Ashwin – 3 times
All other Indians – 2 times (Mankad in 1952 & Umrigar in 1962)#INDvsENG

— Bharath Seervi (@SeerviBharath) February 15, 2021
Deserved that @ashwinravi99 👏 #INDvENG

— Isa Guha (@isaguha) February 15, 2021
For someone who started cricket as a batsman in Tamilnadu – Would've surely dreamt of this moment.. He's given India almost 400 test wickets – but such a beautiful narrative that this dream is fulfilled at home too..Not a Kutty story this @ashwinravi99 – This is big 🙂 #IndvEng

— Jatin Sapru (@jatinsapru) February 15, 2021
Superb bowling. Terrific batting 💯 @ashwinravi99 take a bow 🙇 #INDvsENG #Ashwin

— Surya Kumar Yadav (@surya_14kumar) February 15, 2021
Great things never come from comfort zone and this is great knock from @ashwinravi99 Also showed it's going to be hard batting on this pitch but hard does not mean impossible. Nothing but RESPECT Ash🙏 #INDvsENG pic.twitter.com/1S2Wdiv83Y

— VVS Laxman (@VVSLaxman281) February 15, 2021
Ashwin. 👏🏿👏🏿👏🏿
A remarkable effort!#INDvsENG #wellplayed #topton

— Mpumelelo Mbangwa (@mmbangwa) February 15, 2021
Seriously, five Test 💯's to go with a phenomenal bowling record. What a player @ashwinravi99 👏🏽👏🏽 #INDvENG

— Trent Copeland (@copes9) February 15, 2021
R Ashwin: A dream of a cricketer.#INDvENG pic.twitter.com/R8oJraSLjL

— Wisden India (@WisdenIndia) February 15, 2021
Ruthless performance by @ashwinravi99 !!! India have so many more skilled players for these conditions .. High class .. #INDvENG

— Michael Vaughan (@MichaelVaughan) February 15, 2021
Ashwin 👏👏🇮🇳🇮🇳 @ashwinravi99 #INDvsENG

— Vikrant Gupta (@vikrantgupta73) February 15, 2021
Test all-rounders to score a hundred and take a five-for in the same Test on three or more occasions:

Ian Botham
R Ashwin#INDvENG pic.twitter.com/BZ3HXdbuDH

— Wisden (@WisdenCricket) February 15, 2021
Congratulations Ravi Ashwin. A dashing, care-free century on a difficult track to bat on. One of the best Test Cricketers on the planet.

— Ben Long (@LongyWTID) February 15, 2021
Supreme allround display from Ashwin. This is turning into a very old-fashioned pants-down England overseas drubbing, fit to rank alongside Brisbane 2002 and Kolkata 1992-93.

Still, 1-1 with two to play is better than most of those series ever threatened to be! #IndvEng

— Andrew Miller (@miller_cricket) February 15, 2021
Batsman @ashwinravi99 trying to show the world that indeed there is no devil in the pitch. If you're skilful and can apply yourself, runs will come. Well played. #INDvsENG

— R P Singh रुद्र प्रताप सिंह (@rpsingh) February 15, 2021
Most consecutive 2nd innings with 4+ wickets in Test history:
6: Mushtaq Ahmed (1995-96)
5: Murali (2003-04)
5: Warne (1993-94)
5: Leach (2019-21)#INDvENG

— Andy Zaltzman (@ZaltzCricket) February 15, 2021
Hundred and five-wkt haul in a Test most times

5 Ian Botham
3 R ASHWIN
2 Gary Sobers/ Mushtaq Mohammad/ Jacques Kallis/ Shakib-Al-Hasan#INDvENG

— Deepu Narayanan (@deeputalks) February 15, 2021
No demons in this pitch when @imVkohli is batting #INDvENG

— Irfan Pathan (@IrfanPathan) February 15, 2021
That was a masterclass in how to bat in tough conditions. Hope the England top order watched closely. With Bairstow back in and Crawley possibly fit, you'd think Burns and Lawrence are playing for their places.

— Adam Sutherland (@ADSutherland_) February 15, 2021
Virat Kohli v Moeen Ali in Tests

171 runs
5 dismissals
339 balls
34.2 average
3.02 rpo

The only spinner to dismissal Kohli on more occasions in Tests in Nathan Lyon (7)#INDvENG

— The CricViz Analyst (@cricvizanalyst) February 15, 2021
After facing 102 balls in the innings, that was Virat Kohli's first sweep or slog-sweep today. 0.01% of his shots against spin in India are sweeps (conventional + slog) – it's an understatement to say he *hardly* plays the shot.#INDvENG

— The CricViz Analyst (@cricvizanalyst) February 15, 2021
Flawless fifty on a difficult pitch for @imVkohli. Determination to make amends for first ball duck evident. Ability to raise his game when most needed marks him out as a great batsman

— Cricketwallah (@cricketwallah) February 15, 2021
He's the greatest batter in the game of cricket playing right now – @imVkohli!

England didn't pick their best team so can't complain.

Missing Jimmy, BIG TIME!

— Kevin Pietersen🦏 (@KP24) February 15, 2021
Its a pitch that challenges you as a batsman and makes you dig deeper and tests different skills and technique #INDvENG Awesome fifty from Kohli … a batting master class indeed !!!

— Russel Arnold (@RusselArnold69) February 15, 2021
India's #8, who hasn't scored a Test fifty in the last 3.5 years, has now outscored all of England's batsmen from their first innings.#INDvENG

— Deepu Narayanan (@deeputalks) February 15, 2021
Combining the talking points from this series so far…

Test bowling average in the last decade:

in 🇬🇧 – Ashwin 33, Anderson 21
in 🇮🇳 – Ashwin 23, Anderson 31

Extreme conditions are great, as are the challenges they pose. Appreciate the bowlers who best exploit them.#INDvENG

— Ben Jones (@benjonescricket) February 15, 2021
Loving this Ash.. good stuff #INDvsENG Good fifty @ashwinravi99

— Russel Arnold (@RusselArnold69) February 15, 2021
.@imVkohli showing his absolute class. You can score runs on this wicket for sure…you just need to be very very good #INDvENG

— Matt Prior (@MattPrior13) February 15, 2021
Geez, how brilliant is Ben Foakes #INDvENG

— Adam Gilchrist (@gilly381) February 15, 2021
50+ score & 5-wkt haul same Test for India:

Ashwin – 6 times
Kapil Dev – 4 times
Jadeja – 4 times
Bhuvneshwar – 2 times
13 others – 1 time each#INDvsENG

— Bharath Seervi (@SeerviBharath) February 15, 2021
Not only have India produced a doctored surface unfit for batting, they've gone as far as producing batsmen who can score runs against the ragging ball the cheats

— Andrew Fidel Fernando (@afidelf) February 15, 2021
Five wickets in an innings plus a half-century for Ravichandran Ashwin, for the fourth time in Test matches. #IndvEng

— Geoff Lemon Sport (@GeoffLemonSport) February 15, 2021
Five wickets. Fifty with the bat @ashwinravi99 you beauty. #Legend

— Saurabh Malhotra (@MalhotraSaurabh) February 15, 2021
Hitting a fifty & taking a five-fer in the same Test most times

11 Ian Botham
9 Shakib Al Hasan
6 R Hadlee/ R ASHWIN
5 M Marshall
4 Kapil Dev/ C Cairns/ R Jadeja#INDvENG

— Deepu Narayanan (@deeputalks) February 15, 2021
The batsman in Ashwin is emerging again. This has been such a clever, inventive innings.

— Harsha Bhogle (@bhogleharsha) February 15, 2021
There was a time during his first few years of Test cricket where @ashwinravi99 would walk out to bat on a tricky pitch in India & make it look like he was batting on a different pitch to everyone else in the top order. Today's knock has been a throwback to that time #IndvEng

— Bharat Sundaresan (@beastieboy07) February 15, 2021
The only thing this pitch does is distinguish the best from the rest. Foakes with the gloves; Ashwin with the ball; Kohli with the bat. Which, tbh, is exactly what you'd want conditions to do: demonstrate ridiculous skill. Enjoy it. #INDvENG

— Isabelle Westbury (@izzywestbury) February 15, 2021
Match winning partnership between Virat and Ashwin. Strong in defence, good footwork and capitalised on loose deliveries. Both of them showed that if you apply yourself you can definitely score runs on this pitch. #INDvsENG @StarSportsIndia

— VVS Laxman (@VVSLaxman281) February 15, 2021
Ashwin with 5/43 and 50* #INDvsENG pic.twitter.com/mBZH1cRie5

— Wasim Jaffer (@WasimJaffer14) February 15, 2021
If @imVkohli goes onto score at least 50, can comparisons be drawn with Sunil Gavaskar's 96? Just asking? Although this is 3rd innings and 3rd day track and that was fourth innings on fifth day track? But are Leach and Ali as good as Qasim and Tauseef?#INDvsENG

— Kushan Sarkar (@kushansarkar) February 15, 2021
This is a batting masterclass from @imVkohli not always is it about the amount of runs scored. Just see him bat and admire. That's all you need to do. And @ashwinravi99 can't do anything wrong this seires!

— Boria Majumdar (@BoriaMajumdar) February 15, 2021
Spinners in this Test

False Shots
Overs 1-30 : 22%
Overs 31-80 : 17%
Overs 81+ : 23%

Average
Overs 1-30 : 19.3
Overs 31-80 : 35.2
Overs 81+ : 14.7

Spinners haven't has as much success with the old ball in this Test as it's got soft compared to the harder new ball.#INDvENG

— The CricViz Analyst (@cricvizanalyst) February 15, 2021
When Kohli doesn't score in the first innings you better be on your A game as a bowling side in the second. Grim determination on top of skill and application. #INDvENG

— Anand Vasu (@anandvasu) February 15, 2021
This is an absolute master class from Ben Foakes behind the stumps 👏🏼👏🏼👏🏼 #INDvsENG

— Matt Prior (@MattPrior13) February 15, 2021
Any chance Ben Foakes can gain an Australian citizenship by the end of the year? If England don't want him as 1st choice, we'll take him. 😏#INDvENG #INDvsENG

— CricBlog ✍ (@cric_blog) February 15, 2021
Seriously how good have Pant and Foakes been in this game…Outstanding !!!

— Nasser Hussain (@nassercricket) February 14, 2021
Ben Foakes is the first England wicketkeeper to make three stumpings in a Test:
a) since Alan Knott, v Aus, Headingley 1968;
b) in a Test in Asia, ever;
c) away from home since Godfrey Evans in Cape Town in Jan 1949.https://t.co/pb5AJGYWRV#INDvENG

— Andy Zaltzman (@ZaltzCricket) February 15, 2021
Stumpings in Test Cricket

Ben Foakes (6 Tests)
Made – 5
Missed – 1

Jos Buttler (50 Tests)
Made – 1
Missed – 5#INDvENG

— The CricViz Analyst (@cricvizanalyst) February 15, 2021
Ben Foakes has been one of the best overseas keepers in Indian conditions. His right leg opens up when collecting from a left-arm spinner. Off-spinner bowls and his left leg goes slightly back @englandcricket #cricket #IndvEng (1/2)

— Kiran More (@JockMore) February 15, 2021
Feb 15, 1993: India beat England at Chepauk in the 2nd Test

On that day Ben Foakes was born

— Sarang Bhalerao (@bhaleraosarang) February 15, 2021
Brilliant keeping by both the keepers in this test Ben foakes and @RishabhPant17 @coach_rsridhar is a very happy man 😊❤️👍🏽

— DK (@DineshKarthik) February 15, 2021
How unlucky has Pujara been this series! First Test short ball from Bess pulled perfectly, hits short leg fielder & lobs to short mid wicket & today bat getting stuck in the pitch. 😔#INDvENG

— Sanjay Manjrekar (@sanjaymanjrekar) February 15, 2021
Really impressed with wicket keeping skills of Ben Foakes. To concede 0 byes in the first innings in challenging conditions is superb. Soft hands, clean collection, fast to dislodge stumps. Not seen many overseas keepers keep so well here for long time. #INDvsENG pic.twitter.com/yT5HyNtV8l

— Wasim Jaffer (@WasimJaffer14) February 15, 2021
Ben Foakes reminds me of a certain wicket keeper batter from England who made us all believe 'wicket keeping' is a superpower. 💥@Sarah_Taylor30

— Shikha Pandey (@shikhashauny) February 15, 2021