He can score hundreds. He can score daddy hundreds as he has shown during this winter but on Thursday, England captain Joe Root proved that he can run through a batting-unit with his off-spin. And, run through it very very quickly.
On a day that started with discussions around the possible lead that India will end up taking, Joe Root wrote a script of his own as he sent record books tumbling as he claimed the cheapest five-wicket haul (5-9) in Test history by a spinner.
The England captain brought himself in the attack after Jack Leach had claimed the overnight duo of Ajinkya Rahane and Rohit Sharma.
And, within a space of 38 balls, Joe Root proceeded to polish the Indian middle and lower-order to help his side knock over the hosts for 145 and keep their lead to 32 runs.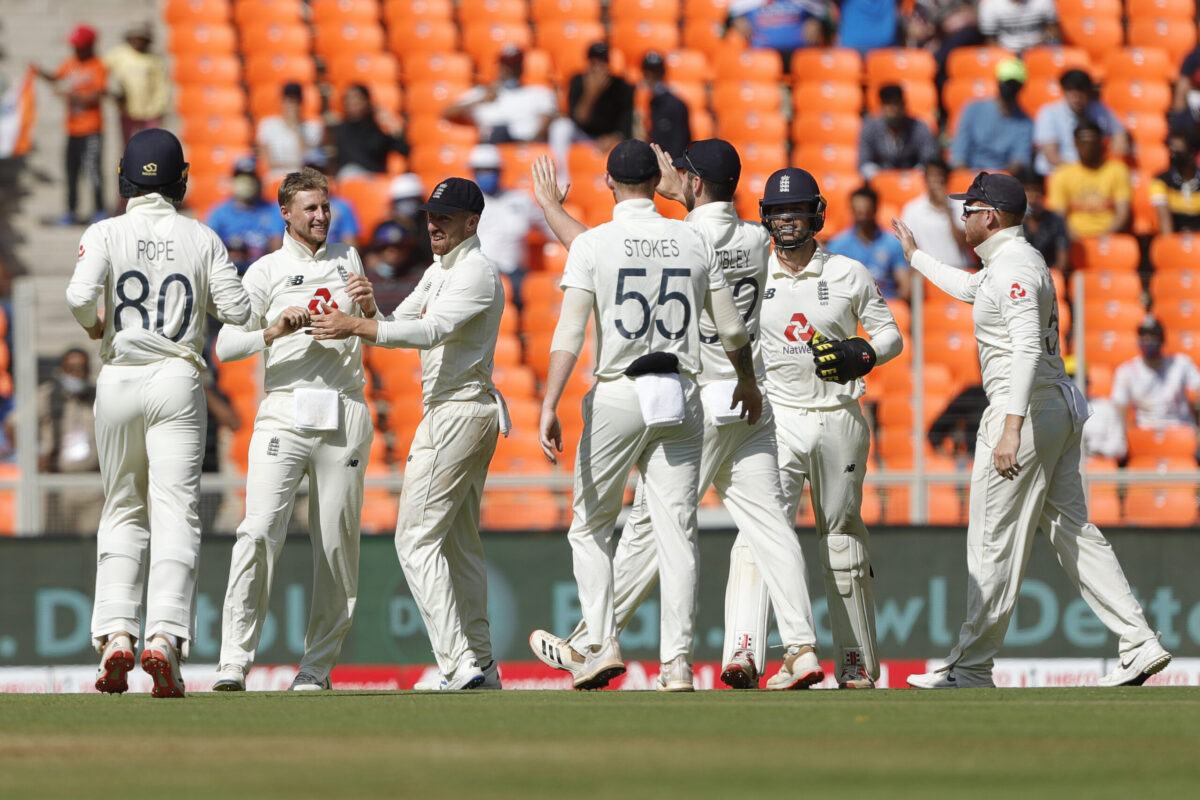 Root first claimed Rishabh Pant, who nicked off to Jack Leach before he knocked over Washington Sundar, who saw his off-stump pegged back after the southpaw played down the wrong line.
Axar Patel decided to hit Root out of the attack courtesy of an ambitious lofted cover-drive but he could only hit it as far as the short-cover fielder. Ravichandran Ashwin, in an attempt to score some crucial runs, holed out at deep square-leg while Jasprit Bumrah was pinned right in front of the wicket.
Root claimed a five-wicket-haul and in the process, he became just the second England player after Chris Heseltine (5/38 vs SA in Jo'Burg, 1895) to take a maiden five-wicket haul in FC cricket in a Test match.
Here's how Twitter reacted:
Cheapest 5-wicket innings hauls by captains in Tests:
6/7 Arthur Gilligan (E v SA) 1924
5/8 JOE ROOT (E v I) Today
6/18 Courtney Walsh (WI v NZ) 1995
5/19 Aubrey Smith (E v SA) 1889
5/26 George Giffen (A v E) 1895
5/26 Fazal Mahmood (P v I) 1960#INDvENG #INDvsENG #ENGvIND

— Rajneesh Gupta (@rgcricket) February 25, 2021
at this point in the series, root is leading the batting as well as bowling averages #INDvENG

— Gaurav Kalra (@gauravkalra75) February 25, 2021
What was impressive was the control Root bowled with. Not any loose stuff, which is solid from a part-timer. Should bowl himself more.#INDvENG #INDvsENG

— CricBlog ✍ (@cric_blog) February 25, 2021
Crawley and Rohit: 119 for 2.
Numbers 2 to 11: 127 for 18.
The second lowest first-innings aggregate by numbers 2-11 in Test history. Lowest was 98, A v E, SCG Feb 1888. #INDvENG

— Andy Zaltzman (@ZaltzCricket) February 25, 2021
Michael Clarke 6/9 moment of this generation.

— Dweplea (@dweplea) February 25, 2021
Shane Warne bowling average in Asia: 26.81

Joe Root bowling average in Asia 22.90 pic.twitter.com/sDGK8BIsWQ

— Is Joe Root Bowling? (@RootBowling) February 25, 2021
Before Joe Root, Chris Heseltine (5/38 vs SA, Joburg, 1895/96) is the only other England player to take his maiden first-class five-wicket haul in a Test match.#INDvENG

— Deepu Narayanan (@deeputalks) February 25, 2021
Joe Root in Tests this year:

Runs: 740
Average: 82.22
Hundreds: 3

Wickets: 8
Average: 9.87#INDvENG | 📸 BCCI pic.twitter.com/2SbbfZPTCP

— The Cricketer (@TheCricketerMag) February 25, 2021
Best figures by an England captain in men's Test cricket:

7-80, Gubby Allen v India, The Oval, 1936
6-7, Arthur Gilligan v South Africa, Edgbaston, 1924
6-101, Bob Willis v India, Lord's, 1982
5-8, Joe Root v India, Ahmedabad, 2021

Leading from the front.#INDvENG pic.twitter.com/t7DoQ6DlPi

— Wisden (@WisdenCricket) February 25, 2021
Cheapest five-wkt haul in Tests (Spinners)

5/8 Joe Root v Ind Ahmedabad 2020/21 *
5/9 Tim May v WI Adelaide 1992/93
6/9 Michael Clarke v Ind Mumbai WS 2004/05#INDvENG

— Deepu Narayanan (@deeputalks) February 25, 2021
Anything Ashwin can do Joe Root can do better… #INDvsENG

— Alexandra Hartley (@AlexHartley93) February 25, 2021
Richie Benaud, greatest Aussie commentator of all time, once took 3 wickets for 0 runs vs India in 1959.#INDvENG

— The Cricket Statistician (@CricketSatire) February 25, 2021
India have batted four times against the pink ball in Test cricket:

308/5 to 331/9 (4-23 in 43 balls) vs Bangladesh

188/3 to 244 (7-56 in 104 balls) vs Australia

36 all out in 128 balls vs Australia
(so 17-92 in 232 balls)

98/2 to 125/8 (6-27 in 79 balls)
+

— Abhishek Mukherjee (@SachinAzharCT) (@ovshake42) February 25, 2021
2.3-2-0-3 is Joe Root's Best Bowling Figures In Tests In India (previous 10-2-31-2 at Wankhede in 2016)#INDvENG #TestCricket #ENGvIND

— Rajesh Khilare (@Cricrajeshpk) February 25, 2021