Rahul Tewatia pulled off another masterclass in a run chase as Gujarat Titans (GT) secured their 3rd consecutive win in the IPL 2022 season.
After restricting Punjab Kings (PBKS) to 189/9, Gujarat was always ahead in the run chase with Shubman Gill playing beautifully. He played fluent strokes en route to a 59-ball 96, falling 4 runs short of his maiden century.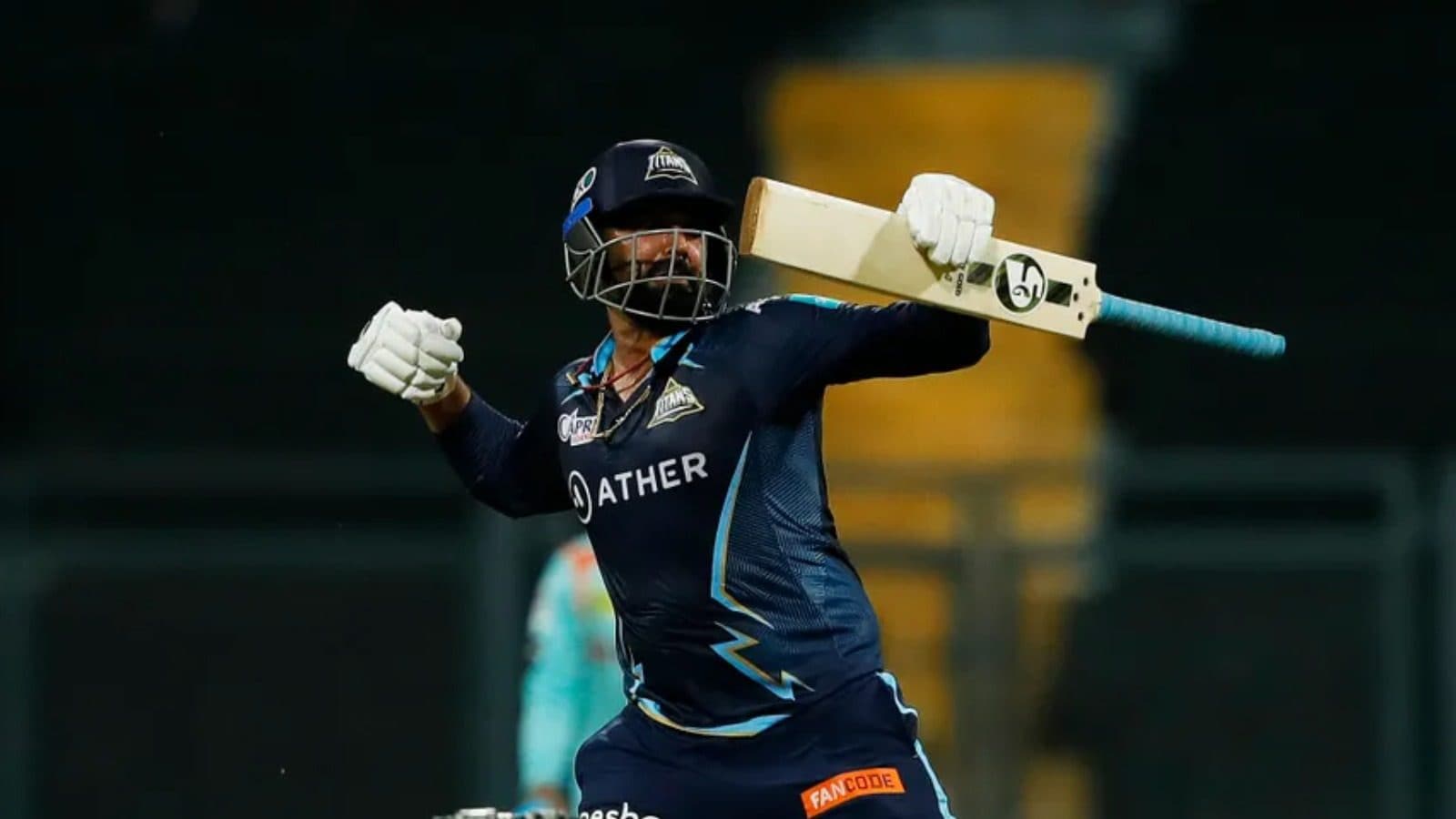 By the time he was dismissed, Gujarat was already in a good position. However, excellent death bowling from Arshdeep Singh and Kagiso Rabada saw 19 runs being needed off the last 3 overs.
It was left to Odean Smith to defend and he started off well. Off the first four balls, he conceded just 7 runs, including an unnecessary overthrow that came back to bite him.
Tewatia was on strike and GT needed 12 runs to win off the last 2 balls. Similar to the previous time, Tewatia did the unthinkable and smashed 2 consecutive sixes over cow corner to seal the game off in style.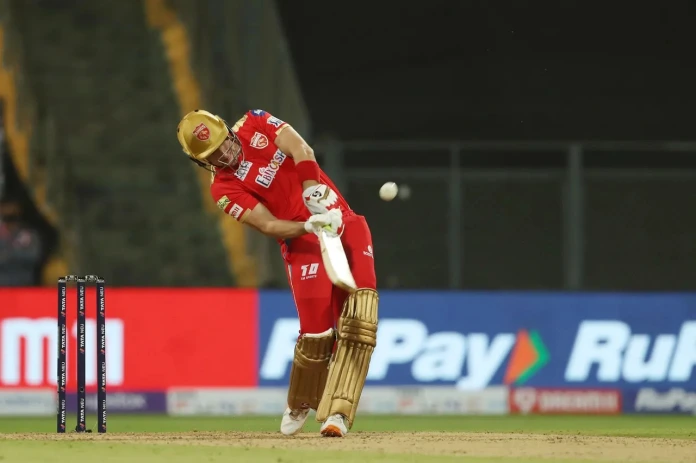 Earlier, Liam Livingstone once again showcased his worth with a 27-ball 64 which set the precedent for the innings. Although PBKS kept losing wickets at regular intervals, they ended with a par total courtesy of some lusty blows from the middle and lower order.
Here's how Twitter reacted to PBKS vs GT:
Punjab se kuch to issue hai? Rahul tewatia 👏👏

— Irfan Pathan (@IrfanPathan) April 8, 2022
Tewatia-d again. What great drama here at Brabourne #TATAIPL2022

— Ian Raphael Bishop (@irbishi) April 8, 2022
Kaun kehta hai bijli dobara ek hi jagah pey nahi girti? @rahultewatia02 se pucho👏#PBKSvsGT #GTvsPBKS Lightening doesn't strike twice at the same place ! Really? Ask #RahulTewatia #CricketTwitter

— R P Singh रुद्र प्रताप सिंह (@rpsingh) April 8, 2022
Tewatia ve .. Tewatia ve…Rahul Tewatia ve….🙌🏼👏 #TataIPL #PBKSvsGT

— S.Badrinath (@s_badrinath) April 8, 2022
Gujarati aae or Gujarati chaae👏👏 @gujarat_titans

— Irfan Pathan (@IrfanPathan) April 8, 2022
#RahulTewatia UNREAL!! #PBKSvsGT #GTvsPBKS #CricketTwitter

— parthiv patel (@parthiv9) April 8, 2022
Nehra ji yeh @rahultewatia02 kya khaaata hai ?? Top win @gujarat_titans 💥💥💥💥💥💥

— Harbhajan Turbanator (@harbhajan_singh) April 8, 2022
No tournament gets close to the drama & finishes the #IPL brings … That was ridiculous … #Tewatia

— Michael Vaughan (@MichaelVaughan) April 8, 2022
T.E.W.A.T.I.A 💥💥🤯😱 Wouldn't be an IPL now without him

— Lisa Sthalekar (@sthalekar93) April 8, 2022
Forget Titans, if Tewatia was on Titanic even that wouldn't have sunk. #GTvsPBKS

— Mohammad Kaif (@MohammadKaif) April 8, 2022
The @gujarat_titans are gunning for the title !
And they have a TEWATIA to finish 🤷‍♀️#IPL2022 #PBKSvsGT

— Ridhima Pathak (@PathakRidhima) April 8, 2022
Oh my god! What a finish , unbeelivable hits by @rahultewatia02 man u have some amazing talent for power hitting! A wonderful knock by #Gill, @gujarat_titans is the team to watch out for! #GTvsPBKS

— Kris Srikkanth (@KrisSrikkanth) April 8, 2022
Omg omg ! Unbelievable @rahultewatia02 does a Tewatia again #IPL2022 #TATAIPL2022 #PBKSvsGT

— Ridhima Pathak (@PathakRidhima) April 8, 2022
This is how you react when you see madness!#HardikPandya#IPL2022 #PBKSvGT #Tewatia pic.twitter.com/iUvecKsc3g

— Bhasker (@BhaskerPspk9) April 8, 2022
Whenever #Tewatia play against Punjab. pic.twitter.com/pT3EQRdFaj

— प्रfull (@PrafullYaduvan2) April 8, 2022
Tewatia vs PBKS West Indies pacers 🤯 Man continues to pull off such unbelievable heists! @ShubmanGill – Sai Sudharsan partnership was brilliant to watch, #GujaratTitans look like the team to beat this season, who would've thought! 😄#GTvsPBKS #IPL2022

— Abhinav Mukund (@mukundabhinav) April 8, 2022
What a chase and those last two fiery sixes from Tewatia 🔥🔥 #RahulTewatia #GTvsPBKS #IPL2022

— Vinay Kumar R (@Vinay_Kumar_R) April 8, 2022
What a game! Brilliant composer shown by #RahulTewatia. But #PunjabKings will discuss the single given by #odeansmith in his over while running the batsman out. Had he not done that #rahultewatia would have remained on the non striker's end. #PBKSvsGT #TATAIPL #CricketTwitter

— Pragyan Ojha (@pragyanojha) April 8, 2022
The @gujarat_titans are gunning for the title !
And they have a TEWATIA to finish 🤷‍♀️#IPL2022 #PBKSvsGT

— Ridhima Pathak (@PathakRidhima) April 8, 2022
Oh my god! What a finish , unbeelivable hits by @rahultewatia02 man u have some amazing talent for power hitting! A wonderful knock by #Gill, @gujarat_titans is the team to watch out for! #GTvsPBKS

— Kris Srikkanth (@KrisSrikkanth) April 8, 2022
Just Tewatia doing Tewatia things to Punjab! #IPL2022

— Gaurav Kapur (@gauravkapur) April 8, 2022
Waah Lord Tewatia,….
Need his statue in Punjab Kings dugout.
What a brainfade by Smith to concede a overthrow with 13 needed of 2. #PBKSvGT

— Virender Sehwag (@virendersehwag) April 8, 2022
Batters hitting 2 sixes off last 2 balls to win the game in IPL – 12 runs needed:

Dhoni vs Axar Patel, 2016
Tewatia vs O Smith, 2022 #IPL2022 #GTvsPBKS

— Bharath Seervi (@SeerviBharath) April 8, 2022
Naam tu suna hoga !! @rahultewatia02 na na tawatiya naaa😂😂😂 what a player ! Aur nehra ji ki smile off side 😁😁😁 what a game !! #IPL2022 at its best #GTvsPBKS

— Yuvraj Singh (@YUVSTRONG12) April 8, 2022
Also Read –PBKS vs GT: Twitter Reacts As Rahul Tewatia Smashes 2 Sixes Off Last 2 Balls To Maintain Gujarat Titans Unbeaten Start