Cricket has been a game that is still developing in the European and American countries and hence there will circumstances when cricketers come across players who look like themselves. There have been many instances of spotting players who are lookalikes of other players in the past and it is indeed a fascinating sight.
The development of the game will certainly increase the probability of these interesting things happening more regularly and certainly in ten years from now, there will be more instances being spotted of cricketers who are lookalikes of each other. Here are five of those active cricketers who are lookalikes of other cricketers.
5 Active Cricketers Who Are Lookalikes Of Each Other:
Virat Kohli – Ahmed Shehzad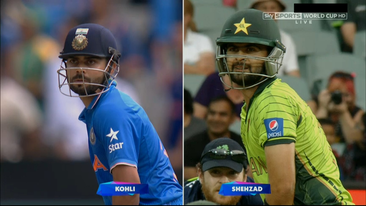 The Indian skipper Virat Kohli is a surprise package on the list and his lookalike is the swashbuckling opener from Pakistan, Ahmed Shehzad. It was in the 2015 WorldCup when both cricketers played against each other, and they did look very similar on the Television.
Though they have similarities in the face, their records are vastly different and Virat Kohli is one of the best batsmen in the modern era. Ahmed Shehzad hasn't been in the international setup for the last three years and he needs to pile up a lot of runs in the domestic circuit to get back in the reckoning for his nation again.