Indian captain Virat Kohli backed his decision to not play Kuldeep Yadav in the first Test against England in Chennai, saying that he doesn't regret his choice of playing XI, though the home side suffered a 227-run loss.
The left-arm chinaman from Uttar Pradesh has been spending time bowling nets to the Indian batsmen ever since being picked for the Australia tour late last year. He got a chance to play just ODI on the tour down under and though the Indian team suffered a truckload of injuries during the recent Border-Gavaskar Trophy, Kuldeep was overlooked for the likes of Washington Sundar, even when both Ravindra Jadeja and Ravichandran Ashwin were unavailable.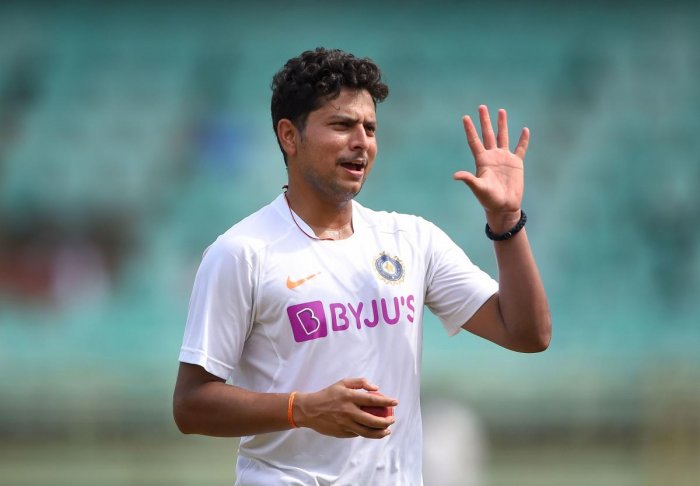 Many expected Kuldeep Yadav to come into the Indian playing XI for the Chennai Test match given that the Chepauk pitch is conducive to spin bowling. He was almost confirmed as well, as India was looking to debut Axar Patel in place of Ravindra Jadeja and make way for Kuldeep to play. Unfortunately, Axar got injured and Kohli decided to go with Shahbaz Nadeem and Washington Sundar in order to strengthen the batting.
There are no regrets in the decision to not play Kuldeep Yadav: Virat Kohli
Speaking about the same in the post-match presser, Virat Kohli explained his rationale behind the same and reiterated that he had no regrets about not playing Kuldeep Yadav, despite below-par performances by Shahbaz Nadeem and Washington Sundar.
"Not really, not at all. When you play 2 off-spinners, Kuldeep more or less becomes a similar bowling option with him taking the ball away. You need variety in the bowling attack. So we were quite clear on the combination we wanted to play. So there are no regrets about that decision. Moving forward, we will think of combinations that will give us variety in the bowling attack. Not one dimensional, so these things are very important going forward," said Virat Kohli.
Shahbaz Nadeem bowled 59 overs, giving away 233 runs for his 4 wickets, while Sundar went wicket-less. However, Sundar did score a brilliant 85* to help India reach 337 in their first innings, in reply to England's 578.
The second Test between the two sides will also be played in Chennai from February 13 onwards.