Washington Sundar, the young off-spinner has done tremendously well for India in the powerplay overs.
JCC
Want to be a professional cricketer?
Register Now
*T&C Apply
He is also the highest wicket-taker for India so far, in the ongoing Nidahas Trophy 2018. Sundar in a recent interview admitted he is fortunate enough to have the skills of bowling in the powerplays.
Further, Sundar has already seven wickets to his name including three against Bangladesh yesterday. It was his wickets at the top that helped India defend the score.
Also, Sundar is the most economical bowler in the tournament so far. He has an impressive economy rate of 5.87 runs an over with 11 of his 16 overs bowled in powerplays.
Fortunate to have the ability:
While Sundar admitted, it is a challenge for a spinner to bowl in the powerplay, the key to success is to overcome those challenges.
"It is definitely a challenging thing, but that is what you play cricket for. When you get an opportunity to represent your country you need to face those challenges. When you win those challenges you get a lot of satisfaction," he said at the post-match press conference.

"I have to admit that I am very fortunate I have got this skill. It's more of reading the batsman's mind, especially in the powerplays because every six balls, they will be looking to hit you out. So it's important to read the mind. I myself being a batsman to an extent I can at least suspect what he is thinking or where he is going to hit me," he added.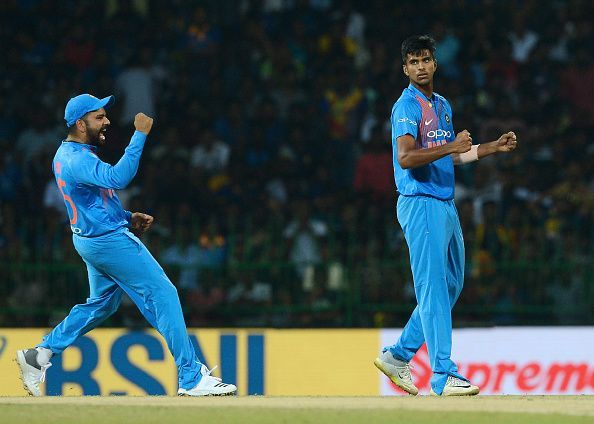 Important for me and Chahal to bowl well:
Sundar further cited playing a lot of league game as the reason for success in the international circuit. He also credited Yuzvendra Chahal for keeping it tight in the middle overs.
"It's a very good feeling when you bowl under six every day," Sundar said. "It was very important for me and Chahal to bowl well. Our eight overs were very important. Mine and Chahal's four overs were very crucial, and both us bowled well. It is not an easy wicket to defend any kind of totals. You saw them (Bangladesh) chasing down 215 odd runs. So we had our plans," he added.
Meanwhile, world cricket has seen a shift towards the wrist spinners, especially in white-ball cricket. However, the tall and lanky spinner feels off-spinners have always been effective in all forms of the game.
Sundar feels India can win the final if they can play according to their potential.
"If we could play to our potential if we could play to our strength if we could have another good day definitely we will win the tournament," he concluded.
Further, here is the newsfeed:
Shakib Al Hasan to join Bangladesh Squad
MS Dhoni's fans goes mad over his tweet on IPL Anthem
Matt Henry Pens a deal with county side Kent